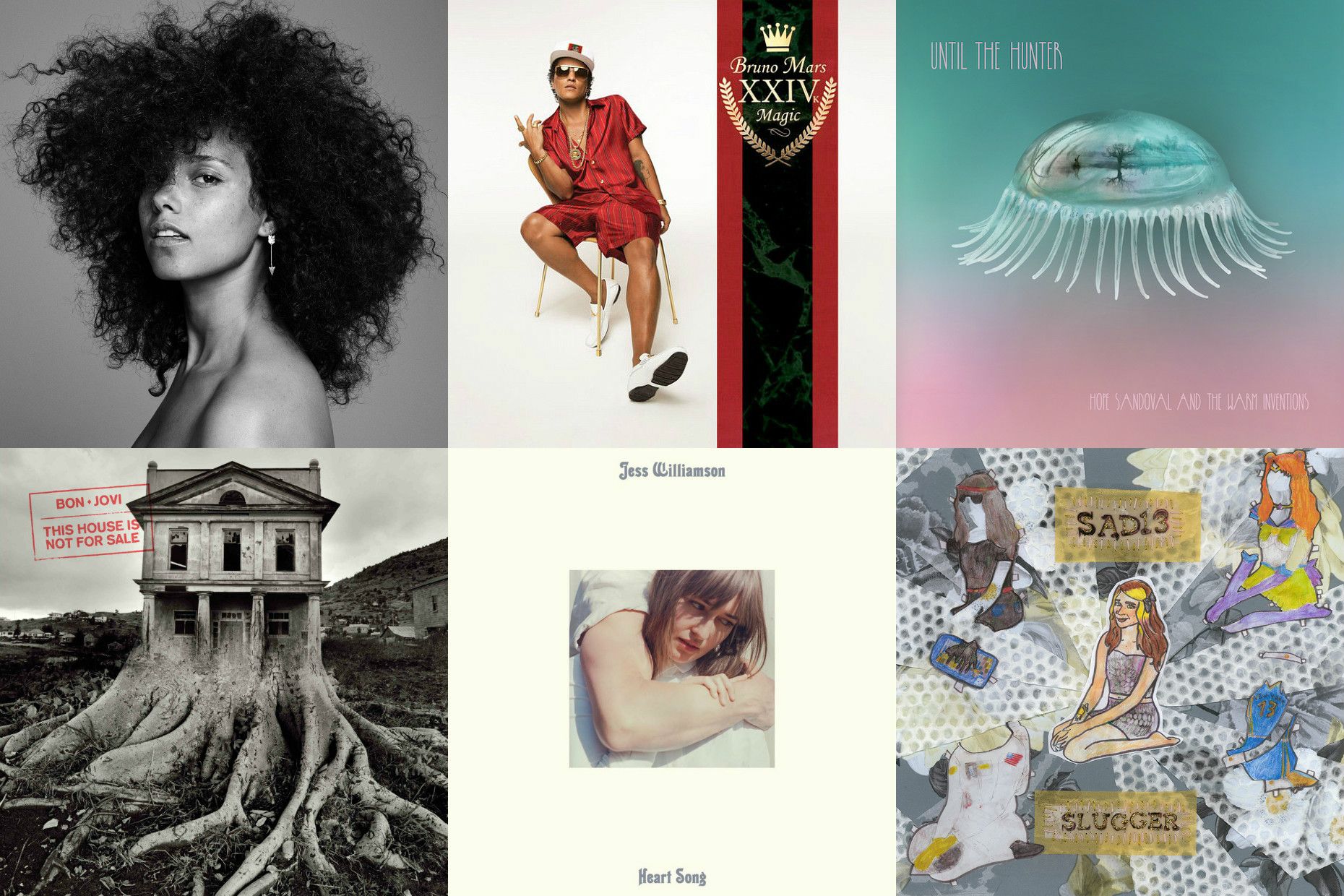 It's now November, which brings changing leaves, harvest-themed table settings and the music industry's last gasp of original releases before it bombards consumers with Christmas albums. This year, it's a pretty damn strong gasp. The month will see new material from upstart singer-songwriters, in-their-prime pop stars and established veterans trying to keep the flame alive. Here's what has us excited.
Hope Sandoval and the Warm Inventions, Until the Hunter
Release Date: November 4
Label: Tendril Tales
Hope Sandoval is best known as the mysterious singer of Mazzy Star, but she also made a gorgeous and underrated album in 2001, Bavarian Fruit Bread, with her project Hope Sandoval and the Warm Inventions. Through the Devil Softly followed in 2009, and now, after another lengthy absence, Sandoval has resumed with the dream-pop group, which also includes Colm Ó Cíosóig of My Bloody Valentine. Our first taste of the new album is a lengthy duet with Kurt Vile titled "Let Me Get There."
Alicia Keys, Here
Release Date: November 4
Label: RCA Records
Alicia Keys lyrics are like a salve during this election season. "Oh so we can hate each other and fear each other/We can build these walls between each other," she sings in "Holy War," one of the tracks released early from her upcoming album, Here. "What if love is holy and hate obscene/We should give life to this beautiful dream." Here is Keys's sixth studio album. She recently released the 16-track list via direct message to her Twitter followers and has also shared "Blended Family (What You Do for Love)," featuring A$AP Rocky, the only guest named on the track list. "It means so much to me and our whole family," the artist said of the personal "Blended Family" in an Instagram post. "The understanding, compassion and support we've found is a powerful testament to the healing that comes when we choose love."
Jess Williamson, Heart Song
Release Date: November 4
Label: Brutal Honest Records
It's not hard to believe Jess Williamson is from Texas. Full of twangy, reverberating guitar and slowly loping drums, the singer-songwriter's music reflects the desolation and longing of her home state. But the first thing anyone who drops the needle on one of her records is sure to notice is her voice, which can overpower listeners as it gives definition to previously uncharted parts of the heart and soul. Recorded in Austin, Texas, and engineered in Portland, Oregon, Heart Song is Williamson's second release since moving back to her home state. The first was 2014's fittingly titled Native State.
Bon Jovi, This House Is Not for Sale
Release Date: November 4
Label: Island Records
Q: Bon Jovi? That's still a thing?
A: Yep. Bon Jovi! A 13th studio album!
Q: The same Bon Jovi?
A: I mean, longtime guitarist Richie Sambora is out of the band now, and Jon's hair is grayish all of the sudden. But it's the same Bon Jovi.
Q: Is "Livin' on a Prayer" on this album?
A: No. "Livin' on a Prayer" is on the 1986 album Slippery When Wet.
Q: "This House Is Not for Sale"? Isn't that a Ryan Adams song?
A: Yeah! It's also a Bon Jovi song. Different song. But it's all right. Chunky pop-metal riffs. Loud, emotionally resonant chorus. Cheesy, overdramatic video. Sounds like Bon Jovi, basically. But, like, Crush-era Bon Jovi.
Q: I like the Ryan Adams song more.
A: That's fair. Love Is Hell is a great album.
Q: Anything else I should know about this new Bon Jovi album?
A: Hmm. It has a gnarly album cover. It's the band's first record with new guitarist Phil X. Jon Bon Jovi says the album is "about our integrity." Does that help?
Q: What if I just want to watch an awkward video of Jon Bon Jovi being corralled into singing "Livin' on a Prayer" with a corny wedding band?
A: Here you go.
Sad13, Slugger
Release Date: November 11
Label: Carpark Records
Sadie Dupuis is best known as the lead singer of the Massachusetts band Speedy Ortiz, but here she turns an internet nickname into a full-fledged solo project. Slugger was recorded and self-produced largely during the two weeks Dupuis spent in "a friend's tiny bedroom," but it is not bedroom pop. Outside the confines of Speedy's majestic guitar-rock, Dupuis dips into electronica, pure pop and even hip-hop ("Coming Into Powers").
The Rolling Stones, Havana Moon
Release Date: November 11
Label: Eagle Rock Entertainment
Havana Moon is a live album and concert film that documents the Stones' first-ever concert in Cuba, which took place March 25. Not only was it the first time the island nation laid eyes on one of the most well-traveled bands in rock history, it was the first time it laid eyes on any rock band, or at least any rock band big enough to play on an outdoor stage. It was a landmark week for Cuba, one that saw not only a Stones concert but also the first visit from a sitting U.S. president in 88 years, as well as exhibition baseball game between the Tampa Bay Rays and the Cuban national team. The baseball game and the visit for Obama were great, but few things signal freedom more than the Rolling Stones.
Alex Izenberg, Harlequin
Release Date: November 18
Label: Weird World
In his Lou Reed sunglasses and black leather jacket, Alex Izenberg makes no attempt to disguise which band inspired "To Move On," the single from his forthcoming debut album, Harlequin. He even drops in a few "fine, fine music"s—from the Velvet Underground's "Rock & Roll"—for good measure. The song is a charming preview of what to expect from the rest of the Los Angeles singer-songwriter's quirky chamber folk, which is somehow simultaneously uplifting and lovelorn.
Bruno Mars, 24K Magic
Release Date: November 18
Label: Atlantic
In his ongoing quest for total wedding reception playlist domination, Bruno Mars released his latest single, "24K Magic," in October. Like 2014's "Uptown Funk," the bubbly pop singer's latest is about as feel-good as it gets, a disco-era throwback that dares listeners not to get up and dance. "24K Magic" isn't a stand-alone single; it's the title track from Mars's third full-length album. Make sure your Cuban links and designer minks are ready for showtime come November 18.