U.K. Prepares Kremlin Extradition Request for Two Russian Suspects in Novichok Poisonings
Prosecutors in the United Kingdom are set to file an extradition request for two Russians they suspect carried out a nerve agent attack that killed one person and injured three others in Britain.
U.K. government ministers vowed to exert "international pressure" to force Russia into doing "the right thing," The Telegraph reported Monday. The move is likely to continue the downward spiral of U.K. and Kremlin relations after a former Russian military intelligence colonel, Sergei Skripal, and his daughter, Yulia, were found unconscious in Salisbury from exposure to the Novichok nerve agent in March. But foreign policy experts in Britain say Russia will almost certainly reject the request.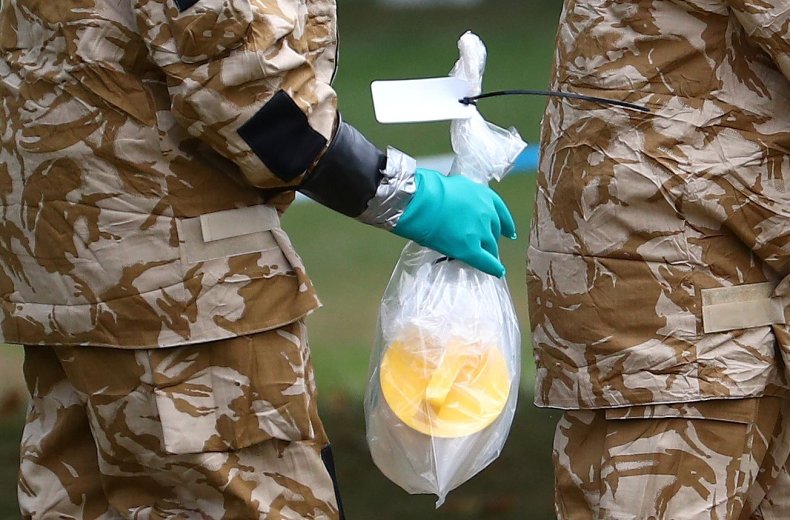 British investigators suspect two Russians are behind the Novichok attacks, with The Guardian reporting that The Crown Prosecution Service has prepared the extradition request and has completed the process and is ready to file. The Kremlin has repeatedly denied any involvement in the poisonings, but U.K. intelligence chiefs have continued to accuse the Russian government and Russian President Vladimir Putin himself of signing off on the attacks.
British police believe the Novichok nerve agent used on Yulia and her former double agent father in March was the same chemical used to kill 44-year-old Dawn Sturgess and her partner Charlie Rowley in late June, about eight miles away.
But the Russian embassy blamed British intelligence officials, calling it an "anti-Russian provocation" led by their MI-5 agents. British police believe the Novichok attacks were carried out using perfume bottle sprays or smears placed directly on their doorknobs and other surfaces.
Although British police were unable to directly connect the nearby poisoning incidents, they both used the same A-234 Novichok nerve agent to harm their victims. Intense debates within Whitehall have split between U.K. officials who see the extradition request as a futile political move, while others would prefer to play hardball with the Russians.
"The CPS has been asked to prepare extradition requests and we understand they are ready to go. This is Litvinenko all over again. It's almost a rerun of the situation. The police have managed to identify the people coming over and going back again," sources told The Guardian.
One of Whitehall's biggest proponents of pushing back harder against Russia, U.K. national security adviser Sir Mark Sedwill, helped ratchet up animosity between the two countries after he sent an April letter to NATO disclosing previously classified intelligence material. The letter claimed the Russians have been developing and testing the same Novichok nerve agent used in the attacks since 2013.
In 2007, Putin rejected a similar extradition request for two Russians tied to the high-profile 2006 assassination of former FSB officer Alexander Litvinenko. Russia refused to extradite the suspects even after Litvinenko died from polonium poisoning in London.