Republican North Carolina Senator Thom Tillis has deleted a tweet about abortion that confused his stance on protecting the "unborn."
"Each of us has a duty to protect the most vulnerable among us, even those who are not yet born," Tillis' tweet, published on Friday afternoon, began.
"I will continue my work in the Senate to end innocent, unborn lives," his tweet concluded, adding the hashtags, "#WhyWeMarch #ProLife #MarchForLife."
Tillis later replaced the tweet with a video of himself delivering a corrected version of the same message.
"I'll continue my work in the Senate to protect innocent unborn lives," the senator said. In the video, he stood next to the logo and video footage of the March for Life.
March for Life is an annual anti-abortion demonstration held in Washington, D.C., that protests the practice and legality of abortion. The 2022 March for Life was held on Friday.
This year's March for Life occurred on the 49th anniversary of Roe v. Wade. The Supreme Court's landmark 1973 ruling said that a pregnant woman has a right to have an abortion without excessive government restriction up to 24 to 28 weeks into pregnancy.
However, this year the conservative-leaning U.S. Supreme Court is considering striking down Roe as it weighs whether Republican-led state legislatures can effectively outlaw abortions within their state's borders.
"If Roe falls, 28 states would likely take action to prohibit abortion," Mini Timmaraju, the President of NARAL Pro-Choice America, a reproductive rights organization, said in a recent press conference.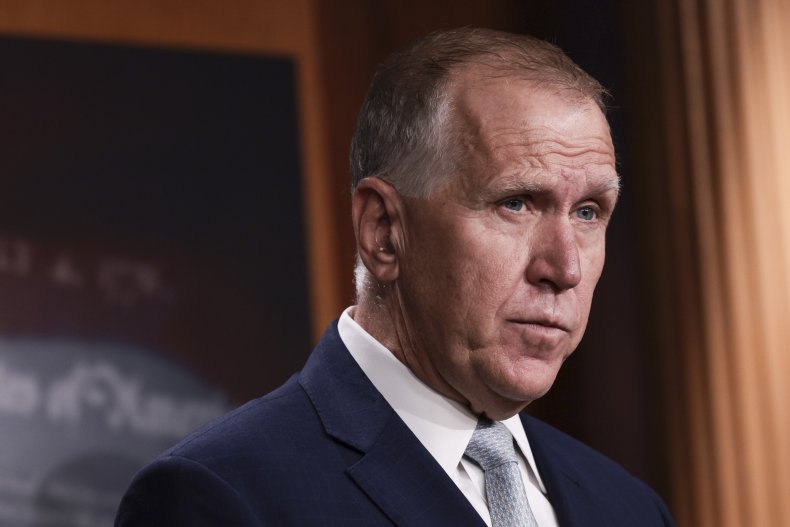 State actions prohibiting abortion have included laws restricting access to abortion-inducing medications; bills incentivizing people to report anyone aiding in an abortion; laws requiring abortion doctors to have admitting privileges into hospitals that may bar their entry; and "heartbeat bills," which only allow women to have an abortion within their first 6 weeks of pregnancy, before most women even know they're pregnant.
A recent Fox News poll found that 65 percent of respondents don't want the Supreme Court to overturn Roe v. Wade. A 2020 Gallup poll found that 80 percent of Americans thought abortions should remain legal in either all or some cases.
About 25 percent of all women in the U.S. will have an abortion by the end of their childbearing years, according to the Guttmacher Institute, an abortion-rights reproductive health research group. About half of the abortions conducted in the U.S. are sought by women close to the poverty line, the institute found in 2014.
In 2019, 629,898 legally induced abortions were reported to U.S. Centers for Disease Control and Prevention (CDC). The actual number of abortions in the U.S. may be higher as the CDC's abortion tracking system is entirely voluntary. No national law requires states to provide the CDC with abortion information.
In January 2021, Tillis sponsored 12 anti-abortion bills. One would have prevented federal funds from paying for health care plans that include abortion services. Another would have banned the remote sale of abortion-inducing medications.