Ron DeSantis is at War With America's Biggest TV Network
In an unusual gambit stoked by anger over its coverage, Florida Governor Ron DeSantis is making good on a promise to boycott NBC, America's largest TV network by viewers, even as expectations grow that he will try for the Republican presidential nomination.
DeSantis's move to shun the network, just as some progressives are calling on Democrats to refuse to appear on the more conservative Fox News over its post-2020 election reporting, is another sign of the growing polarization in the U.S. political and media landscape as the 2024 presidential election looms.
It has been three weeks since DeSantis or his PR team have responded to requests from NBC, the governor's deputy press secretary Jeremy Redfern told Newsweek. They will not do so until NBC and its affiliates "display a consistent track of truthful reporting", Redfern said in an email.
NBC News declined to comment on the DeSantis boycott. It is part of Comcast Corp., which also owns MSNBC and CNBC. NBC was the most-watched television network in the United States in 2022, according to Nielsen figures cited by Variety.
To be sure, DeSantis hasn't actually appeared on an NBC channel in about six years, but his team had routinely responded to questions from NBC reporters via phone or email, according to insiders.
The conflict flared after comments from NBC anchor Andrea Mitchell in a late February discussion with Vice President Kamala Harris.
"What does Governor Ron DeSantis not know about Black history and the Black experience when he says that slavery and the aftermath of slavery should not be taught to Florida schoolchildren?" Mitchell asked Harris. The vice president responded: "It should not be some politician saying what should be taught in our classrooms."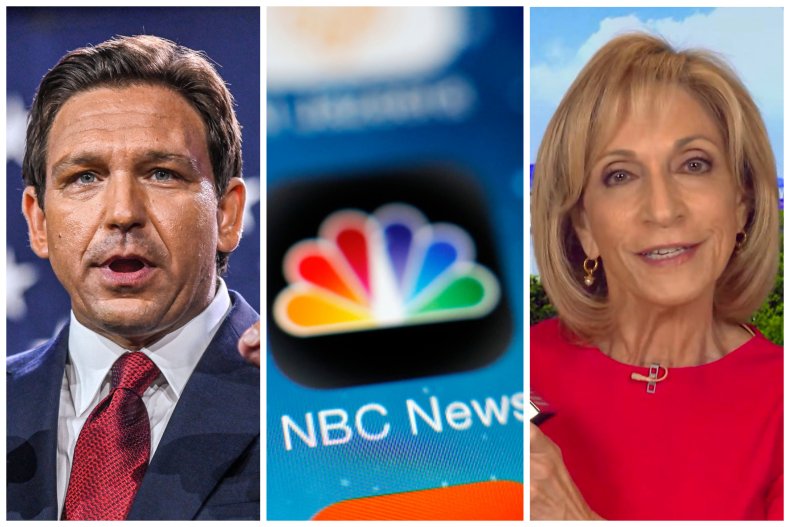 The query stemmed from the governor rejecting the curriculum of an Advanced Placement African American studies course recently launched by the College Board, but Mitchell's phrasing of the question earned an instant rebuke from DeSantis's press secretary Bryan Griffin, who tweeted: "This question exemplifies everything wrong with the corporate media. They're not accidentally terrible at their jobs — they're maliciously intent on deceiving people."
Griffin also fired off a note to Comcast and NBC Universal informing them that DeSantis and his crew wouldn't be responding to requests from NBC News, then he tweeted: "To all bookers and producers reaching out to our office from @NBCNews and @MSNBC for @GovRonDeSantis to join your shows, this will be the standard response from our office until @mitchellreports apologizes and your track record improves."
"Imprecise"
Three days later, Mitchell said her wording had been "imprecise" and she told her audience that "Governor DeSantis is not opposed to teaching the fact of slavery in schools." Mitchell's representatives did not respond to an emailed request for comment from Newsweek.
The mea culpa was not enough to satisfy DeSantis. Redfern said in an email to Newsweek that "there will be no consideration of anything related to NBC Universal or its affiliates until and at least Andrea Mitchell corrects the blatant lie she made about the governor."
DeSantis has said topics such as Black queer studies, Black feminist literature, reparations and praise for the Black Lives Matter movement lack "educational value."
But the "Stop WOKE Act" banning education deemed racist or divisive—for which DeSantis has been widely condemned by progressives—mandates teaching on slavery, racial oppression and segregation as well as other elements of African American history in Florida.
NBC is not the first entertainment and media company to find itself in DeSantis's crosshairs. He went up against Disney, stripping it of longstanding privileges in Florida, after the company vowed to fight a bill aimed at restricting teaching on sexuality and gender for young children—a bill branded "Don't say Gay" by its critics.
It is not only the right that is tussling with the media. Some progressives have called on Democrats to boycott Fox News over claims on the channel of irregularities in the last presidential election. "Democrats must boycott Fox News. Right now," reads the headline in a Sunday article in The New Republic, a liberal magazine.
"As the cable news leader for 21 years, FOX News Channel not only tops its competitors combined but has the most politically diverse audience with more Democrats and Independents watching than either CNN and MSNBC. This is another predictable attack by left-wing groups desperate for attention and relevancy," Fox News said in an email to Newsweek.
Powerful politicians keeping major media outlets in the dark on important matters is "absolutely dangerous, because people will be less informed," said Christina Bellantoni, the director of USC Annenberg's Media Center, referring to DeSantis's boycott.
"He's not getting his message out to a large segment of society by banning NBC, and that's bad for democracy," said Bellantoni. "But it's a winning argument for TV networks, and for Ron DeSantis, because It gets everybody talking and it excites the right."
Conservative accusations of media hostility date back decades. In 1992, for example, President George Bush told an audience that his favorite bumper sticker read, "Annoy the Media. Re-Elect President Bush" (he lost).
In 2020, a survey from Gallup and the Knight Foundation found that, for the first time in their 40 years of tracking such things, Americans with no confidence in the news media surpassed that of those with at least some confidence. And in February, a Gallup and Knight survey indicated that 50 percent of Americans, regardless of political persuasion, believe that national news organizations intend to mislead the public.
The poll found that Republicans are less trustful of the news than are Democrats, which makes sense to Bellantoni, given, she says, there are a large number of young journalists who are going into the profession in order to fight for social justice.
"Those individuals tend to lean left," she said. "If you assess the coverage, is it generally down the middle? I think a lot of consumers rightly feel that it isn't."
As for DeSantis and his war on NBC, Claremont McKenna College professor of American politics John Pitney says the strategy's shelf life will expire if he becomes the GOP's nominee for president. He has not yet said he will stand, but is second to former President Donald Trump in opinion polls.
"Generally, it is better for candidates to appear on a wide variety of news outlets," Pitney said. "It is healthy for Democrats to face conservative questions, and Republicans to face questions from liberals. You don't learn much in an echo chamber. DeSantis's decision raises a question: What's he afraid of?"