'Now & Then's' Rosie Perez on Using Personal Experience for Apple TV+ Role
Rosie Perez drew on her personal life to make her character in Now & Then feel more real because there was "not enough" to her when she first read the script, the actor told Newsweek.
Now & Then is set in both 2002 and 2022, and it follows five friends who cover up their involvement in a horrific car crash that left two people dead, including their friend Alejandro (Jorge López).
Only, the past comes back to haunt them 20 years later when someone tries to blackmail the group or they will reveal what really happened that night.
Perez portrays police detective Flora in the Apple TV+ show both in 2002 and 2022, and her character is determined to finally unearth the truth after the case went cold two decades earlier.
Rosie Perez Used her Personal Life to Make 'Now & Then' Character Feel Real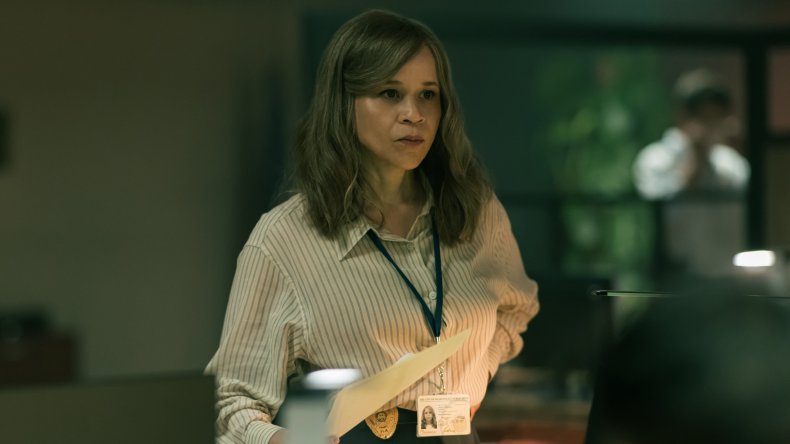 But while the character is arguably one of the most interesting in the TV show, at first, Flora wasn't as realistic as Perez wanted, and she was determined to change that given her own personal experience.
"When I first read the script she wasn't as full of a character as you have seen it, and I discussed it with Gideon Raff and Ramón Campos [the show's director and creator] and I said 'I would love to do this, the script is amazing, but it's not enough for me,'" Perez explained.
"I have law enforcement in my family, I know they're full human beings and that's what I want to play, I want to play a full human being with a backstory and a story arc and they said, 'okay, let's get to work' and they did.
"What they came up with was fantastic, and I told them, I said, 'I want her to be a person who feels immense amount of solitude, that she doesn't have family, that this is her only outlet in life.'
"And that there's something happening to her that was so unjust, that she is bent on it, to catch the bad guys and bring them to justice at any cost, and the cost is to herself, you know. She lives a very, very lonely life and she's extremely depressed, and she hides away all the hurt that she's dealing with, and I love it.
"I love the fact that I'm playing her 20 years earlier, which was insane I don't know why they agreed to that, but that wasn't my suggestion, that was Gideon Raff's.
"And then watching her maturity and watching the consequences of the life, [what] she's chosen, fallout as she gets older, you know, she just has a dog, and Sully [played by Zeljko Ivanek], that's it, and I love that.
"It was a very dark character and it was a great challenge. It was a challenge speaking fluent Spanish throughout the series, and I loved it all. I love this project."
José María Yazpik, Manolo Cardona, Soledad Villamil, and Maribel Verdú on Their Characters
The drama, which launched with its first three episodes on Friday, May 20, is focused on friends Pedro, Marcos, Sofia, Ana, and Daniela. The quintet who did all they could to cover up the car crash in 2002.
Twenty years finds them in very different positions in life, with Pedro (José María Yazpik) running for mayor of Miami, with Ana (Marina de Tavira), now his wife, supporting his campaign thanks to her expert knowledge of politics.
Marcos (Manolo Cardona) is a successful plastic surgeon at his father's firm, while former flame Sofia (Maribel Verdú) is in trouble with the law, and Daniela (Soledad Villamil) also struggles to make ends meet.
For Yazpik, who many will recognize for his role as Amado Carrillo Fuentes in Narcos: Mexico, he was intrigued by Pedro because of how different he was to other characters he has played.
"He's a complex character, he's constantly defining what he is or what he wants to be," Yazpik said of Pedro who, amongst other things, kept his love for Alejandro a secret for two decades and hasn't even told wife Ana, who was dating their late friend at the time of his death.
"He's sacrificed his life for his family and he's kind of emotionally unstable, which is exactly what attracted me to this character, since the characters that I've played before are very stable and they don't talk about their emotions. So I thought Pedro was a very complex person to play."
For Cardona, Marcos was interesting because of how much he keeps hidden from his friends and loved ones alike: "Marcos is a character that you think that you know, but [in] the end he has a lot of secrets, and a lot of inner demons.
"It's gonna be very interesting [to see] how all these different characters are going to be... trying to save themselves from the past."
Marcos and Verdú's character Sofia used to be in a relationship in their youth and 20 years later, the feelings come crashing back, even though the former is engaged to be married.
Of Sofia's appeal, Verdú shared: "I think Sofia is a mysteries woman, you never know what she's thinking. She fell in love with Marcos in real time and I think their relationship is very deeply [felt it] is very real and it never ended.
"In a certain it's never ended and I think [that] is going to be [a] surprise for the audience with this series and with our relationship, not only between Marcos and Sofia but between all the characters.
"For me playing Sofia was an incredible challenge because I've never played a role like [that], such a mysterious woman and kind of problematic."
In contrast, Villamil's Daniela wears her heart on her sleeve and is the only one of the group to show real guilt following the catastrophic crash when they were teens, going so far as to become a mother figure for Hugo, the boy whose mother was killed in the collision.
"I thought this was a very interesting aspect of the character, how through this guilt she starts raising Hugo as if he was her son," Villamil said. "She does this in order to try to fix some wounds of the past. She tries to give Hugo a home, or a mother, just to fix this guilt, and she does it in a sort of clumsy way."
The first three episodes of Now & Then are out on Apple TV+ now, and the show will continue airing weekly.