NRA Activist Maria Butina Had Ties to Russian Spies and Offered Sex for Access to U.S. Political Circles, Court Documents Claim
The Russian National Rifle Association activist charged with conspiracy and acting as a foreign agent was in communication with Russian intelligence operatives while living in the United States and attempting to infiltrate Republican political circles, federal prosecutors said Wednesday.
The suspect, Maria Butina, was also connected to Russian oligarchs with ties to the Kremlin and was romantically involved with a U.S. citizen whom she used to gain access to Republican political circles, according to a memorandum submitted Wednesday to the U.S. District Court for the District of Columbia, which has scheduled a detention hearing for Wednesday afternoon to decide whether Butina should released from pre-trial detention or held without bond.
"The FBI has uncovered evidence during the course of executing several search warrants that, during the course of her deployment to the United States, Butina was in contact with officials believed to be Russian intelligence operatives," the court documents read.
The FBI claims it discovered a handwritten note in Butina's possession asking, "How to respond to FSB offer of employment?" referring to the Russian state intelligence organization. She was also seen with a Russian diplomat who is suspected of being a Russian intelligence agent, according to the FBI.
The court documents submitted Wednesday also allege that Butina used a personal relationship with a U.S. citizen to gain access to influential political circles.
"During the course of this investigation, the FBI has determined that Butina gained access through U.S. Person 1 to an extensive network of U.S. persons in positions to influence political activities in the United States. Butina, age 29, and U.S. Person 1, age 56, are believed to have cohabitated and been involved in a personal relationship during the course of Butina's activities in the United States," the court documents read.
On at least one separate occasion, Butina offered "sex in exchange for a position within a special interest organization," the documents indicate.
Butina is a well-known NRA activist who reportedly bragged about putting Russian officials in touch with the Trump campaign. She has been closely linked to Paul Erickson, a Republican who said he worked as an adviser to the Trump transition team. She also worked with Alexander Torshin, an official from Russia's Central Bank and an ally of Russian President Vladimir Putin. Torshin met with President Donald Trump's son, Donald Trump Jr., on the sidelines of an NRA convention in 2016.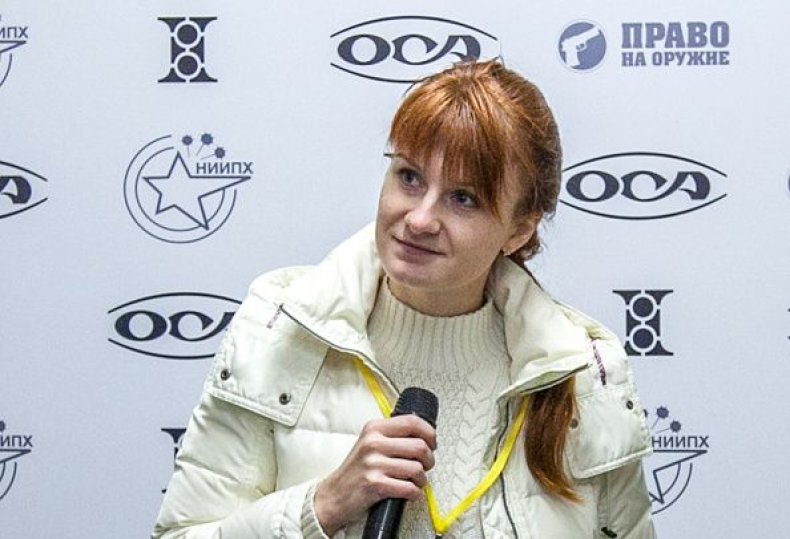 Butina had been living in Washington, D.C., where she recently completed a master's degree at American University. Since 2015, she has traveled around the U.S., giving talks about gun rights.