NRA Relocates Board Meeting to D.C. As Gun Control Measures Gain Traction in Congress
The National Rifle Association has relocated its upcoming board meeting to the nation's capital, just weeks after the gun-rights group has been wracked by the departures of several board members and high-profile executives.
The mid-September conference, the first time the NRA's board of directors will convene since the annual meeting in April, was set to take place in Anchorage, Alaska, until plans were scrapped in favor of a more politically-minded approach. The board's previous meeting in April thrust the turmoil plaguing the NRA's internal governance into plain view with the ouster of Lt. Col. Oliver North, then the NRA's president.
NRA Secretary and General Counsel John Frazer informed the organization's board and executive council of the move Tuesday evening, according to a copy of his e-mail that was obtained by Newsweek.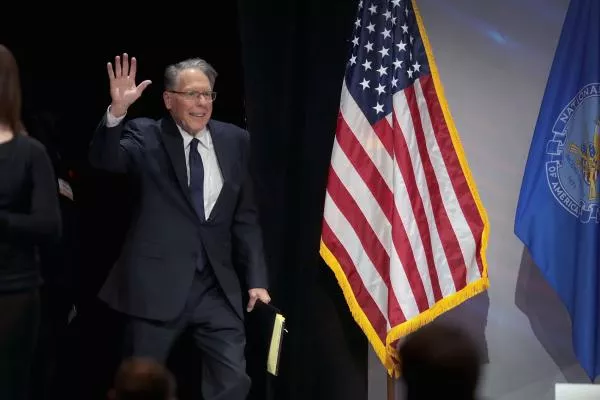 "Due to the developing legislative situation at the federal level, our fall board meeting is being moved and rescheduled," Frazer wrote. "Please plan on meeting in the northern Virginia area from Wednesday, September 11 to Saturday, September 14 (with the board meeting itself on Saturday the 14th and departure authorized for Sunday the 15th). An official notice will be sent when a new location is secured, and we will work with each of you to make the necessary changes in travel plans."
News of the relocation was first reported by The New York Times.
The board meeting was ostensibly relocated to supervise gun-control legislation the NRA is worrying might trickle through Capitol Hill when Congress returns from its August recess. President Donald Trump and prominent Republican lawmakers have expressed a willingness to entertain some basic gun-control measures from their Democratic colleagues, who have rarely found common ground with conservatives on this issue.
But a bipartisan push is far from certain, and reform was made all the more difficult after Trump reportedly reassured NRA CEO Wayne LaPierre during a phone call that popular legislative proposals such as universal background checks would not earn his endorsement over measures tackling mental health. Focusing on mental health solutions in the wake of gun violence has long been an NRA priority.
"This decision was made after careful consideration. As you know, our duty to protect our Second Amendment comes above all else and the NRA is the only organization that can carry out that mission," Frazer continued. "As details of the congressional schedule were revealed today, it became apparent that a fight of historic proportions is going to begin during the time when we would have been in Alaska."
Frazer explained to the board that being in Alaska "would have made it impossible" for senior staff and NRA leadership to lobby lawmakers upon their return to D.C., at a time when momentum has been building for some sort of legislative action on gun control.
The decision to relocate also comes amid a struggle over the NRA's internal governance that has seen seven board members resign since the annual meeting and the departure of employees critical to the NRA's on-the-ground operations, including the group's top lobbyist Chris Cox.
Cox was pushed out after the NRA accused him, in a legal filing submitted as part of an ongoing lawsuit against North, of helping to instigate a coup against LaPierre. David Lehman, Cox's deputy, left the NRA's lobbying arm last week.
The NRA had previously succeeded in helping to quash a special legislative session in Virginia called by Governor Ralph Northam after a mass shooting in Virginia Beach claimed a dozen lives. The session, convened to address a slate of gun reform proposals, lasted less than two hours before Republican leaders in the General Assembly brought it to a close.
Among other governance issues, the NRA has received criticism for its decision to hold the board meeting in a remote location such as Alaska, outside the scrutiny of a gun-owning public whose attitudes about the organization have turned in recent months. Moreover, some board members have earned the ire of NRA members for skipping out on meetings, one of their primary responsibilities.
After two mass shootings in El Paso and Dayton earlier this month, Trump appeared to support calls for strengthening background check laws, which currently do not require checks for most private sales. "We will see where NRA will be, but we need meaningful background checks," he said at the time.
The NRA opposes universal background checks and cites examples of mass shooters who have eluded the FBI's National Instant Criminal Background Check System before carrying out their attacks.
Research on the issue has produced mixed results. A prominent study from the Johns Hopkins Center for Gun Policy and Research concluded in June that expanding background checks alone "[does] not decrease lethal gun violence." Another 2017 study from Harvard University researchers found that strengthening background checks "is associated with decreased firearm homicide rates."
Interest in so-called "red flag" legislation has also been building in the Capitol, including a measure backed by Senate Judiciary Chairman Lindsey Graham. This approach would encourage states to adopt their own red-flag laws, allowing private parties to petition a judge to have a gun owner's firearm temporarily removed if they are suspected of planning to injure themself or others.
While universal background checks enjoy massive bipartisan support, including from traditionally gun control-skeptic Republicans and conservative NRA members, red flag laws earn far less enthusiasm from the right, who see court-ordered firearm removals as an incursion on due process.
The NRA did not respond to a request for comment.
{{#isDisplay}} {{/isDisplay}}