NRA Celebrates 25 'Bad Gun Control Bills' Killed in Florida Amid Rise in Violent Crime
The National Rifle Association (NRA) is touting the failure of 25 gun control measures in Florida this legislative session, despite the fact that violent crime is on the rise in the Sunshine State.
"As we celebrate passage of three (3) pro-gun bills in the 2021 Florida Legislative Session, we should also be celebrating the fact that 25 very bad gun control bills were killed (10 House Bills & 15 Senate Bills) without ever getting to the House or Senate floor," Marion Hammer, the gun-rights group's longtime Florida lobbyist, said in a statement to members.
Some of the gun control measures that never made it to a vote were a ban on assault weapons or large-capacity magazines, universal background checks and prohibiting 3-D printed firearms.
"As one might expect, all of the gun control bills were sponsored by anti-gun Democrats," Hammer added.
The NRA's statement sparked pushback from gun control activists, who pointed to the rise of violent crime in Florida.
"WOW!!! Gun violence is raging and the lunatic Florida lobbyist for the @NRA sends this," Fred Guttenberg wrote on Twitter. Gutenberg's daughter, Jamie, was a victim of the 2018 shooting at Marjory Stoneman Douglas High School in Parkland.
"Marion, while you celebrate 'killing' bills and bills having 'died' actual Floridians and Americans have been killed and are dying from gun violence and the consequences of your deadly work," Guttenberg added.
Last year, violent crime in the state rose for the first time since 2015. The 2.3 percent spike was bolstered by a rise in murder and aggravated assault, according to an annual crime report from the Florida Department of Law Enforcement.
The report found that 80 percent of murders and 38 percent of aggravated assaults in Florida in 2020 involved a firearm.
"Have to love when the @NRA takes a victory lap when many reasonable, common sense gun reforms never saw the light of day in Tallahassee," Dan Daley, a Democrat representing the 97th district in the Florida House of Representatives, wrote on Twitter. "Remember this as the scourge of gun violence continues to grow in Florida and across the country."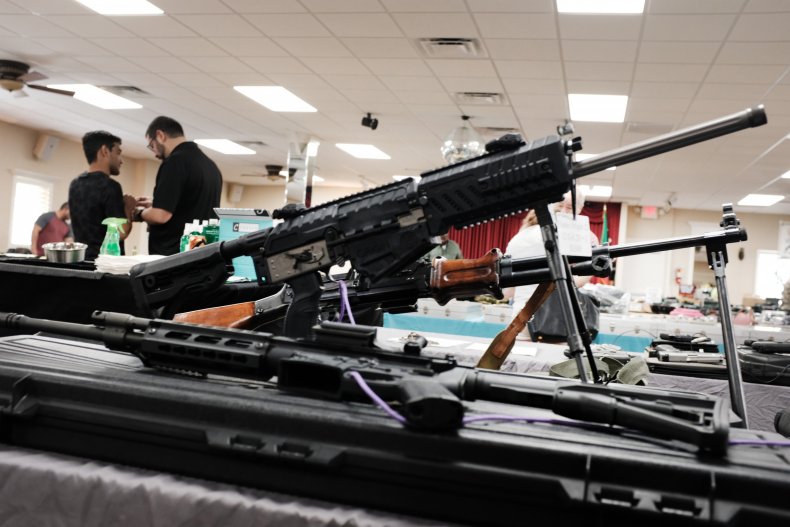 According to the Gun Violence Archive, gunfire has killed roughly 10,800 in the first seven months of the year. Nearly 13,000 people have died by gun suicide.
More than 180 people were killed in shootings across the country over the Fourth of July holiday weekend, according to data from the Gun Violence Archive.
Earlier this week, President Joe Biden met with a group of law enforcement officials, community groups and state and local leaders to discuss his plan for reducing shootings and other violent crimes.
"While there is no one size fit all approach, we know there are some things that work," Biden said. "Our strategy provides funding for law enforcement through the American Rescue Plan for states, cities to be able to hire police and pay them overtime in order to advance community policing."
Newsweek reached out to the NRA for additional comment but didn't receive a response before publication.