WATCH: NRA Unveils Ominous Recruitment Ad That Slams Athletes, 'Hollywood Phonies,' Journalists
In the midst of a PR crisis, the National Rifle Association released a new promotional video in which prominent spokeswoman Dana Loesch goes on the defensive against "Hollywood phonies," athletes who sit during the national anthem, journalists and almost everyone who has become critical of the massive gun lobbying group following the Parkland, Florida, school shooting.
The ad, posted to the NRA TV Twitter account, features Loesch dressed in black against a black background. Standing next to an hourglass, the spokeswoman addresses a long list of detractors against a backing track of ominous guitar music.
"To every lying member of the media, to every Hollywood phony, to the role model athletes who use their free speech to alter and undermine what our flag represents, to the politicians who would rather watch America burn than lose one ounce of their own personal power, to the late-night hosts who think their opinions are the only opinions that matter...," Loesch says against a backing track of ominous music. "...your time is running out."
The reference to time may be a snub to Hollywood, which launched its Time's Up campaign for gender equality and hosted the 90th Academy Awards on Sunday. Some members of the media earned a special shoutout in Loesch's diatribe, including MSNBC personalities Joy-Ann Reid, Joe Scarborough and Mika Brzezinski.
The dramatic promotional blitz comes as companies and supporters flee the NRA during a resurgence of support for gun control. Major rental car companies, national hotel chains, airlines and insurance companies have discontinued discount programs to NRA members. Some retailers have also bumped up the minimum age to buy an assault weapon or vowed to stop selling them completely. Individual members of the NRA have also gone viral for posting self-made videos in which they destroy their guns or denounce the pro-gun group. Politicians, too, are walking back support.
The most recent backlash stems from the Parkland, Florida, shooting that left 17 people dead. The alleged killer used an AR-15 purchased legally in the shooting.
In a statement to Newsweek, founder of Moms Demand Action for Gun Sense in America Shannon Watts said the ad wasn't surprising. She was more surprised by the companies that give the NRA's content a platform, she said.
"Once again, NRA TV is using its reach to threaten the media and all who dare to stand up to its radical vision of America," Watts said. "It's not surprising to see more violence-inciting content from NRA TV, but what does floor me is Apple, Google, Amazon and Roku's willingness to allow this dangerous content on its streaming platforms. I don't expect better from the NRA, but I do expect better from our leaders in tech."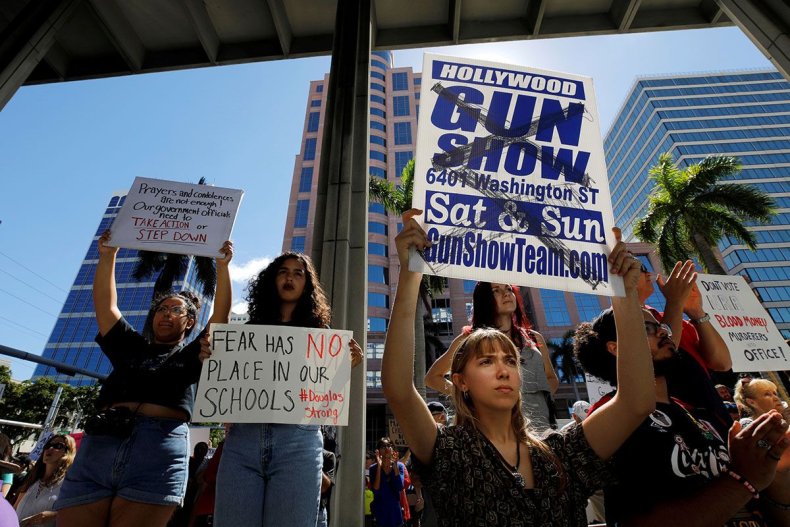 This is not the first time the NRA has released an us-versus-them ad campaign. In July 2017, the gun lobbying group made a transparent attempt to appeal to Trump supporters while the president grappled with criticism that he was too soft on voters who express white nationalist views.
"They use their media to assassinate real news. They use their schools to teach children that their president is another Hitler," Loesch narrates, as pictures of protests appear on screen. "They use their movie stars and singers and comedy shows and award shows to repeat their narrative over and over again. And then they use their ex-president to endorse the resistance."
That video received backlash when, less than a month later, a white nationalist rally in Charlottesville, Virginia, led to the death of a progressive protester. In an NPR report, a former card-carrying member of the group said the ad caused him to yank his support.
"I mean, I'm looking at this and, you know, just thinking that this isn't me, this organization which I belonged to for a number years coming out in such a dark, hostile and fear-provoking way," said Marine Corps vet Joe Penzler. "I was just, like, I'm done."
Yet the advertising approach still seems to be popular with some supporters. At time of writing, the most recent ad garnered close to 9,000 "favorites" on Twitter and was viewed more than 1 million times, putting it among the most-liked tweets in the NRA TV's feed.