NRA Calls Donald Trump to Warn Against Background Checks: Report
President Donald Trump told reporters Wednesday before visiting victims of the mass shootings in Dayton, Ohio, and El Paso, Texas, that there "was great appetite for background checks," and seemed open to the possibility of stricter gun policy passing through the Senate.
But new reports from The Washington Post seem to contradict Trump's outward support of gun reform as the president reportedly spoke with National Rifle Association chief executive Wayne LaPierre a number of times this week after the shootings.
Anonymous officials told The Post that during the Tuesday call,LaPierre warned the president that background check legislation would hurt his popularity with the Republican base and urged him to reconsider his position. Newsweek was unable to confirm details of the meeting and the White House did not immediately respond to a request for comment.
But Democratic Senator Joe Manchin of West Virginia told the paper he had a phone call with the president on Tuesday where Trump outlined concerns brought by the NRA.
"We talked about that," Manchin said. "I told him, we don't expect the NRA to be supportive. Mr. President, in all honesty, when you did the bump stocks, they [the NRA] weren't for you. They were against that, too. You didn't take any hit on that."
White House officials claim the president has been asking advisers and trusted lawmakers about the NRA's political clout, according to The Post.
The NRA broke its record for campaign spending in 2016 when it spent more than $30 million to help elect Trump.
But since the 2016 election, anti-gun violence groups have increased their political influence and campaign fundraising—particularly in the wake of the Marjory Stoneman Douglas High School shooting in Parkland, Florida, and creation of March For Our Lives by surviving students—while the NRA has become embroiled in a number of controversies, including some notable ties with a Russian influence agent.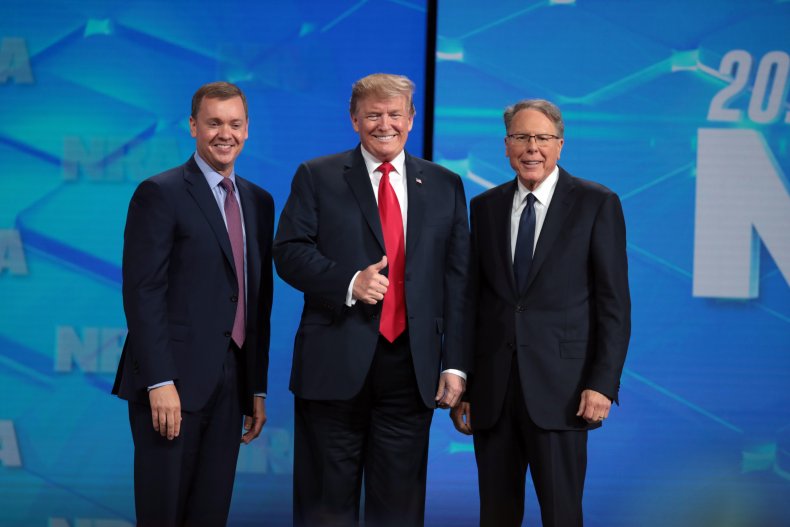 Combined, the Giffords PAC and Everytown for Gun Safety spent about $37 million during the 2018midterm elections compared to the $20 million the NRA spent.
The NRA, meanwhile, praised President Trump's post-El Paso and Dayton speech on Monday where he said, "mental illness and hatred pulls the trigger, not the gun." The NRA said the president did well to address the "root causes" of gun violence instead of gun reform.
"The NRA welcomes the President's call to address the root causes of the horrific acts of violence that have occurred in our country," the organization said in a statement. "It has been the NRA's long-standing position that those who have been adjudicated as a danger to themselves or others should not have access to firearms and should be admitted for treatment."