NRA Tells Donald Trump Thanks, but No Thanks After He Says the Gun-Rights Group Should Flee New York for Texas
The National Rifle Association (NRA) has politely declined a suggestion from President Donald Trump on Tuesday that the group flee New York in favor of the more gun-friendly State of Texas. Trump's comment was made despite the fact that the gun-rights organization is headquartered in Fairfax, Virginia.
Trump wrote that if an organization is the "victim of harassment by the A.G. of [New York], like what they are doing to our great NRA," then that group will "move quickly to Texas, where they are loved."
The NRA, which donated over $30 million to Trump's campaign in 2016, welcomed the intervention.
"The NRA appreciates the ongoing support from President Trump," NRA managing director of public affairs Andrew Arulanandam told Newsweek in a written statement. "He's a champion for our cause and the freedoms for which we stand."
However, despite the organization's occasional differences with New York Governor Andrew Cuomo, Arulanandam said "we have a long and proud history in New York—for almost 150 years," and emphasized that, despite frequent calls to decamp to another state, "our plan is to stay there."
"We'll fight for our members right there and across the nation, and defend their interests like never before," he added.
Letitia James, the New York State attorney general, has opened a probe into the NRA's finances after several reports in recent months revealed potential instances of financial impropriety. The NRA said it has had to sue its longtime PR firm Ackerman McQueen to obtain business records needed to respond to the attorney general's inquiry.
While the NRA has its charter in New York, the organization is headquartered in Virginia. The charter allows James to conduct oversight of the organization, but a change in jurisdiction would not quell the NRA's mounting legal woes. Ackerman has sued the NRA as part of the groups' acrimonious split, and their court fight is currently playing out in the Circuit Court of Alexandria. Wherever the NRA would relocate, per the president's suggestion, that would not immunize the group from civil litigation.
If the NRA wanted to relocate it would first have to file a certificate of dissolution with New York's Department of State, and only after the attorney general's office has given its stamp of approval.
"Under New York law you have to get permission from the state's attorney general to do that," James Fishman, a Pace Law School professor and the author of New York Nonprofit Law and Practice, told Newsweek. "That's really to stop organizations that, say, are crooked from dissolving and running away to another state. The NRA is stuck."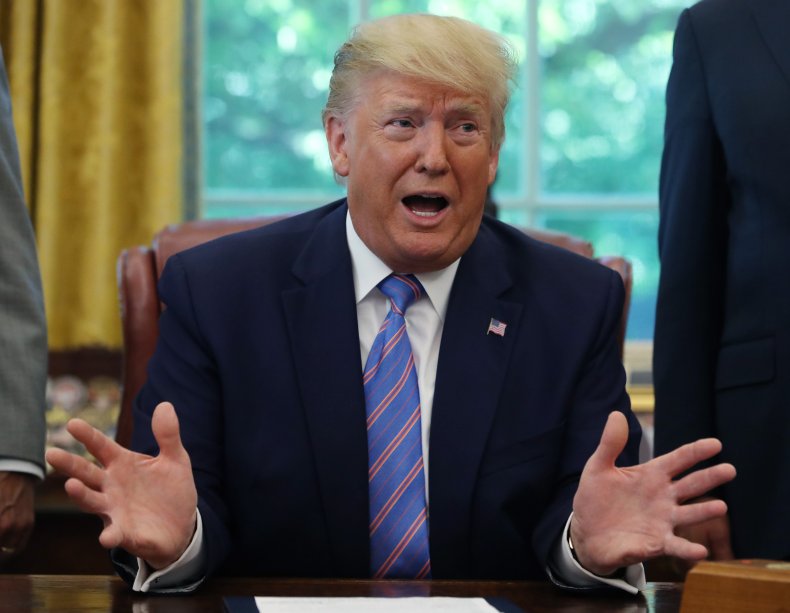 Furthermore, the president himself has run into trouble trying to evade oversight from the New York Attorney General's Office. On Christmas Eve 2016, then-President-elect Trump announced that his namesake foundation would close amid heightened scrutiny over allegations of potential self-dealing.
During that dispute and a then-ongoing probe by then-state Attorney General Eric Schneiderman, the attorney general's office released a statement informing Trump that he could not dissolve the foundation while it was being investigated, a blow to the president's efforts to remove the ethical cloud surrounding his business empire.
Fishman figured that James "could get the NRA to reorganize and promise to clean everything up" in return for an approval of a dissolution certificate. But that would certainly depend on the outcome of her office's investigation which, until finished, the NRA is beholden to under a New York law which grants the state's attorney general oversight of the non-profit sector.
The New York State Attorney General's Office did not immediately respond to a request for comment.