Exclusive: Fifth NRA Board Member Resigns Amid String of Recent Defections
A fifth member of the National Rifle Association's board of directors has resigned, the latest in a string of high-profile defections within the powerful gun rights group in recent weeks.
NRA board member Richard Childress, a former NASCAR driver and the owner of a self-titled car racing enterprise, submitted his resignation to the board, John Frazer—the organization's secretary—and NRA President Carolyn Meadows on Monday, according to a copy of the letter obtained by Newsweek.
This marks the fifth resignation from the NRA's board of directors since August 1, when three board members quit after they allege they were sidelined for raising questions about apparently lavish spending and mismanagement by top executives.
[Read the full letter below.]
Childress, along with former NRA President Lt. Col. Oliver North, had previously authored a memorandum to the chairman of the NRA's audit committee and Frazer (in his dual capacity as general counsel) expressing how they were "deeply concerned" about the billable hours being racked up by the organization's outside counsel, William A. Brewer III.
The letter revealed that Brewer's firm earned $24 million over a 13-month period, payments that Childress and North described as "excessive on their face."
"The Brewer invoices are draining NRA cash at mindboggling speed," the pair wrote.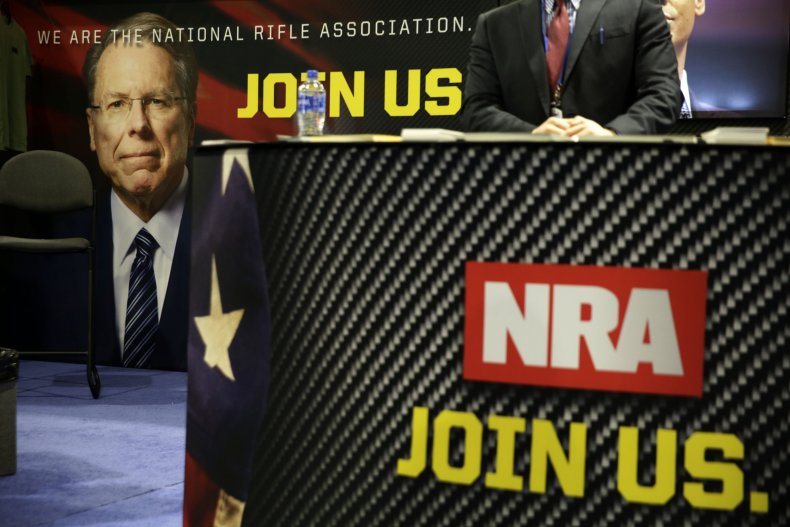 Among other concerns, Childress and North alleged that their repeated pleas to conduct an independent audit of Brewer's invoices had previously gone unacknowledged. The memo was leaked anonymously online and subsequently authenticated by The Daily Beast.
North was forced to resign amid an ongoing management dispute with CEO Wayne LaPierre, who had accused North of attempting to extort him in order to secure his own resignation.
North has said that he was trying to conduct appropriate oversight of the organization after reporting revealed examples of apparent financial mismanagement. In doing so, he says, he tried to form a Crisis Management Committee to investigate the allegations before LaPierre blocked it from convening.
Childress, also serving as the NRA's first vice president, read North's resignation letter aloud at the annual meeting in April.
A fourth NRA board member, Julie Golob, announced her departure on August 12.
Childress did not refer in his resignation letter to the Brewer dispute or any of the myriad fiscal and governance scandals that have plagued the NRA since April, when The New Yorker documented what would be the first in a long line of allegations of financial misconduct that have racked the organization.
"At this time, it is necessary for me to fully focus on my businesses. I owe that to my employees, our partners, my family, and myself," he wrote. "Since proudly agreeing to serve on the NRA Board, I have supported the organization and its important mission to preserve and protect our Constitutional rights. But when, as now, I am no longer able to be fully engaged in any commitment I have made, it becomes time for me to step down. I have reached that point in my ability to continue to serve the NRA. As such, I must resign."
Unlike the three board members who catalyzed the pattern of resignations in recent weeks, alleging in their letter they were disempowered after seeking to exercise oversight of the group's spending, Childress did not refer specifically to any of the financial improprieties or related scandals as reason for his departure.
He did make an oblique comment about the NRA's current dilemmas, expressing hope that the group can "move forward with a focus on its important mission of defending the Constitutional rights of law-abiding citizens."
The NRA is under investigation by multiple government entities, including the attorneys general of New York and the District of Columbia, and is embroiled in numerous lawsuits related to its billing practices and fallout from the financial misconduct scandals.
The organization recently sued to intervene in North's interview on Tuesday with New York State Attorney General Letitia James, who, along with dozens of current and former NRA board members, have received subpoenas related to her investigation of the NRA's tax-exempt status.
A judge ruled in state court on Monday that the NRA cannot listen in on North's testimony.
In response to a request for comment, the NRA provided Newsweek with the following statement:
"We accept the resignation of Mr. Childress, and appreciate his many years of service to the NRA," Meadows, the NRA's president, said. "We wish him all of the best in his business endeavors and appreciate his desire to focus on those interests at this time. Of course, we are pleased to see that Mr. Childress will continue to support the organization and the constitutional freedoms in which it believes."
Speaking through a representative, Childress declined to provide further comment.
This story has been updated to include a statement from the NRA and Childress.