Here's Why the NRA Is So Powerful and Why Gun Control Advocates Have Reason for Hope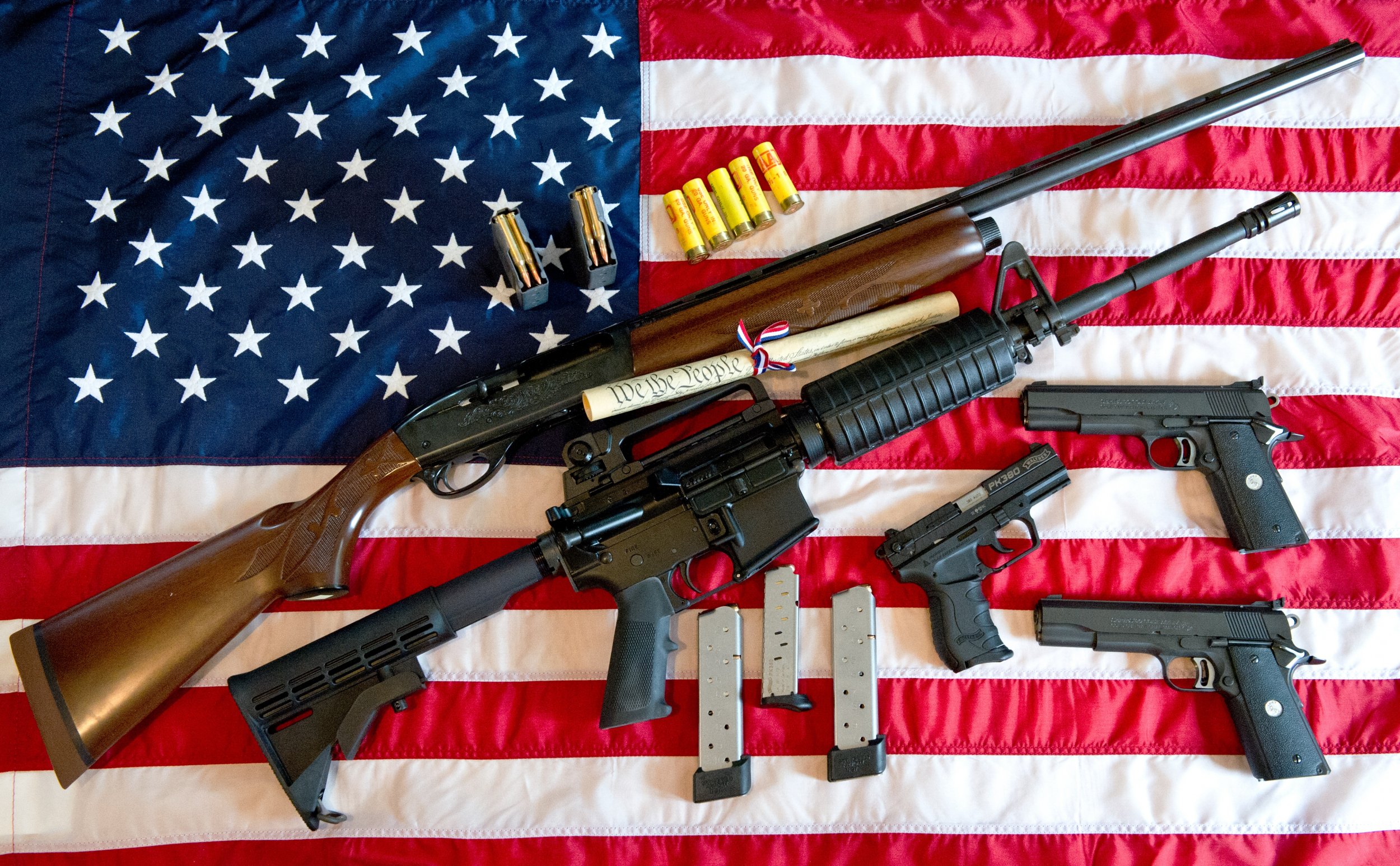 Updated | In a now all too familiar sequence of events for Americans, gun control and the National Rifle Association were thrust into the forefront of the national conversation following the mass shooting at a high school in Parkland, Florida, on Valentine's Day. Seventeen people were killed and more than a dozen others were wounded that day when a 19-year-old armed with a legally purchased AR-15 opened fire at Marjory Stoneman Douglas High School. The massacre prompted renewed calls for stricter gun laws. Traumatized students emerged as the most impassioned advocates, aiming their opprobrium at the politicians who took money from the NRA.
The National Rifle Association spends more money to influence politics than nearly every nonprofit group in the United States—but that's only one-half of its arsenal, gun violence experts told Newsweek in separate interviews.
The NRA's extravagance has earned it a reputation as one of the most powerful political organizations in the county. When it comes to muzzling politicians on gun control and stymying regulations in Congress, the public often credits the group with near-omnipotence. It's an easy argument to make when lawmakers offer "thoughts and prayers" in the wake of gun violence but shy away from legislative action. They also tend to have a pecuniary interest in protecting the NRA's aims.
Years of paralysis around the gun debate on Capitol Hill, as well as lawmakers bucking multiple national polls indicating that a clear majority of Americans support some form of gun control, show it isn't just about the money, according to Robert Maguire, who tracks spending among political nonprofit organizations for the Center for Responsive Politics, a nonprofit and nonpartisan group that monitors spending on elections and public policy.
'Double-Barrel' Strategy
"What's special about the NRA is that it has two sources of its influence," Maguire said. "The first is its very deep pockets. The second is its almost unparalleled grass roots support."
"They really have that double-barrel interest that other groups don't have," he added.
Not only does the NRA outspend gun control groups but it's also simply better at mobilizing its base (it boasts a membership of 5 million) against candidates it deems a threat, according to the Violence Policy Center's executive director, Josh Sugarmann.
"I think across the board, if you compare the NRA core to any progressive issue, the NRA core supporters are completely willing to follow orders," he said. "When they are told to make a call, knock on a door, they do it.... The word comes down from above, and they do it."
Related: As Florida shooting unfolded, NRA was promoting 'Buy your loved one a gun' Twitter post
"The pro-gun side is very engaged politically and in the politics of intimidation," Sugarmann added. "On the gun violence prevention side, we may have strong support, but we have not matched that level of dedication and engagement."
'If You Cross the Gun Lobby, They Never Forget'
David Jolly, a former Republican congressman in Florida, knows firsthand what it's like to be forsaken by the NRA.
Jolly had the group's support, along with the support of other conservative outside spending groups, when he ran against a Democrat for Florida's 13th Congressional District in a January 2014 special election. He won a close race but easily won re-election to a full term the following November.
Then, in June of 2016, an election year, a gunman opened fire at the Pulse nightclub in Orlando with an AR-15-style rifle, killing 49 people. Jolly introduced a moderate gun control bill on the House floor nine days later. Among other provisions, the measure would have prohibited people on no-fly and terrorism watch lists from purchasing guns, but also allowed people who were refused gun permits recourse to argue their case before a federal judge.
The NRA pulled its support for Jolly.
Jolly's bill died in the House, as did Jolly's relationship with the NRA. He lost the race that year by 3.8 percent, or 13,544 votes.
"They weren't there for me in my next election, clearly," he said. "I had been abandoned."
It's difficult to reduce that loss down to one factor, but Jolly said he believes if his campaign had been better funded, he would have won.
'They Are Coming for Your Guns'
Jolly said the NRA sics its base on gun control–endorsing politicians by simplifying all possible firearm legislation down to one message: They want to take your guns away.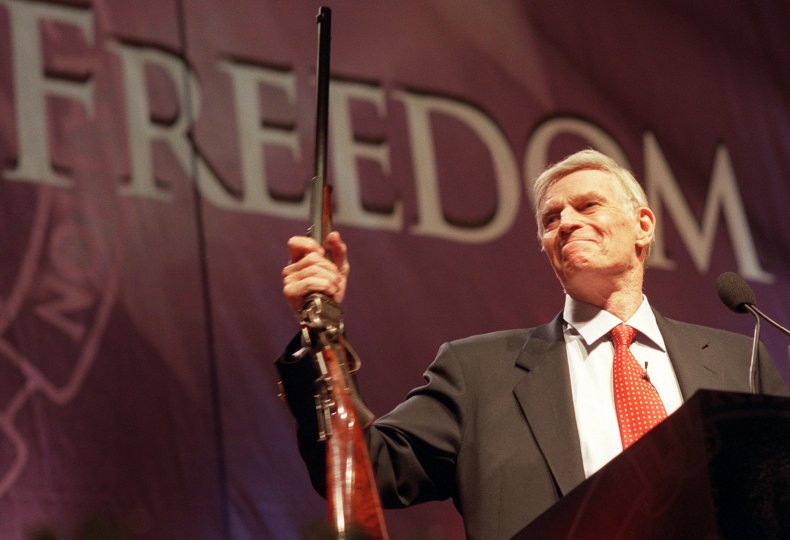 "Every issue that comes up, however reasonable the gun measure is, the NRA in D.C. and Virginia translates it as a message of confiscation to its base: 'They are coming for your guns,'" Jolly said.
That messaging is what puts the NRA in a league above gun control groups, according to Maguire.
"There is certainly a passion for gun control in this country but because [the NRA's] message is so simple—'You are a gun owner; the Constitution gives you a right to own a gun; nobody should take that away; they're trying to take that away'—that is such a simple message that the gun control groups just don't have," Maguire said.
Jolly's political fate is precisely the reason other lawmakers financially supported by the gun group are reticent to back gun reforms, Maguire said in an interview separate from Jolly's.
"Anyone who considers possibly crossing the NRA fears that possibility," he said.
Sugarmann said the NRA's counterpart lacks that muscle for such reprisal.
"I think it has long been believed that if you cross the gun lobby, they never forget, and if you cross the gun violence prevention movement, it doesn't matter," he said.
Birth of the Modern NRA
This is not to say the money isn't critical to pro-gun activism. It's the prioritization of money and politics that transformed the NRA into the lobbying powerhouse it is today.
The NRA was founded in 1871 and for about a century existed primarily as a marksmanship, hunting and conservation group. Then the 1960s happened. Armed men assassinated President John F. Kennedy, his brother Robert F. Kennedy and the Reverend Dr. Martin Luther King Jr. Congress passed the Gun Control Act of 1968 in the wake of the bloodshed. Then, in 1972, the federal government expanded, creating the Bureau of Alcohol, Tobacco and Firearms to enforce related laws.
In 1975, NRA board member Harlon Carter founded the group's lobbying wing, the NRA Institute for Legislative Action. It was a turning point for the organization.
Today, the lobbying arm is one of the most powerful in D.C. It spent $35,157,585 in 2016, more than any other political nonprofit in the country that year, according to the Center for Responsive Politics.As a whole, the NRA spent $51,854,687 during the 2016 federal election cycle.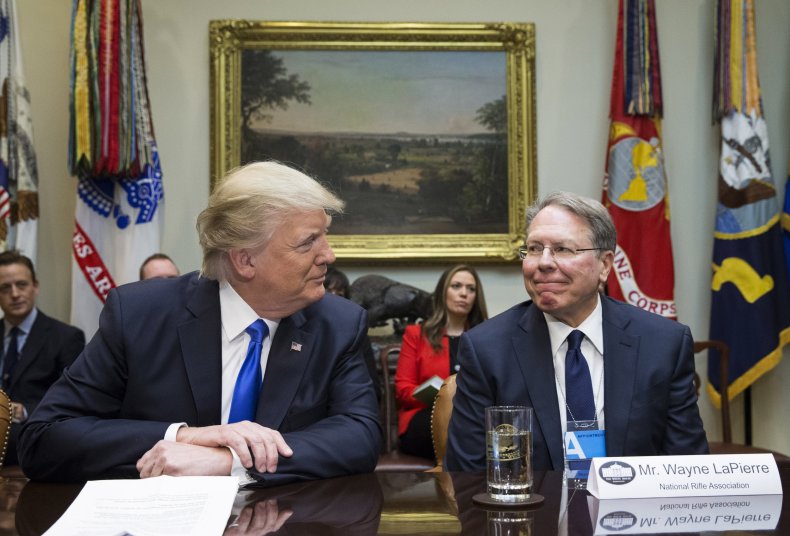 The NRA significantly boosted its spending that year, dropping more money to get President Donald Trump elected than it did in all federal elections in the 2012 cycle combined, the group reported. Trump was the beneficiary of over $30 million in NRA spending—$11,438,118 for him and $19,756,081 against Hillary Clinton—in the 2016 election.
The NRA's return-on-investment is formidable. The group had a 73.3 percent success rate by candidate in 2016—meaning nearly three-quarters of the time the NRA spent money for or against a candidate, it got its desired outcome. It's also getting more efficient—its success rate when spending money on candidates has trended up since 2008 when it was only 43.6 percent.
Gun advocacy groups have also dramatically ramped up their spending over the past five years.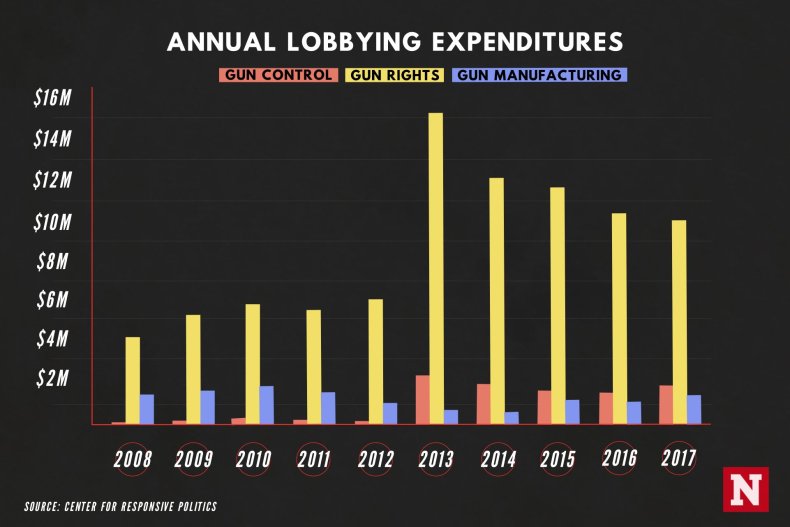 In 2012, gun rights groups outspent gun control groups in federal lobbying efforts $6,129,911 to just $250,000,according to data provided to Newsweek by the Center for Responsive Politics. On December 14, 2012, Adam Lanza walked into Sandy Hook Elementary School in Newtown, Connecticut, and killed 20 children and six adults with an AR-15-style rifle. The next year, pro-gun groups more than doubled their collective lobbying efforts, spending $15,292,052 compared to gun control groups' $2,217,765. Lobbying by both gun rights and gun control groups has declined slightly since, but the pro-gun efforts have never dipped below seven figures.
Since Newtown, over 100 pieces of gun legislation have failed in Congress. Not one reform has passed.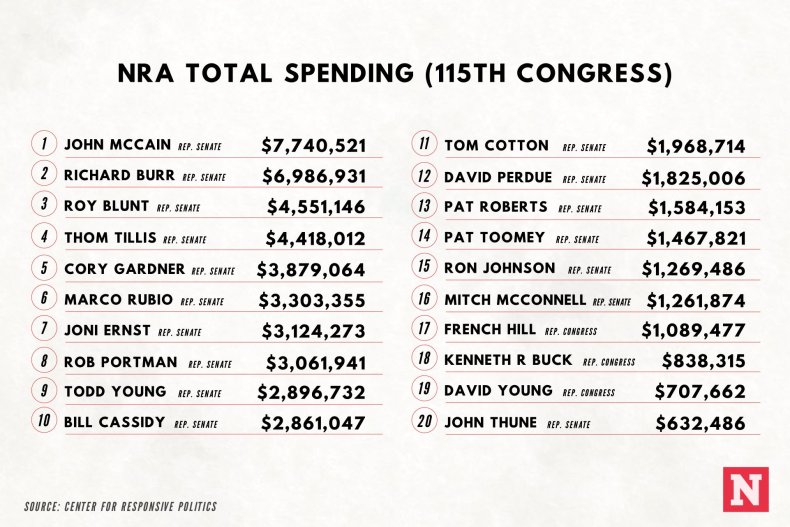 The NRA has invested millions on the elections of sitting lawmakers towards those ends. Seventeen incumbent senators, all of them Republicans, have received over $1 million from the group over the course of their career dating back to 1989, either in support of them or against their opponents, the lobbying watchdog reported.
'There's a Groundswell Building'
Despite the group's seemingly bottomless coffers, the NRA hasn't succeeded in convincing the public of its tenets.
A Quinnipiac University Poll published on Tuesday showed near-universal support for universal background checks—including among gun owners. The survey found 97 percent of gun owners were in favor of background checks compared to just three percent who weren't.
"If you think Americans are largely unmoved by the mass shootings, you should think again," assistant director of the Quinnipiac University Poll Tim Malloy said in a statement about the findings.
Malloy told Newsweek that support for stricter gun laws has spiked in the past two years.
"We've seen there's groundswell building since Sandy Hook but in the last two years we've seen a swing of 19 points," he said. "That's huge."
The pollsters interviewed 1,249 nationwide voters from February 16 to 19—beginning the day after the latest mass shooting unfolded.
"Clearly what happened in Florida fortified this and gives it momentum," Malloy said.
Polling by Giffords, a gun control group co-founded by former Democratic congresswoman Gabrielle Giffords—who was shot in the head during a public meeting with constituents in 2011—also supports Quinnipiac's findings.
An April 2017 Giffords/Public Policy Polling survey found that 86 percent of gun owners support barring anyone convicted of stalking or domestic abuse from purchasing a gun and 85 percent favor prohibiting anyone on a federal terror watch-list or no-fly lists from buying a firearm. Sixty-seven percent think the NRA is no longer an organization about gun safety. Instead, they said, the NRA has "been overtaken by lobbyists and the interests of gun manufacturers and lost its original purpose and mission."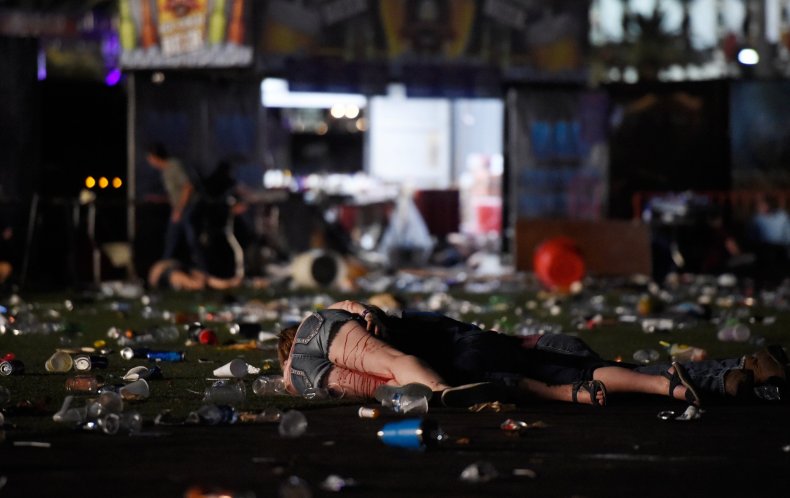 A Politico/Morning Consult poll from October 2017 found that 79 percent of voters support banning bump-stocks—the aftermarket rifle accessory that helped Stephen Paddock achieve near-automatic-rifle fire in the October 1, 2017 Las Vegas massacre. Paddock killed 58 people and wounded hundreds in just minutes as he sprayed bullets down from his hotel room into an open-air concert.
The Politico/Morning Consult survey also found that nearly seven out of 10 voters, or 69 percent, support prohibiting firearms in K-12 schools and on college campuses. Seven out of 10 Republicans also support bans on assault weapons, an October 2017 NPR/Ipsos poll found.
It's difficult to reconcile why some politicians remain reticent on gun control when the overwhelming majority of the public supports reforms, gun experts said.
Jolly said it's partially political fortitude and partially the Republican leadership's complicity.
"I think the GOP leadership is complicit," he said. After the Las Vegas massacre "you had Republicans saying, 'We want a bump-stock ban.' They could've done it in a one-page bill, but they even punted on that."
Jolly said he doesn't expect Trump to move the chains on the gun issue either, though he said Trump is exactly the kind of candidate who could have started a national dialogue because of his own base's overwhelming support for the Second Amendment. (An October SurveyMonkey poll conducted after the Las Vegas shooting found that if only people living with guns in their home voted, which accounts for about a third of the country, Trump would have taken every state but Vermont in the 2016 election.)
"Donald Trump won't," Jolly said. "He sold his soul at the altar of the NRA. He's done it in word and deed."
At the NRA's annual convention last April, Trump pledged his fealty to the organization. "You came through big for me, and I am going to come through for you," he said. "The eight-year assault on your Second Amendment freedoms has come to a crashing end."
On Tuesday, however, Trump announced he had moved to ban bump-stocks.
"We cannot merely take actions that make us feel like we are making a difference. We must actually make a difference," he said during a ceremony at the White House. "Just a few moments ago, I signed a memorandum directing the Attorney General to propose regulations to ban all devices that turn legal weapons into machine guns."
Gun-smoke and Mirrors
Despite the track record of inaction in Congress and the president's ambivalence on weapons legislation, some gun control experts told Newsweek there is reason to be hopeful.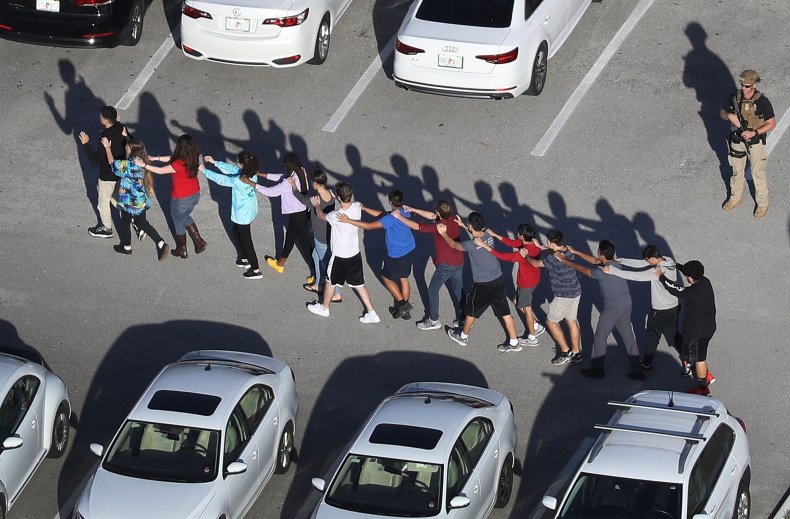 Isabelle James, the political director at Giffords, said the notion that the NRA is a kingmaker, able to determine elections and direct a base of single-issue voters, is false.
"The NRA's true power lies in a myth about their ability to influence elections," James said. "The single-issue gun-rights voter is really just a conservative voter who carries guns... They vote conservative all the way down."
"They're never going to actually swing an election. They're just going to vote for the conservative candidate," she added.
James pointed to the trove of polling in the last five years that showed a clear trend favoring gun violence prevention.
"I think after 2018 there's going to be a different conversation about which voting block Republicans will fear when it comes to issue of gun control," she said.
A Republican defection may already be brewing.
Florida Senator Marco Rubio, whose Miami office is about an hour's drive from Marjory Stoneman Douglas, initially offered his prayers to the victims—something that's become a rote response among NRA backed officials. But on Sunday, he shifted. Rubio told Miami's CBS affiliate WFOR that he would "absolutely" endorse what's known as a "red flag law," or a statute that would allow law enforcement to remove guns from the home of some people suspected of posing a threat to themselves or others.
"What Marco did, he stepped out of NRA bounds when he suggested red flag laws," Jolly said, though he said he wasn't sold on Rubio's commitment to gun control yet. "I think there will be a huge blowback and the test will be how he responds to the blowback," he said.
Rubio's shift may signal a weakening NRA. Andrew Patrick, media director at the Coalition to Stop Gun Violence, said the Parkland shooting comes at a time when the NRA appears vulnerable.
"The fact that [politicians] are afraid of the NRA and the NRA's ability has been true in the past. I don't know or if it's still true or just a perceived power," he said. "If there is a time for Republicans to grow a backbone and fight for the safety of their constituents, now would be the time."
Patrick noted a recent string of losses for the gun group. NRA-endorsed candidates in Virginia and Alabama both lost their respective elections in 2017 and the FBI is reportedly investigating whether the NRA helped funnel money from a Russian banker with ties to the Kremlin to the Trump campaign in 2016.
"The NRA is probably at its weakest point in modern history, losing elections in its home state of Virginia," Patrick said. "It lost in Alabama when it endorsed Luther Strange. It's currently under investigation by the FBI for laundering Russian money."
'We Can't Vote, but You Can, so Make It Count'
The gun control momentum also got an influx of new voices after the tragedy in Parkland. As the eyes of the country and the national media descended on the town, several students quickly used their macabre platform to pressure Trump and Congress to act.
In an op-ed published on CNN, 17-year-old Stoneman Douglas student Cameron Kasky called on voters to force the hands of their elected officials for the students who were killed in the horrific shooting last week and those left grieving their loss.
"I'm just a high school student, and I do not pretend to have all of the answers," he wrote. "However, even in my position, I can see that there is desperate need for change—change that starts by folks showing up to the polls and voting all those individuals who are in the back pockets of gun lobbyists out of office."
"Please do it for me. Do it for my fellow classmates. We can't vote, but you can, so make it count," Kasky wrote.
"I think the leadership from these students is incredibly powerful," James said. "No one can say these are special interest groups. These are kids."
Jolly said he wants his party to take the lead on gun control but suspects Republicans may have to lose the House in the 2018 midterm elections for the chilled gun control debate to thaw. "If this is the issue that defines your ideology, Republicans are not going to be the ones to lead," he said. "I would prefer to see Republicans lead on this issue. I would beg. If they don't, this will be one of the factors to Republicans leaving the House."
The NRA did not return Newsweek's requests for comment via phone and email.
Correction: A previous version of this story incorrectly stated the NRA gave Charlie Crist $9,900 during his 2016 campaign against David Jolly. The NRA contributed $9,900 to Crist's Florida Senate campaign in 1998. He did not receive funds from the NRA in his 2016 campaign against Jolly.