NRA Donor Files Multi-Million Dollar Lawsuit, Accuses Gun Rights Group of Fraud and Financial Waste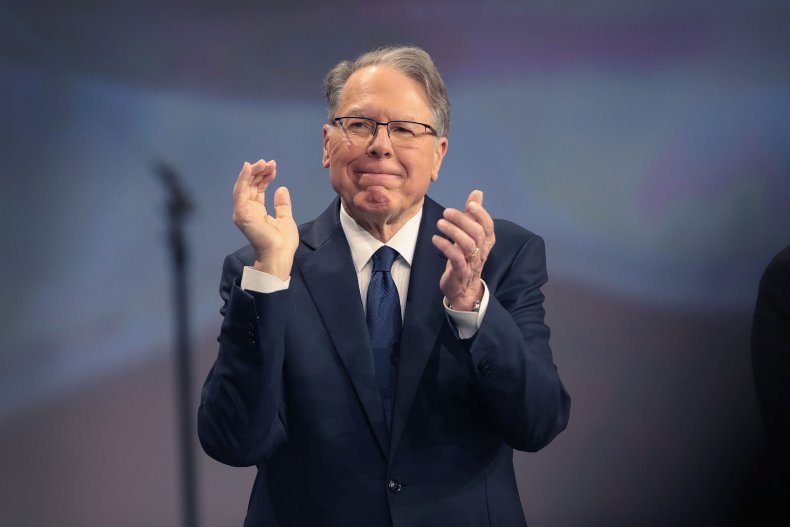 A major donor to the National Rifle Association (NRA) has filed a federal lawsuit against the gun-rights group alleging fraud and financial misconduct at the highest levels of the organization. The donor, David Dell'Aquila, is also seeking to have his litigation classified as a class-action lawsuit, which could allow potentially millions of NRA donors to recover payments if the suit is resolved in their favor.
In April, an investigation by The New Yorker revealed corruption and financial improprieties from the organization's top figures, including CEO Wayne LaPierre and former president Oliver North, infamous for his involvement in the Reagan-era Iran-Contra scandal.
Reporting since then has documented fraud, waste, conflicts of interest and internal power struggles that have earned the group criticism from even some of its staunchest Second Amendment allies.
This week alone, a new report revealed that in the wake of last year's mass shooting at Marjory Stoneman Douglas High School in Parkland, Florida, LaPierre sought to have the NRA purchase a $6 million lakefront estate in Dallas that he could use as his personal residence out of fear for his safety.
Over the past few months, longtime donors and supporters have revolted against NRA leadership in various ways. Some have called for boycotts; others have mounted grassroots campaigns to unseat entrenched board members; Dell'Aquila developed a multi-pronged strategy to reform the group's mismanagement, culminating in his lawsuit which was filed in Nashville on Tuesday.
Dell'Aquila alleged in his civil complaint that, in soliciting donations from potential contributors, the NRA made representations that "were intentionally and materially false."
"Instead of spending the donated money on the solicited purposes, [the NRA] used significant portions of the donated funds for purposes unrelated to the NRA's core mission," he contends.
The lawsuit references The New Yorker's investigation as well as an internal probe conducted by North before his ouster, ostensibly to root out fraud and waste. LaPierre has accused North of attempting to extort him, a dispute which then led to their falling out and, ultimately, North's resignation in April.
"When soliciting... funds, Defendants LaPierre and the NRA advised Plaintiffs that their funds would be used for gun safety education; to promote shooting sports and hunter safety; to foster wildlife conservation; and to protect gun ownership rights in the United States," the lawsuit states.
Dell'Aquila alleged that these missions were not being pursued with donor funds. For example, he noted the $97,000-per-day reimbursement rate of the group's outside counsel, William Brewer, as evidence of the NRA's misleading use of donor money. Also included in the allegations that the NRA misrepresented how it would allocate donations are references to the nearly $275,000 clothing bill racked up by LaPierre at a Beverly Hills clothing store and the nearly $245,000 worth of luxury travel provided to LaPierre.
Until recently, Dell'Aquila planned to donate 75 percent of his estate to the NRA upon his death. Since 2015, he has made around $100,000 worth of donations to the NRA and its charitable arm, according to the court documents.
The NRA did not immediately respond to a request for comment.