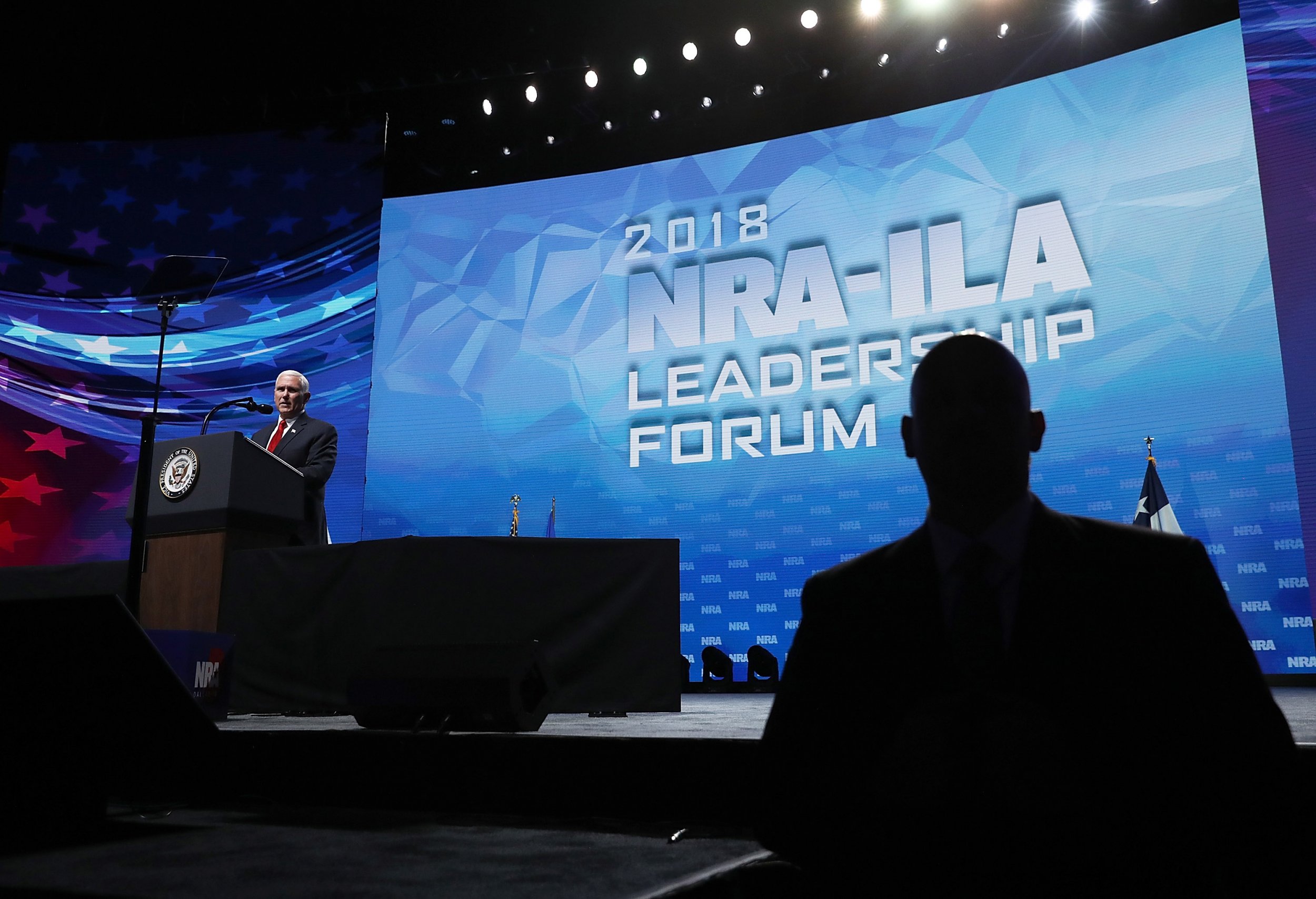 The National Rifle Association (NRA) tried to influence New Mexico's gun control policies using the authority of local law enforcement as leverage, including drafting an op-ed that was subsequently published under individual sheriffs' names.
Emails seen by Newsweek which were first obtained through a public records request from Brady, a national gun violence prevention organization that advocates for stricter firearms laws, reveal how the NRA interacts with local officials. The correspondence, sent to the head of the New Mexico Sheriffs' Association (NMSA) and then forwarded to local sheriffs, was first described in a Brady report on Monday.
In a February email, an NRA representative forwarded wording about gun control proposals from an NRA lobbyist to NMSA Chairman and Cibola County Sheriff Tony Mace, along with a note explaining, "This is a draft to start submitting to local papers by the individual sheriffs."
"Law-abiding gun owners need to be alerted to several firearm-related bills being pushed at the Roundhouse by out-of-state gun control organizations," the 346-word letter began. "These measures make it harder for law-abiding New Mexicans to exercise their Second Amendment rights, waste scarce law enforcement resources, and do nothing to keep guns out of the hands of criminals."
The NRA's letter was sent half an hour later to dozens of New Mexico county sheriffs, according to an email separately obtained by Newsweek. There was no mention of the NRA's involvement in that email.
"Sheriffs here is a letter I would like you to submit to all your newspaper outlets," Mace wrote. "Please feel free to edit it if you would like before sending out it's important that we get this done in a timely manner."
The letter was subsequently published in at least three local publications with attribution to individual sheriffs. Since the release of the Brady Report, one publication, the Deming Headlight, has added an editor's note, noting the piece's duplication in other outlets and that Brady found the column was "written by NRA lobbyists."
Law enforcement officials were apparently unaware of the provenance behind the language they were asked to push.
"I had no idea that there was NRA involvement in it," Catron County Sheriff Ian Fletcher, whose NRA-drafted op-ed appeared in the Catron Courier, told Newsweek.
But Fletcher said he agreed with the substance of the article published under his name, even if the language was "more articulate than what I would have come up with."
"I'm not the NRA's puppet," he said. "I agreed with what it said."
The Catron Courier confirmed to Newsweek that Fletcher did not disclose the origins of his op-ed submission.
NRA spokesperson Catherine Mortensen told Newsweek that "this is a distraction being pitched to reporters by the Michael Bloomberg–financed gun control lobby in response to the public's strong opposition to their extreme gun control measures.
"They are trying to draw attention away from the fact that the New York–style gun control they are pushing on New Mexicans will make law-abiding citizens less safe and won't do anything to deter criminals," she said.
Some gun control advocacy groups, such as the ASK Campaign, provide sample letters and even a draft op-ed column for supporters to use. However, the sample op-ed published on the ASK website clearly displays the group's name, and the content of the column is specifically about the organization.
The NRA's op-ed draft was disseminated a few months after New Mexico elected Democratic Governor Michelle Lujan Grisham in the 2018 midterms, giving Democrats control of the governor's office and both chambers of the state legislature for the first time in about a decade.
In a state where firearm deaths are 53 percent higher than the nationwide average, lawmakers had begun debating new gun control measures that would provide for universal background checks, dispossess domestic violence offenders of their weapons and streamline penalties for gun owners who let their weapons fall into the hands of a child.
According to emails obtained by Brady, Mace also messaged several state senators on January 18 about the gun control proposals with extensive wording that appeared to have been received from an NRA lobbyist hours earlier.
Mace told Newsweek that "it's no different from what any other lobbyist or what any other organization is doing."
He added, "We as an association did nothing wrong, nothing illegal, nothing unethical and nothing immoral."
However, Mace said he did "agree with" criticism over his failure to attribute certain words and comments to the NRA, but thought the situation had been "twisted and blown out of proportion" by Brady.
"In the future, you could say I learned a good lesson on all this," he said.
On February 5, a near-unanimous letter from the NMSA rebuked the state legislature for its desire to enact gun control measures.
"Should it become necessary, the citizens will be armed to stand and protect the republic once again as the original framers of the constitution intended," the statement read.
Following the association's statement and advocacy from individual sheriffs, 25 of the state's 33 counties passed symbolic "Second Amendment Sanctuary Resolutions" that expressed local government support for sheriffs who refused to enforce laws they deemed unconstitutional.