NRA Meeting Vendor Showcases Ted Nugent Gun Product Featuring Racial Slur
A Michigan-based company slated to appear at the annual National Rifle Association meeting plans to showcase a gun modification kit—sponsored by NRA board member Ted Nugent—that carries a racial slur.
The kits, called Ted Nugent's American SpearChucker series, are modification units for AR-15s. They are sold by Aagil Arms and come in several colors, including a U.S. flag motif and zebra print.
The kit's name, SpearChucker, is a derogatory term for black people alluding to hunters in Africa. Artwork for the product includes a black outline of a person throwing a spear.
Aagil Arms is a sister company of Tuff Zone and will be one of dozens of vendors at the annual NRA meeting set to start Friday in Dallas.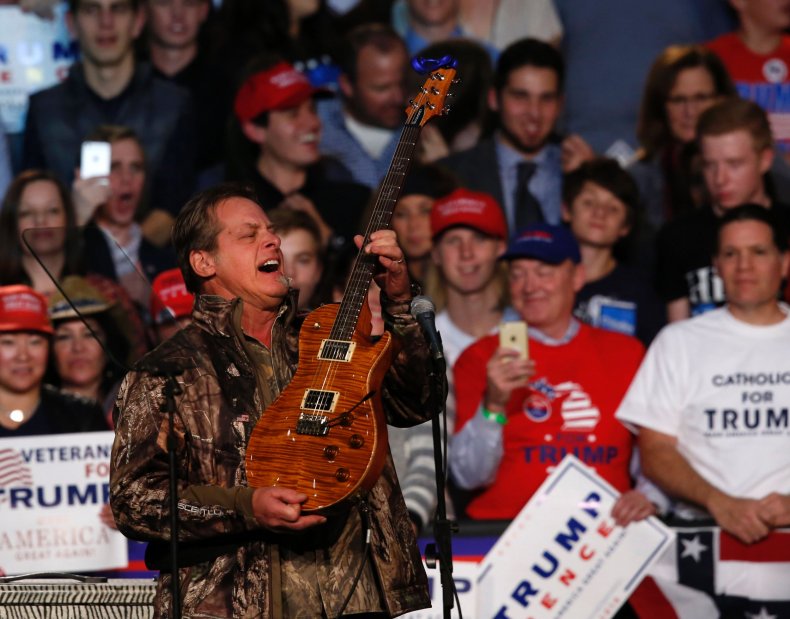 Nugent, no stranger to controversy, and has used racially insensitive language in the past. In 2016, the rock musician posted a photo of a van with two racist cartoons of black people and the n-word on Facebook—saying, "I am simply promoting an entrepreneur in Detroit that created a clever business." Nugent also wrote a column defending his use of the n-word. He once called former President Barack Obama a "subhuman mongrel" but later apologized for it.
President Donald Trump and Vice President Mike Pence are both expected to address the pro-gun organization. The NRA meeting comes during a time of increased scrutiny on U.S. gun laws, following one of the largest mass shootings in recent American history in February. The shooting at Marjory Stoneman Douglas High School in Parkland, Florida, left 17 people dead.
Several students who survived the shooting have taken to the national stage in a push for stricter gun control.
The NRA, Aagil Arms and Tuff Zone did not immediately respond to Newsweek's request for comment.