New NRA President Once Compared Preventing Gay Marriage to Combating Slavery
The NRA's president-elect, Oliver North, once compared combatting same-sex marriage to fighting against slavery.
North made the comparison during the 2014 Conservative Political Action Conference. A video of his comments was posted by The Independent on Thursday, in which North drew connections between Republicans' championing of abolition and "deeply moral and spiritual issues" such as same-sex marriage.
"The framers who crafted our constitution were counting on we the people to hold government accountable. Some say that we must ignore social issues, like the definition of marriage and the sanctity of life, religious freedoms. I say those are not social issues. They are deeply moral and spiritual issues and they should be part of America's elections.

In the 1850s, a political party was born on the idea of a great moral issue: Human bondage, the abolition of slavery in America. If we, as conservatives, cease to be a place where people of faith and those who believe in strong moral values can come, we will cease to be a political force in America.

America's greatness was founded on the shoulders of people who staked their lives, their fortunes and their sacred honor on a creator who endowed us with inalienable rights to life, liberty and pursuit of happiness. He also said we have responsibilities."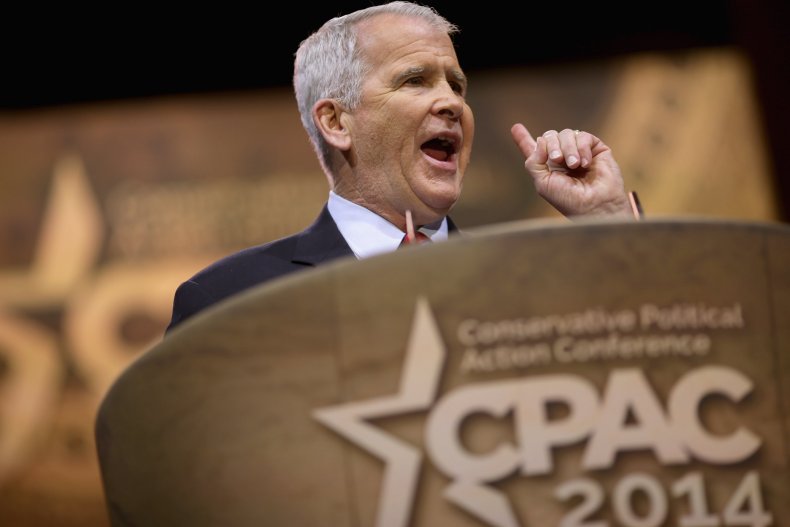 That's not the only time North has said comments the LGBT community has taken issue with. In 1993, North said that he would need to talk with a lisp to get through to the Clinton White House—an apparent joke about gay people—and when a gay rights group demanded an apology he responded, "If it angered some subset, that's their problem."
In 2010 he wrote for Fox News that if President Barack Obama repealed "Don't Ask, Don't Tell," he would succeed where Hitler failed because Obama would "demolish the finest force for good in the history of mankind—the U.S. Armed Forces."
North was a controversial choice to head the NRA. He was famously behind the Iran-Contra scandal, in which money from arms sales to Iran was funneled to anti-socialist rebels in Nicaragua. He also recently called gun reform activists, such as the teenage survivors of the mass shooting in Parkland, Florida, "civil terrorists."