NRA's Oliver North Blames 'Culture of Violence' for Mass Shootings, But Once Promoted Violent Video Game
Incoming NRA chief Oliver North has blamed a "culture of violence" for a series of mass shootings, but once helped to produce and promote violent video game Call of Duty.
In an interview with Fox News on Sunday, North pointed the finger of blame at prescription drug Ritalin and cultural factors after a shooting at Santa Fe High School in Texas left 10 people dead.
"The problem that we've got is we're trying like the dickens to treat the symptom without treating the disease," North said. "And the disease in this case isn't the Second Amendment. The disease is youngsters who are steeped in a culture of violence."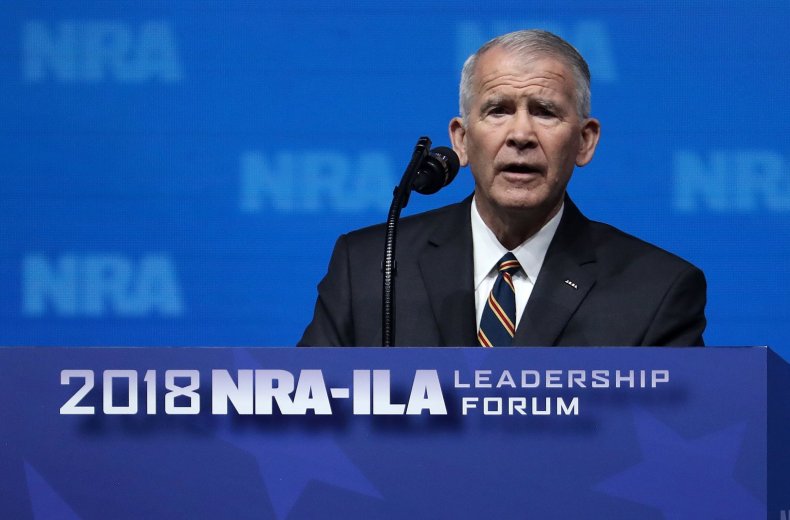 However, critics pointed out that that North, best known for his role in the 1980s Iran Contra scandal, featured as a voice actor in Call of Duty: Black Ops II, and helped to script and promote the game.
In the gory 2012 military game, players assume the role of special forces soldiers dispatched on a mission by North, gunning down enemy forces. Game critics at the time noted its violence.
"At one point there was so much blood spraying around that I thought I'd stepped into a horror movie," read the Wired review.
"In the first couple missions we see soldiers burning alive in an armored vehicle, a person tortured, then executed, and a fair share of blood and gore."
Campaigners for tighter gun control legislation have criticised North's claims.
"The American people know who bears the most blame for gun violence: The NRA apologists who are always pointing their fingers at everyone else," said Everytown for Gun Safety President John Feinblatt in a statement to media outlets in response to North's statements.
As deputy director of the National Security Council under the Reagan administration, North played a key role in organizing the covert sale of arms to Iran, and right-wing rebels in Nicaragua. He was found guilty of three charges relating to the scandal, but a federal judge overturned the convictions in 1990.
NRA's Oliver North Blames 'Culture of Violence' for Mass Shootings, But Once Promoted Violent Video Game | U.S.