While NRA Puts its Money on Trump, Opponents Pour Cash Into State Initiatives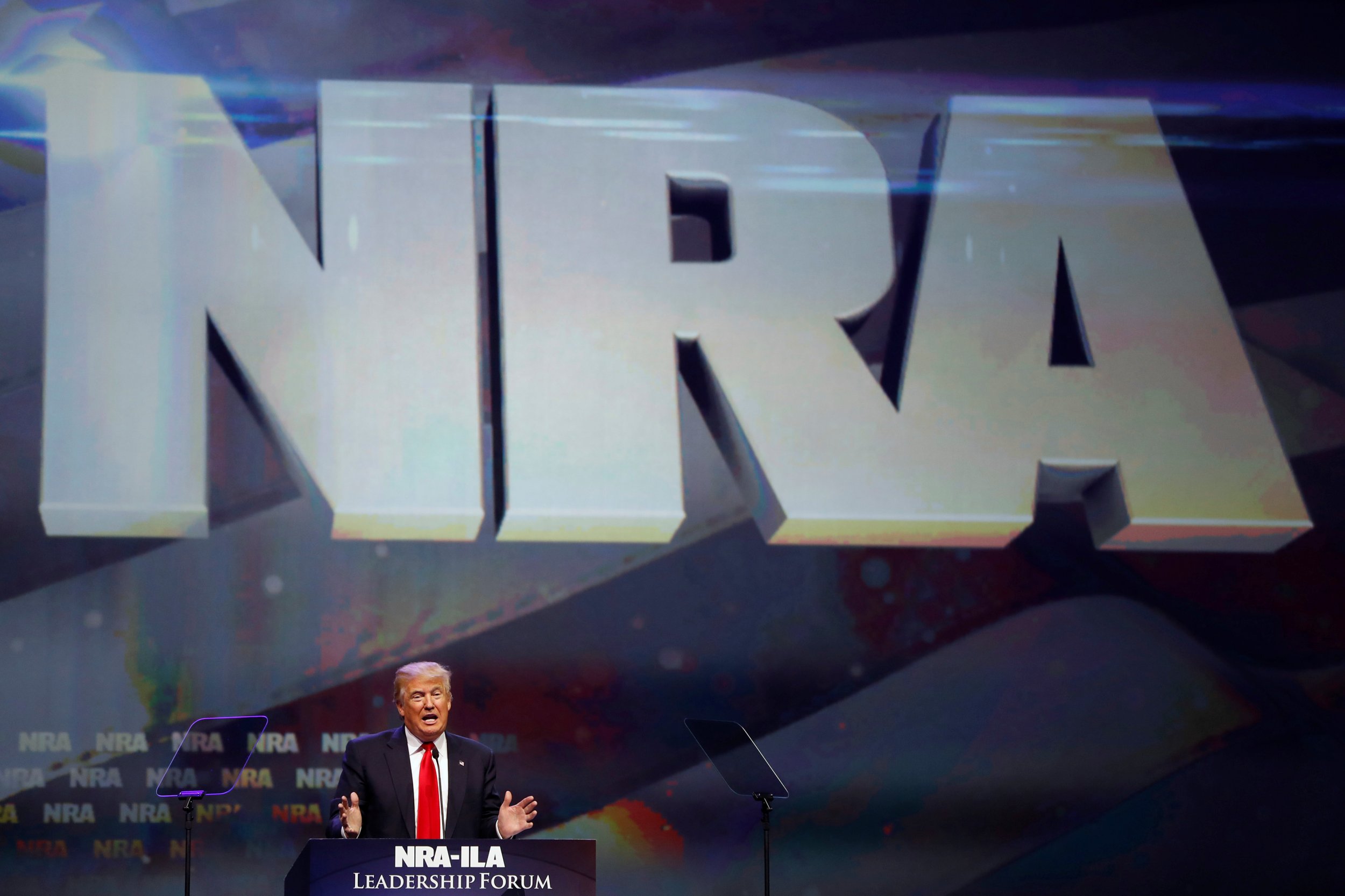 The National Rifle Association has been one of the biggest spenders among outside groups pouring money into this election, with a flow of TV ads and other campaign efforts aimed at bolstering Republican presidential nominee Donald Trump and GOP Senate candidates.
But putting all that money toward national races has left little to devote to gun-control ballot initiative battles. Records show the powerful lobbying group is being outspent by more than 3-to-1 by groups that support expanded background checks and other regulations. If the polls hold, all four state initiatives will pass in November.
Most of the spending on both sides has focused on "Question 1" in Nevada, which would extend background check requirements to unlicensed guns sales and transfers. Everytown for Gun Safety, a 10-year-old advocacy group founded and bankrolled mainly by billionaire Michael Bloomberg, has kicked in more than $10 million in support of the ballot measure through October 14, according to campaign reports. Bloomberg has contributed another $6 million from his own checkbook. The NRA has put $4.8 million behind its "no" campaign, "NRA Nevadans for Freedom."
Everytown has also invested heavily in support of a similar proposal up for a vote in Maine. As of October 25, the group had contributed $4.2 million to the campaign backing "Question 3." An allied super PAC called Americans for Responsible Solutions, run by shooting survivor and former U.S. Representative Gabby Giffords, donated another $350,000. The NRA, by comparison, has seeded its "no" campaign with just under $1 million, including half a million it transferred on October 25.
A third initiative on the ballot would close loopholes in existing laws requiring background checks for guns and ammunition in California. Everytown has not participated in that campaign, spokeswoman Kate Folmar says, reasoning that the Nevada initiative will have a bigger impact. "Nevada is a chief exporter" of illegal guns, she explains. The NRA contributed $45,000 last February to the "no" campaign against California's Proposition 63, being run by an affiliate, the California Rifle and Pistol Association. But it has not been active since.
The NRA hasn't gotten involved at all in the campaign in Washington state, where voters are considering a ballot measure (Initiative 1491) to allow law enforcement or family members to petition a judge to take away an individual's firearm if they are thought to be a danger—what's known as an "extreme risk protection order." Gun safety advocates are spending less there too—just over half a million from Everytown and another $250,000 from Americans for Responsible Solutions. Washington was the site of a bigger gun policy battle in 2014, when the state passed a universal background check initiative backed by Everytown.
NRA spokeswoman Jennifer Baker explains the group's spending decisions in 2016 as a matter of priorities. The Supreme Court, she says, is the overarching concern for the group this election cycle, with the next president poised to fill at least one vacancy on the bench. That could shift the political balance in a way that endangers the precedent set by the court's groundbreaking 5-4 decision in District of Columbia v. Heller. Penned by now-deceased Justice Antonin Scalia, the decision recognized for the first time the individual right of citizens to own handguns for self-protection. Gun advocates see Heller as a legal roadblock to potential gun restrictions at any level of government. Overturning it, says Baker, would have implications "for decades to come."
That's why the group is investing so heavily in Trump, even as most other conservative advocacy groups have opted out of the presidential race this year. Combined with its ad campaigns supporting Senate Republican candidates, the NRA had spent nearly $50 million as of October 30. The goal is to elect "a pro-Second Amendment president," says Baker, and also to maintain a "pro-Second majority in the Senate…as a backstop, if we have an anti-gun president," meaning Democrat Hillary Clinton.
While spending money in a couple of Senate races, gun-safety advocates have largely turned their attention away from Washington, D.C., due to the gridlock in Congress. Everytown had been part of the national effort, led by President Barack Obama, to advance new checks and restrictions on firearms in the wake of the December 2012 Sandy Hook massacre, when 20 children and six adults were shot dead in Newtown, Connecticut.
But after championing a 2013 background check bill that failed to pass the upper chamber—known as Manchin-Toomey, after its bipartisan Senate sponsors—Everytown decided to pursue a state-by-state strategy. Folmar likens its bottom-up approach to policy change to "the arc of marriage equality." The aim is to use legislative and legal victories in cities and states to build pressure for eventual change at the national level.
In addition to its ballot initiative campaigns, Everytown is spending hundreds of thousands of dollars in support of state legislative candidates. All told, the group plans to spend more than $25 million in the states this election. It is not spending money in federal elections, although Americans for Responsible Solutions and a separate Bloomberg super PAC are.
Polls show the background-check ballot measures are winning by 9 points in Maine and 6 in Nevada, both battleground states. In Democrat-dominated Washington and California, the gun-control proposals are up by double digits. Wins in Nevada and Maine next week would bring to 20 the number of states requiring expanded background checks, covering roughly 50 percent of Americans. And that would add "significant momentum" to Everytown's push for a national universal background-check policy, says Folmar.
The NRA and its allies, however, argue that any gains gun-control groups make at the state level in November are an anomaly, the result of unchecked and uncontested spending from Bloomberg, whom the "no" campaigns have featured prominently in their advertising, painting the former New York City mayor as a kind of meddling, out-of-touch bogeyman.
Lawrence Keane, senior vice president and general counsel for the firearms industry's trade association, the National Shooting Sports Foundation, suggests that their proposals don't have broad public support and that gun-control groups are "pursuing ballot initiatives because they are unable to pass legislation." In both Nevada and Maine, however, the legislatures passed background check measures similar to the ones on the ballots in November. But they were vetoed by Republican governors before they could become law.
It's true, though, that Everytown and the gun-control movement have faced headwinds in their efforts to shape state law. Their fight to help tip the Virginia Senate to the Democrats last year failed, although one of the two candidates the group supported did win his race. And earlier this year, the NRA won a major victory in Missouri over expansive legislation to enact permitless concealed-gun carry and "stand your ground" rules for the use of guns in self-defense. Amid heavy lobbying, Democratic Governor Jay Nixon vetoed the bill, but the Republican-dominated legislature then overrode his veto.
Going forward, moreover, the NRA and its allies are unlikely to get outspent in so many state-level playing fields. And yet, with Trump expected to lose the presidential race and the Republicans' Senate majority very much in question, the gun-control movement could be the side celebrating the big gun-related victories on election night.