NRA Spending Big to Keep Senate in Hands of Pro-Gun Republicans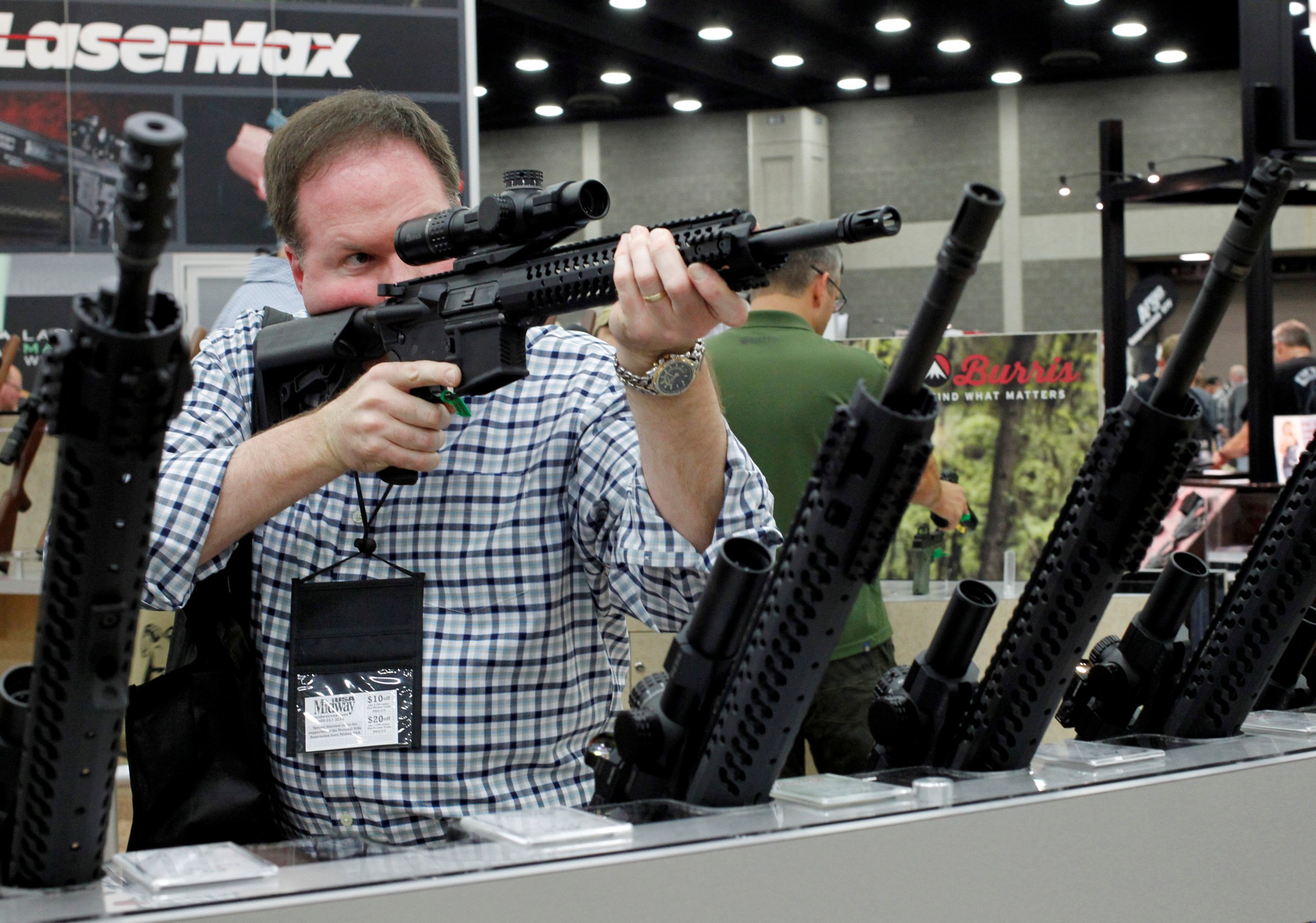 If Republicans maintain control of the Senate this November, they'll have to be sure to thank the gun lobby. In addition to spending millions of dollars on TV ads and other support for presidential nominee Donald Trump, the National Rifle Association (NRA) is playing a major role in election contests likely to decide which party has a majority in the Senate come 2017, an outcome that is very much up in the air right now.
The conventional wisdom in national politics is that voters don't really start paying attention to the election until after Labor Day. And as Senate races heated up in September, the NRA poured $8.5 million into eight of the most competitive Senate races—more than any other outside group besides the two major political parties and their aligned super PACs. The gun group even outspent the network of advocacy organizations funded by conservative billionaires Charles and David Koch. It helped give Senate Republicans a big edge over Democrats last month in terms of the outside cash flowing into their races. Super PACs and party committees supporting Republican Senate candidates spent roughly $69 million in September; their Democratic counterparts spent about $47 million.
It also demonstrates that even as political support for gun control policies has grown, the forces working against gun regulations continue to be formidable. If the polls hold true and Hillary Clinton wins the White House in November, she has promised aggressive measures to curb gun violence. A Republican Senate would be a critical bulwark for the NRA and others that share its views. According to spokeswoman Jennifer Baker, "The Supreme Court is the overarching issue" for the group in 2016, and she highlights the vacancy left by conservative Justice Antonin Scalia's death earlier this year, which the next president will likely get to fill.
"If there is an anti-gun president, then that means what's standing in the way of [an] anti-gun Supreme Court justice…is a pro-Second Amendment United States Senate," Baker says.
At this point, it's not possible to get a full picture of all the different ways advocacy groups are spending money in the 2016 election. Groups that run ads or other forms of voter outreach that explicitly support a candidate's election must report that spending (called "independent expenditures") to the Federal Election Commission within a span of a few days. But there's plenty that outside groups do during an election that does not require immediate disclosure until the final weeks of the race—such as "voter education" on issues, which often skirts the direct-advocacy line. One common example: a TV ad critiquing a candidate's policy positions and then urging viewers to "call Candidate X and tell them you support Y."
The slice of spending that is now on display, however, gives us a sense of some of the biggest players in the election. And in this cycle, the NRA appears to be all in. In September alone, the group ran TV ads in Florida, Indiana, Nevada, North Carolina and Missouri, either touting the Republican running for Senate or attacking the opponent. And the NRA sent mail pieces and held phone banks in those five states plus Colorado, Ohio and Wisconsin.
That far outpaced the efforts by the NRA's opponents. Two leading PACs aimed at stopping gun violence focused on just one Senate race last month: New Hampshire. Americans for Responsible Solutions—a PAC founded by mass-shooting survivor Gabby Giffords, a former congresswoman, and her husband, Mark Kelly, a former astronaut in September—ran $1.1 million worth of TV and digital ads opposing Republican Senator Kelly Ayotte. And Independence USA, a PAC funded by former New York Mayor Michael Bloomberg, a vocal advocate for stricter gun laws, kicked in $2.6 million on its own set of anti-Ayotte ads. The NRA has endorsed Ayotte, but in September it did not spend on ads or other advocacy in the race.
Independence USA is also backing a Republican senator in a very tight race in Pennsylvania, spending another $2.6 million last month on advertising and polling in support of the incumbent, Pat Toomey. The senator sponsored a 2013 bill to expand requirements for background checks on gun purchases, including addressing the so-called gun show loophole, and he voted in favor of those checks again in 2015. The proposal failed in the Senate both times. The PAC's support hasn't sat well with Toomey's Democratic challenger, Katie McGinty, whose campaign has pointed out that if the GOP keeps control of the Senate, it's all but certain the chamber will avoid gun-related legislation.
Everytown for Gun Safety, Bloomberg's anti-gun-violence nonprofit group and a partner of Independence USA, is also heavily involved in the 2016 election but not in the battle for the Senate. Most of its spending it focused on gun-related ballot initiatives in Maine, Nevada and Washington, as well as state legislative contests, according to an aide.
Americans for Responsible Solutions spokesman Mark Prentice acknowledges the sizable spending gap with the NRA on Senate race ad campaigns, but he points out that his group is also investing in Senate races in ways that don't show up in campaign finance disclosures. Most prominently, Giffords has launched a six-week, 14-state bus tour that will run through the election. The message, says Prentice, is "vote for gun-violence-prevention candidates."
The first five stops on the tour were in Florida, where the group has endorsed Democratic Senate challenger Patrick Murphy. It's now heading to Ohio, where former Governor Ted Strickland is struggling in his quest to unseat Republican Senator Rob Portman.
And Prentice argues that the NRA's spending edge in the Senate doesn't change the fact that gun politics are starting to shift. He notes that not only are Democrats more vocal about reining in guns but Republicans are more cautious about boasting of their gun bona fides. He offers several examples, including the Ayotte campaign's response to attacks from his group and others. Rather than embracing the NRA, they claimed that she has voted for background checks in the past.
It won't be lost on Republican senators, however, that the NRA was a major source of support for them in the final stretches of the 2016 campaign. According to Baker, the group has Senate race ads on the air in Florida, Missouri and Nevada. And it'll have new Senate ads on television in Indiana and North Carolina by the end of this week. She also promises the NRA will have "a robust get-out-the-vote effort in all those key battleground states."
You can bet that if Senate Republicans find themselves facing off against Clinton next year on gun control, the group will be reminding them of all that work.