Gun Control Groups Outspent NRA After August Mass Shootings, Support for New Legislation Remains High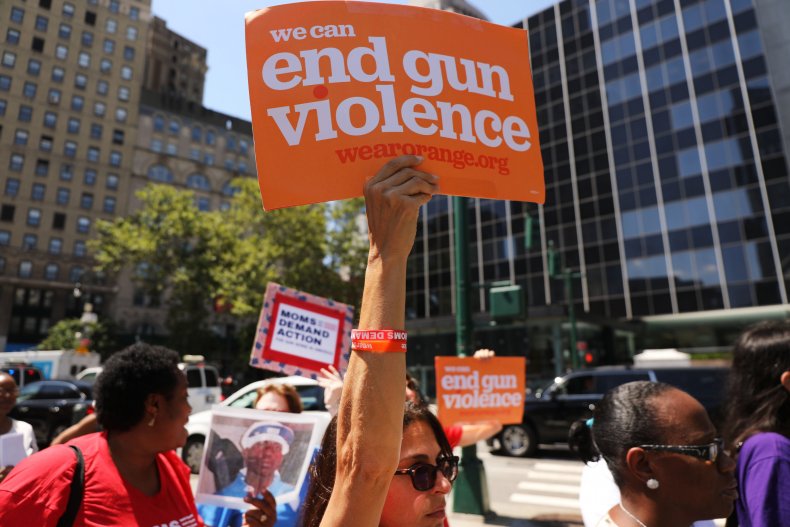 Support for stricter gun laws has ticked up since two mass shootings in early August rattled the country, contributing to a political environment where gun violence prevention groups are now spending more money to push for reform than the National Rifle Association, long the guarantor of inaction on new gun legislation in Congress.
According to OpenSecrets.org, which tracks political spending in the United States, prominent gun control groups spent nearly $2 million on ad campaigns after the shootings in El Paso and Dayton urging action on bipartisan gun control legislation.
Two bills, in particular, have gained notice among congressional leaders as they appear to have the support of prominent Republicans, including Senate Judiciary Chairman Lindsey Graham, who is behind a bill that would incentivize states to enact so-called "red flag" laws.
While the number of Americans who support red flag laws has slipped since last year, an overwhelming majority of the public—around 80 percent—still supports such legislation, including nearly three-quarters of gun owners, according to a new poll by Quinnipiac University.
These laws allow for police officers or family members to petition a judge to temporarily remove a gun owner's firearm if they believe it may be used to cause imminent harm.
The poll found that while the number of people who identify themselves as supporting stricter gun laws has remained unchanged since May—still constituting a clear majority—support for individual policies restricting access to firearms has increased in recent months.
Mandatory licensing for gun buyers, which a Johns Hopkins University study found to be the only effective way of screening purchasers, has ticked up five points since May. Now 82 percent support mandatory gun licensing, including 72 percent of gun owners.
Support for universal background checks has stagnated, which may be because a near-unanimous public—93 percent—already backs the policy.
A majority of Americans still believe that mental illness is the predominant cause of mass shootings, rather than the availability of weapons. The United States accounts for around 4 percent of the global population, but owns more than 40 percent of the world's civilian-owned guns.
Gun control groups apparently see an opening in the recent shift in attitudes towards gun violence prevention. A whopping 72 percent of the American public now thinks Congress must do more to address gun violence, including a majority of gun owners.
A $750,000 ad campaign financed by Giffords, a gun control group, targeted Republican senators, urging them to pass a universal background checks bill passed by the Democrat-controlled House of Representatives. Another $1 million ad campaign from the Michael Bloomberg-backed group Everytown for Gun Safety pushed for the passage of background check and red flag legislation.
"Meanwhile, the National Rifle Association, which opposes the proposals backed by gun control groups, hasn't countered with an ad campaign of its own," OpenSecrets.org found. "The NRA's ad spending has come on Facebook, where it spent less than $94,000 over the last 30 days. But these ads aren't focused on the proposed gun control bills — they are recycled content that ask users to join the NRA."
The reversal in political engagement through spending comes as the NRA was outspent for the first time by gun control groups during the 2018 midterms.
As Congress prepares to reconvene in Washington after the August recess, the NRA decided to retool its response to the gun control push, relocating an upcoming board meeting to the U.S. capital in order to flex its political clout. To do so, the group had to spend an additional $100,000 to be in close proximity to lawmakers as they consider action on several new gun restrictions.