NRA Still 'Very Powerful' in Gun Reform Debate Despite Financial, Legal Issues: Experts
The National Rifle Association (NRA) is back in the headlines after a mass shooting in Boulder, Colorado—a city that had attempted to ban assault weapons years earlier but was blocked by a lawsuit backed by the pro-gun giant.
Just 10 days before Monday's attack, during which the suspect used an AR-15 assault rifle, a judge struck down a 2018 measure invoked by municipal officials to ban assault weapons and large-capacity magazines. The ruling came under a Colorado law that bars local officials from making their own gun laws.
The NRA backed the lawsuit and marked the court victory by tweeting that the judge "gave law-abiding gun owners something to celebrate."
It was also a reminder that the NRA remains a lobbying powerhouse, despite signs that it's influence may be waning nationally amid a series of internal scandals, expensive legal challenges and bankruptcy.
"Clearly things inside the NRA are in very bad shape, but I don't think that means the NRA is finished or is done as an organization," Adam Winkler, a gun policy expert at UCLA's School of Law, told Newsweek. "The NRA has too many members, it's been around too long and its brand identity is just so strong."
In January, the NRA filed for bankruptcy as part of an effort to defend itself from New York regulators and others. The state's Attorney General Letitia James had sued the group for fraud, alleging that its CEO Wayne LaPierre and other top officials broke the law to enrich themselves and their families. James alleged that the senior leaders used the group as a "personal piggy bank" for family trips to the Bahamas, private jets and lavish meals. Their actions, the Democrat said, contributed to the loss of $64 million.
The news of bankruptcy came after the NRA laid off or furloughed dozens of employees in 2020 and cut salaries across the board. The group also canceled its fundraisers and national convention, limiting its ability to have a big impact on the presidential election.
The NRA only spent $29.1 million on the 2020 federal elections, according to the Center for Responsive Politics, compared to the $54.4 million it spent during the 2016 cycle. It also has been contributing less to lobbying efforts. In 2017, the NRA spent $5.1 million on lobbying and employed 26 lobbyists. In 2020, the group only spent $2.2 million on such efforts and reduced the number of lobbyists to 18.
James Thurber, a professor at American University who focuses on interest groups, lobbying and elections, said that the NRA is "probably at its weakest point in the last 20 to 30 years" but still remains influential—especially among Republicans, who often need the group's stamp of approval to succeed in an election.
"They're in a low ebb in terms of their reputation but that does not translate into votes," Thurber told Newsweek. "They still are very powerful when it comes to pressuring members to go along with what their position is on gun controls versus gun rights."
Thurber also pointed to the NRA's "phenomenal" grassroots coalition. The group last reported having 5 million members across the country.
"That's part of their power," the American University professor said. "It's not only money, it's their organization at the grassroots level."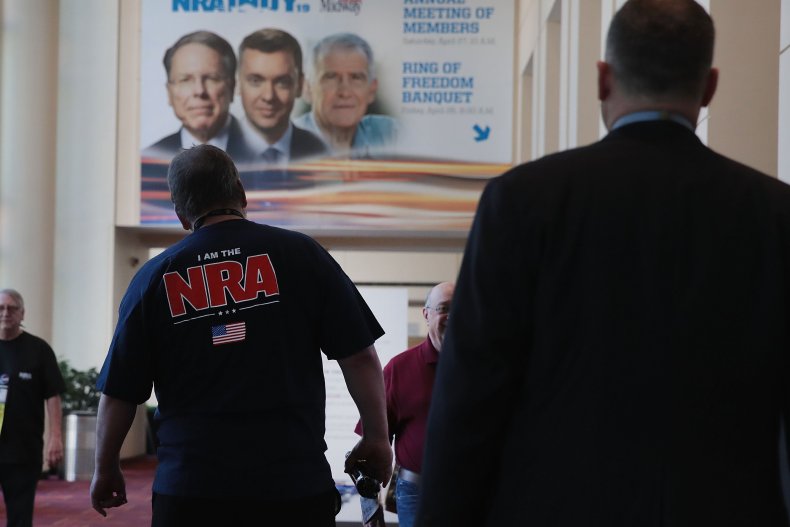 In a statement to Newsweek, the NRA said it will "continue to be the leading gun rights advocate on Capitol Hill."
"We will work to educate lawmakers on the Second Amendment and help them to make the best decisions for Americans and for our members," said Amy Hunter, the group's director of media relations. "The NRA is strong and in good financial shape."
The shootings in Colorado and Georgia this past week, which took a total of 18 lives, have resulted in a renewed push for gun control laws by Democrats in Congress. But Republicans so far have expressed little support for tightening regulations.
President Joe Biden on Tuesday called on the Senate to pass a ban on assault weapons and to close background check loopholes, saying that doing so would be "common-sense steps that will save lives in the future."
"It should not be a partisan issue," Biden said. "This is an American issue. It will save lives, American lives."