NRA Sues San Francisco Over Being Labeled 'Domestic Terrorist Organization'
Less than a week after the city of San Francisco called the National Rifle Association a "domestic terrorist organization," the NRA has fired back with a lawsuit.
The NRA is suing both the city and county of San Francisco, and its Board of Supervisors, for reasons they say entities "adopted a new government policy: blacklist anyone linked to the NRA."
The NRA said that last week's resolution by the San Francisco Board of Supervisors was "unconstitutional," violating both the 1st and 14th Amendments of the U.S. Constitution, according to the San Francisco Chronicle.
NRA filed its lawsuit in the U.S. District Court in San Francisco on Monday, saying "elected officials" cannot punish those with whom they politically disagree.
"Regrettably, this Court, too must step in to instruct elected officials that freedom of speech means you cannot silence or punish those with whom you disagree," the NRA said, going on to state its millions of members "have risked everything to protect Americans from terrorism."
"Therefore, the Resolution's 'terrorist' designation is a frivolous insult — but San Francisco's actions pose a non-frivolous constitutional threat," the association stated.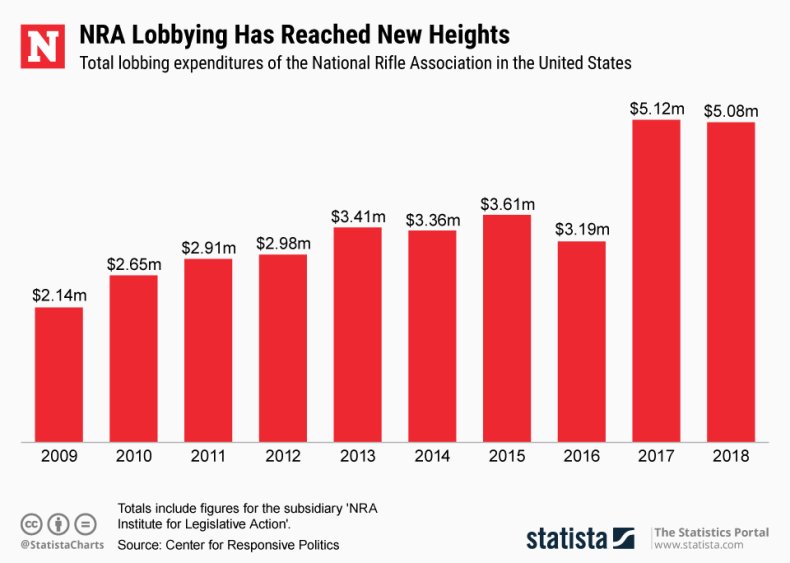 The chart below, provided by Statista, shows NRA lobbying expenditure over recent years.
The NRA furthermore said other government entities around the country were trying similar tactics to "blacklist" its group from legally operating within the United States, and defended its members.
"In the face of recent, similar blacklisting schemes, financial institutions have expressed reluctance to provide bank accounts for disfavored political groups, and city contractors fear losing their livelihoods if they support or even work with the NRA," the pro-guns rights group wrote.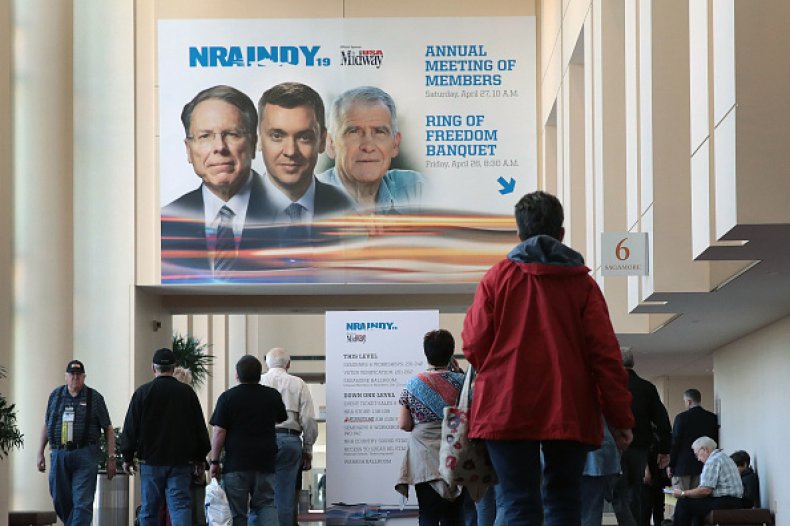 Last week in San Francisco, the city's Board of Supervisors officially labeled the NRA as a domestic terrorist group, and they encouraged other California towns and major U.S. cities to do the same.
The supervisors, led by Catherine Stefani of District 2, said the NRA "musters its considerable wealth and organizational strength to promote gun ownership and incite gun owners to acts of violence."
"All countries have violent and hateful people, but only in America do we give them ready access to assault weapons and large-capacity magazines thanks, in large part, to the National Rifle Association's influence," the declaration read.
The San Francisco declaration last week comes on the heels of the fatal mass shooting of the area's Gilroy Garlic Festival, followed closely by the deadly West Texas mass shootings in El Paso and Odessa during August, in which nearly 30 people were killed and dozens more injured.