NRA Targeted This Dallas Restaurant, Prompting Death Threats. Its Owners Responded With Love
A restaurant in Dallas sparked controversy after serving a message to attendees of the National Rifle Association (NRA) annual convention on its receipts that did not sit well with lobby group, which called for a boycott of the eatery over the weekend. But in the face of the resulting vitriol, the restaurant responded with love.
Ellen's, a restaurant that specializes in Southern food, informed customers that part of the week's proceeds would go toward funding "organizations dedicated to implementing reasonable and effective gun regulations." The message, printed on the receipts, was shown in a photo shared by the official NRA Twitter account.
The group, which lobbies against stricter gun regulations, was furious at the suggestion that some of its members' money would go toward funding support for gun laws, and called for a boycott.
"Steer clear of Ellen's in downtown Dallas! Why go there when there are so many other great choices. #sorrynotsorry #StandAndFight #DefendTheSecond," the organization wrote in a Twitter post on Friday, opening day of the three-day meeting where thousands of members gathered to visit gunmakers' stalls, attend workshops and listen to speeches by lawmakers and even President Donald Trump.
The Twitter post was shared more than 5,000 times, inspiring NRA supporters to trash the restaurant's Yelp reviews and Facebook page, leaving negative messages under past posts, including one showing a profile picture changed in support of the Dallas Police Department after a shooting on April 24 critically injured two officers.
Joe Groves, owner of Ellen's, told Buzzfeed News that the restaurant had received death threats. "We've had people calling and say they're going to shoot the place up; one that implied he would be burning us down today. Ridiculous people," he said.
The restaurant clarified its initiative in a Facebook post, saying its message stated that the funds would support gun regulations "that protect citizens' 2nd Amendment rights and also help reduce needless gun violence," but those last words had to be cut to shorten the length of the receipt.
"What was not expected was that those two words—reasonable and effective—would be misinterpreted as our support for gun control. The mistake was an honest one. The opposite is true. We support the Constitution, including the 2nd Amendment, 100%. And like the NRA, we also support finding solutions to the senseless killings that happen much too frequently. We believe those two things are completely compatible," the restaurant staff wrote in the Facebook post, insisting its message was a centrist one.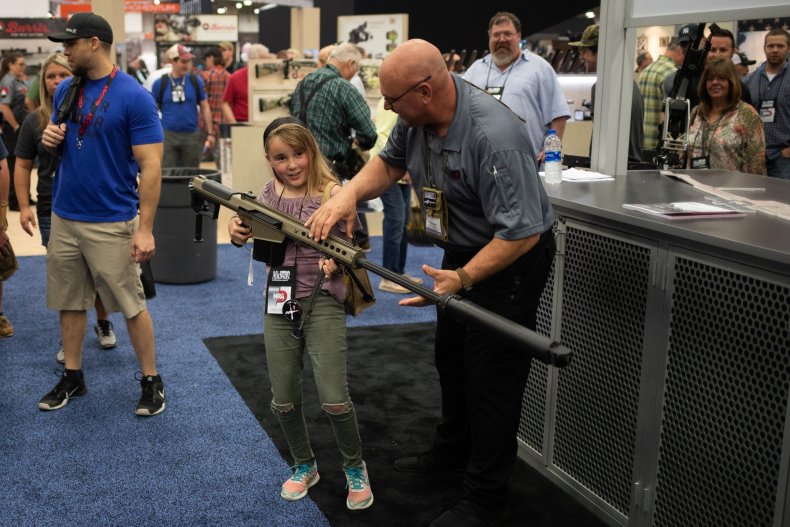 "No one wants children to die in their classrooms. No one wants police to be killed in the line of duty. The differences we have are in our approach. But we can fix it if we breathe, calm down, and listen to one another. As Americans, that's what we are supposed to do," the statement read.
The NRA then shared a picture of what appeared to be Groves's personal Facebook account where he seemingly expressed anti-NRA positions and discussed what to write on the receipts back in March; Newsweek was unable to verify the post independently. The image nonetheless incensed NRA supporters, who found Groves's personal account and began insulting him beneath a public post from 2017 concerning his relationship status.
"Is this the guy that owns the restaurant that is soon to be bombed? I sure won't be going there any time soon... I like a place with entertainment but a bombing is a little much," wrote a Facebook user named Jon Kramer, who defended himself from the accusations of making threats in the ensuing thread. "I did not make a threat only a statement that I read on another post," he wrote.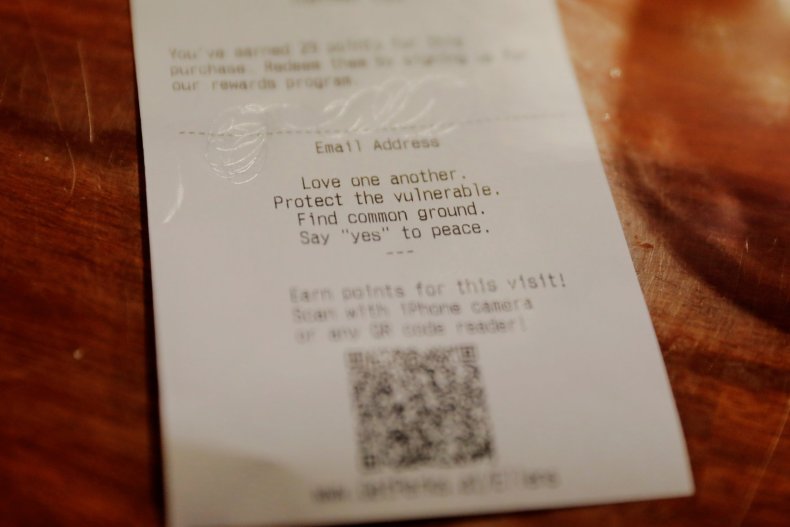 As the NRA convention wrapped up, Ellen's staff issued another message to the attendees on Facebook and on its receipts: "We look forward to continuing the conversation about how to make the country we all love the best it can possibly be. With that in mind, here is the message we placed on our receipts today. It is our wish every day," the post stated. Below, a picture of the receipt's new message, which read: "Love one another. Protect the vulnerable. Find common ground. Say 'yes' to peace."