NRA Touts Photo of Mom, Child Toting Rifles on Mothers Day: 'Mama Didn't Raise a Victim'
The National Rifle Association used Mothers Day to showcase a photo of an adult woman and young, female child brandishing rifles to say the association still believes in self-defense and Second Amendment rights. Oh, and Happy Mothers Day.
The photo shows a young woman and child standing before some rather nondescript brush in the background with bright letters on the frame stating, "Mama didn't raise a victim."
The NRA's tweet accompanied the photo with this verbiage:
"Happy Mother's Day to all NRA moms!
On top of the millions of other jobs moms have, NRA moms fight for our right to self-defense, while also defending themselves, their families, and communities.
We are forever grateful for these fierce women."
The photo tweet posted around noon Sunday drew sharp comments, mostly from those who oppose either the NRA or others against gun violence. Conversely, it drew comments in support of those defending the right to show younger generations a way to defend themselves.
The tweet comes as gun violence is spiking around the country and while many Democratic lawmakers have tried to curb gun violence and implement stronger gun laws.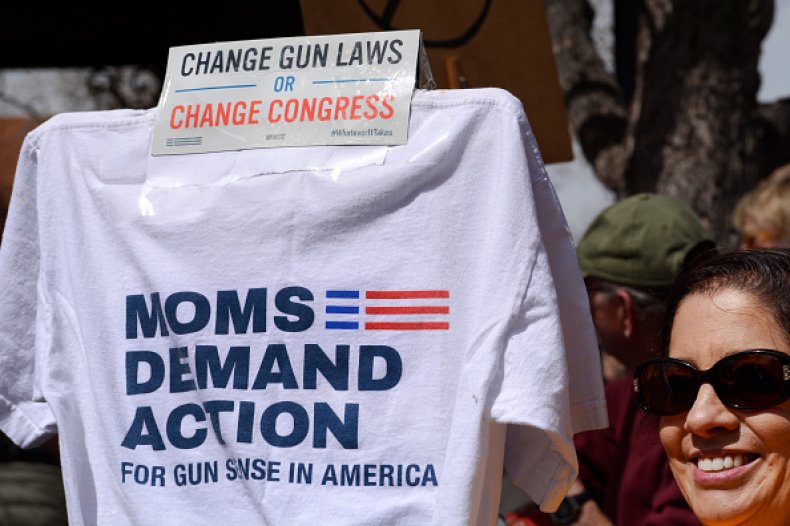 Gun violence has spiked in 2021, with mass shootings taking place in Indianapolis (9 dead), Boulder, Colo. (10), Atlanta (8), Colorado Springs (7), Rock Hill, S.C. (7) and so on, from Atlantic to Pacific.
So far, there have been 178 mass shootings in the U.S. in 2021, with 206 killed in those (including the shooters).
Here are some of the comments left below the NRA's tweet:
"A child holding a weapon will never be cute or funny ... How have we normalized weapons of war in the hands of kids? The @NRA is a terrorist organization ... This is disturbing."
"That child looks 8 or 9. Does the NRA support arming children? Open carry playgrounds? Gradeschools?"
"If this is the case, let's lower the legal driving age to 8. I mean "it comes down to teaching right from wrong and respect for the vehicle" right? I'm sure NOTHING could go wrong as long as we teach 8 year olds to drive responsibly."
"I wonder if that kid who took a gun to school and shot classmates had an NRA mum"
"Little girls with guns makes perfect sense to the NRA !!!!"
- A response: "I support little girls learning firearm safety and education."
"Most disgusting thing ever! And on mothers day! Raise kids with love , not fear!"
- A response: Arming yourself isn't about fear, it's about equalizing. There are instances of kids protecting themselves and family with a weapon at home."
-