NRA Issues Rallying Cry for Trump After Debate, Despite Biden Not Mentioning Gun Control Once
The National Rifle Association has issued a rallying cry for Americans to vote in the presidential election "like your gun and your life depend on it."
In a tweet after Tuesday night's debate, the NRA urged gun-owning Americans to go to the polls on November 3, but did not declare which candidate they should back. The tweet received more than 12,000 likes.
In July, the lobby group endorsed Donald Trump's re-election bid, saying he had "done more than any president" to protect Americans' Second Amendment rights.
"You promised to defend the Second Amendment and stand tall for the constitutional freedoms in which our members believe," the NRA said in a letter to Trump.
"You recognize the Second Amendment is about liberties that belong to all Americans. You have delivered on your promise in extraordinary ways."
In a string of tweets during Tuesday's debate, the NRA congratulated Trump for his record over the last four years on Second Amendment issues, including his opposition to gun and ammunition bans.
The NRA also claimed a win for Joe Biden would lead to Democratic Congressman Beto O'Rourke–an advocate of stricter gun controls–"knocking on your door for your AR."
However, gun control did not feature once in Tuesday's election debate, with neither Trump nor Biden using the issue to attack their opponent.
Trump's presidency has coincided with some of America's worst ever mass shootings, including the deadliest in the country's modern history in Las Vegas in 2017 when 58 people were killed and more than 850 others injured.
Shootings in Texas–both in Sutherland Springs and El Paso–and in Parkland, Florida, all occurred within the four years of his administration. They rank among the deadliest mass shootings on record.
In the wake of each of those, the president promised reforms. Last August, for example, following mass shootings in El Paso and Dayton, Ohio, that left a combined total of 32 dead, he tweeted: "Just concluded a very good meeting on preventing Mass Shootings.
"Talks are ongoing w/ both Republicans & Democrats. We are likewise engaging with lawful gun owners, survivors, grieving family members, law enforcement, the NRA, mental health professionals, and school officials. I am hopeful Congress will engage with my Team to pass meaningful legislation that will make a real difference and, most importantly, Save Lives!"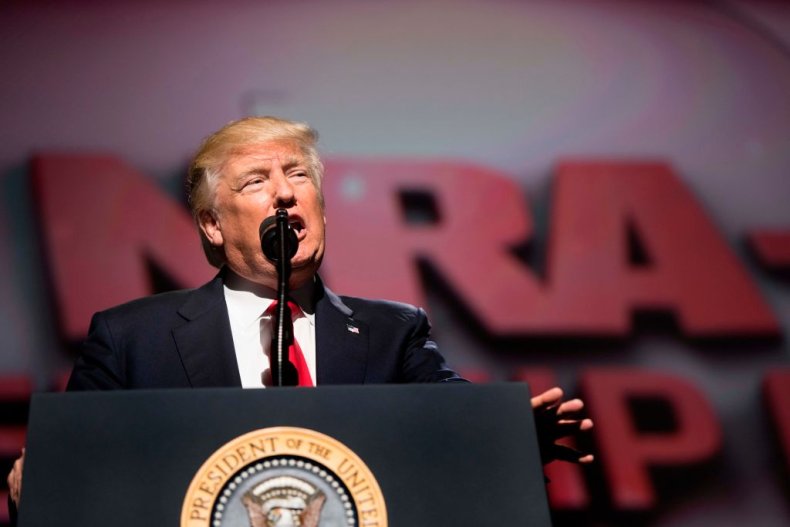 But critics of the president say in reality there has been no tightening of restrictions; rather, Trump has presided over a rollback in laws aimed at preventing similar tragedies from taking place.
Just weeks after taking office, Trump scrapped a federal rule imposed by the Obama administration which was designed to make it harder for some mentally ill people to own guns.
Likewise, Trump has shown little interest in renewing an assault weapon ban which was brought in during the Clinton administration but expired under President George W. Bush.
In 2018, he proposed arming teachers with concealed weapons so that they could "immediately fire back if a savage sicko came to a school with bad intentions.
"Highly trained teachers would also serve as a deterrent to the cowards that do this. Far more assets at much less cost than guards. A "gun free" school is a magnet for bad people. ATTACKS WOULD END!" he tweeted.
Indeed, in recent weeks Trump has doubled down on his appeals to the NRA and its supporters, regularly speaking out in support of the Second Amendment and against tightening the law. "Will totally protect your Second Amendment (The Dems want to obliterate it!)" he tweeted last week.