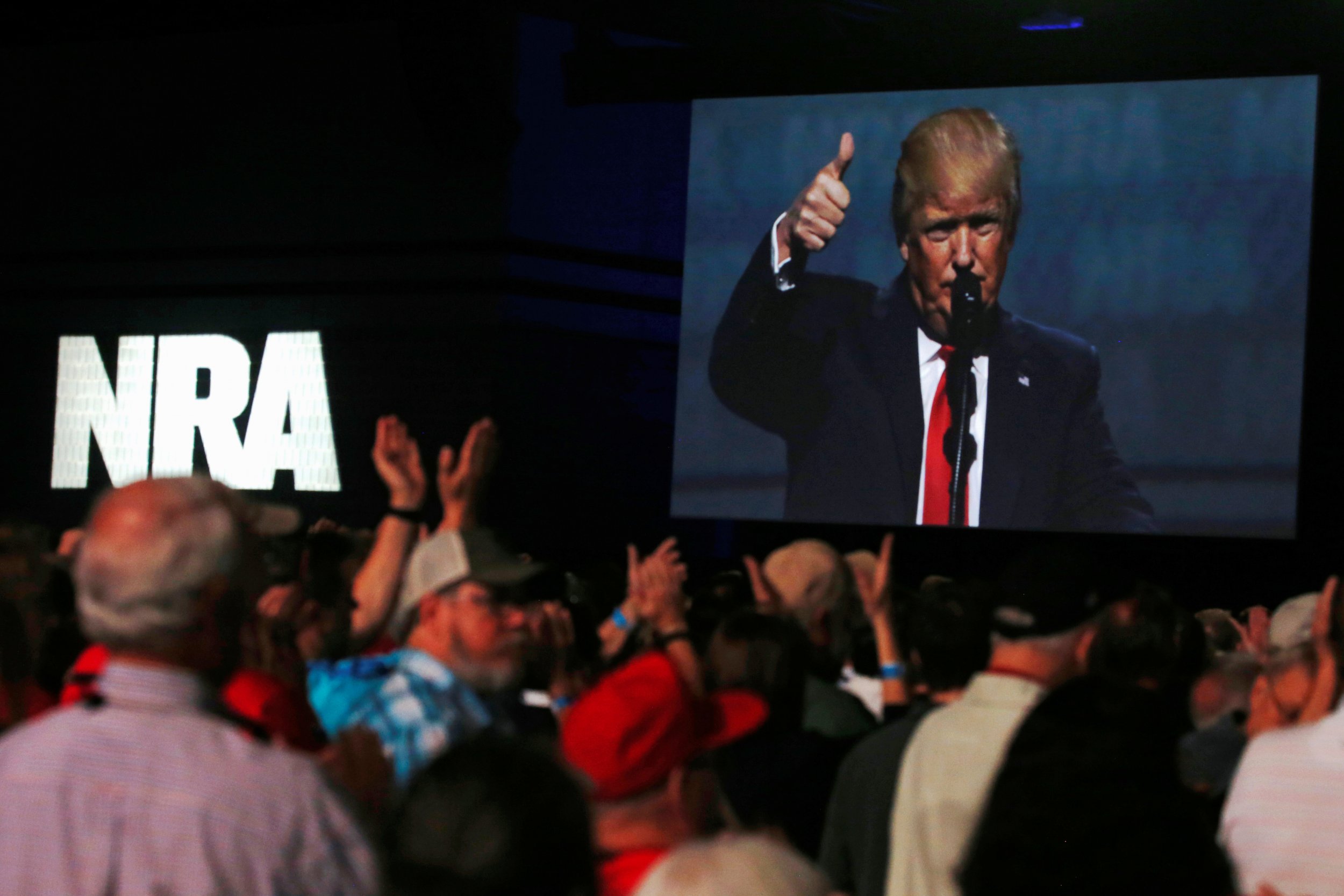 The National Rifle Association's newest recruitment video has garnered significant backlash, with some suggesting the minute-long clip is attempting to increase membership by calling for violence against liberal protesters.
The video was posted to the gun lobby's official Facebook page June 12 and has been viewed more than 2.7 million times and received more than 22,000 shares and 10,000 other reactions. It features conservative commentator Dana Loesch, a host for TheBlaze, calling out an unexplained group of people identified only as "they"—presumably those on the left side of the political divide—for a variety of supposed offenses.
"They use their media to assassinate real news," Loesch says. "They use their schools to teach children that their president is another Hitler. They use their movie stars and singers and awards shows to repeat their narrative over and over again. And then they use their ex-president to endorse the resistance."
Loesch's voice-over is heard as various scenes play out, including of protests, a window being smashed and a bloodied man wearing a "Trump" T-shirt and sitting in what appears to be a gurney.
"The only way we stop this, the only way we save our country and our freedom, is to fight this violence of lies with the clenched fist of truth," Loesch says as the ad closes. "I'm the National Rifle Association of America, and I'm freedom's safest place."
The NRA did not immediately respond to Newsweek's request for comment.
Criticism has focused on Loesch's use of the terms "they" and "we," suggesting a division in what is already a severely fractured political climate—and echoing speeches delivered by the NRA executive vice president Wayne LaPierre. The video was originally played at the NRA's Leadership Forum in April, Think Progress reported.
"It's up to us to speak up against the three most dangerous voices in America: academic elites, political elites and media elites. These are America's greatest domestic threats," LaPierre has said.
Loesch used Twitter to defend her use of the term "clenched fist" Thursday morning, stating the imagery had been used by anti-Trump protesters.
Democratic Representative Don Beyer, from Virginia, also took to Twitter, to blast the NRA for using the congressional shooting in Alexandria, which resulted in the critical wounding of House Majority Whip Steve Scalise, as a means to push gun legislation.
Since Trump's election victory and inauguration, protests against the president have taken place across the country, with some turning violent. In April, 21 people were arrested in Berkeley, California during a rally for Trump supporters that featured clashes with anti-Trump protesters, according to the Los Angeles Times.