National Rifle Association TV (NRATV), the video arm of the massive gun lobbying group, has never been a fan of CNN, but host Grant Stinchfield took the acrimony a step further on Wednesday when he claimed that the cable channel all but ignored a story about a "hero" Maryland resource officer because the network wanted "dead children."
"Instead of celebrating a hero cop who saved countless lives, they celebrate porn stars," Stinchfield said. "No time for a hero."
Stinchfield was referring to Tuesday's shooting at Great Mills High School in Maryland, during which Austin Wyatt Rollins shot two students before a shootout with armed school resource officer Blaine Gaskill, who responded in seconds. Police have not yet said whether Rollins, who used his father's legally purchased handgun, died of a self-inflicted gunshot wound or if the resource officer fired the fatal shot.
"What are they doing? Pushing again the March for Our Lives this Saturday," Stinchfield continued in his screed against CNN, referencing the looming demonstration in support of gun legislation reform. "Again, if they can't have the story they want, which is dead children, by the way, to push this anti-gun assault on our Second Amendment, then they push the march."
CNN Host Jake Tapper quickly fact-checked the claim via Twitter, linking NRATV to CNN's profile of Gaskill, which credited the resource officer with bringing the Maryland shooting to an end. Newsweek has reached out to the NRA for comment.
The controversial remark comes just a few days after NRA spokeswoman Dana Loesch called NRA members "victims of a different sort" in a conversation with Stinchfield.
"Well, it cost people's lives, and it also contributed to a state of poison in our national discourse where you have politicians and celebrities and everyone else impugning the characters of millions of law-abiding members just because they choose to voluntarily enter into a fellowship and call themselves the NRA," she said. "That's the problem here—it created even more victims of a different sort."
The NRA has increasingly been on the defensive since the February 14 shooting in Parkland, Florida, when a young man with a legally purchased AR-15 killed 17 people at Marjory Stoneman Douglas High School. The aftermath of the school shooting triggered a flurry of activism across the country in support of stricter gun control measures. Chain retailers, politicians, airlines and even insurance companies have since attempted to distance themselves from the gun group, which is one of the most powerful lobbying groups in the country.
In a previous interview with Newsweek, the group Moms Demand Action for Gun Sense in America denounced NRATV as propaganda and urged streaming giants to drop the network.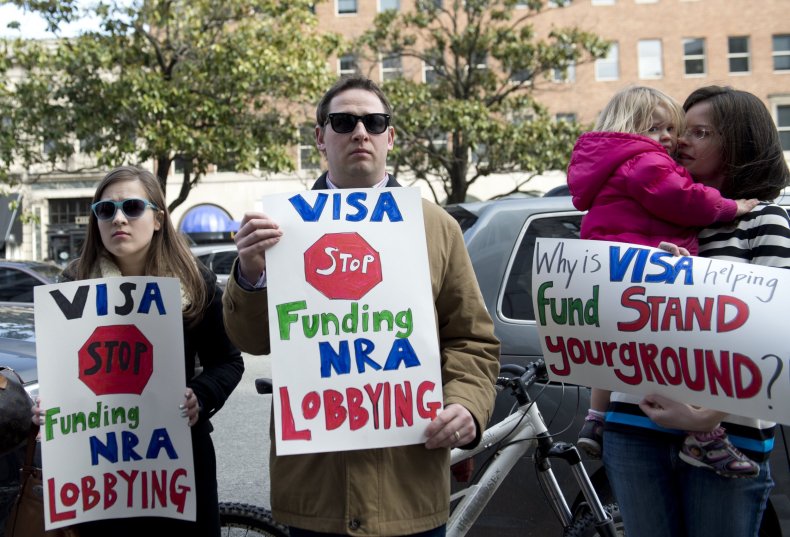 "NRATV is using its reach to threaten the media and all who dare to stand up to its radical vision of America," Moms Demand Action founder Shannon Watts said. "It's not surprising to see more violence-inciting content from NRATV, but what does floor me is Apple, Google, Amazon and Roku's willingness to allow this dangerous content on its streaming platforms. I don't expect better from the NRA, but I do expect better from our leaders in tech."
Through it all, the NRA and its spokespersons have steadfastly refused to alter their positions, balking at the notion that the organization bears any responsibility for school shootings.
"We will not be gaslighted into thinking that we are responsible for a tragedy that we had nothing to do with," Loesch told a crowd at the Conservative Political Action Conference less than two weeks after the shooting. "It is not our job to follow up on red flags. It is not our job to make sure that states are reporting to the background system."