NRATV Says Waffle House Shooting Hero Would've Done Better Job If He'd Had a Gun
A host on NRATV has claimed that a man who helped stop a gunman at a Nashville Waffle House on Sunday would have done a more successful job had he been armed with a gun. James Shaw Jr. has been hailed as a hero after police said he disarmed a man who opened fire during the late-night attack that killed four people and left two others injured.
Related: What Is the Sovereign Citizen Movement? Waffle House Shooting Suspect Travis Reinking Used Term After White House Arrest
But responding to that reaction and comments from some that the story disproves the long-maintained NRA talking point that the "only thing that stops a bad guy with a gun is a good guy with a gun," NRATV host Grant Stinchfield had a very different take.
"Clearly if someone was there with a gun, we wouldn't be having a manhunt right now," he said in a clip published by Media Matters for America. "It doesn't take away from the fact that a gun could have been useful in this situation."
Stinchfield continued: "Anybody, whether it was Mr. Shaw, whether it was somebody else, if they had a gun, we wouldn't be having a manhunt right now. OK? It takes a good guy with a gun to stop a bad guy with a gun. Yes, a good guy with guts stopped a bad guy with a gun momentarily, but he didn't stop him permanently. And this guy is still on the loose."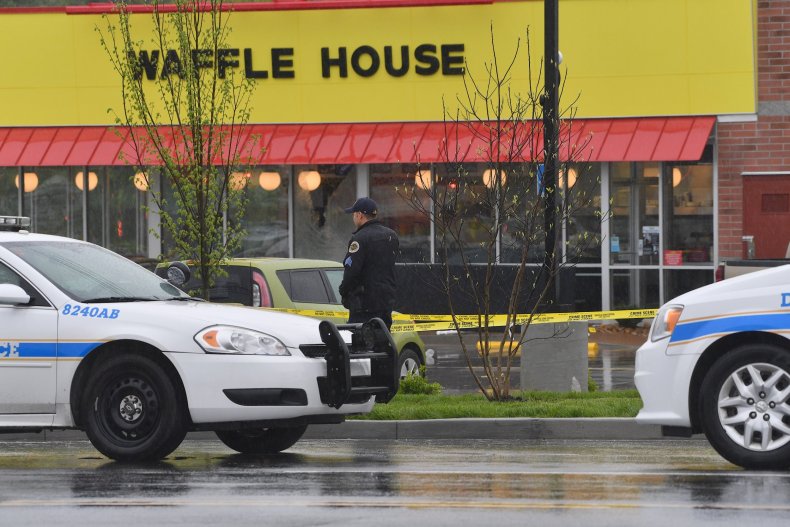 Following a manhunt, Travis Reinking, 29, was arrested and charged Monday on four counts of murder after a search in a secluded wooded area near his Nashville home. A motive has yet to be determined. Reinking allegedly fled the scene after Shaw tore an AR-15 from his hands.
Shaw, though, played down his involvement.
"I'm not a hero. I'm just a regular person," he said at a news conference Monday. "I think anybody could've did what I did if they're just pushed in that kind of cage and you have to either react or you're going to, you know, fold."