NRCC Mocks Colin Kaepernick With Interception Clip, Cheer On US Women's Soccer Team
The National Republican Congressional Committee posted a GIF showing Colin Kaepernick throwing a pick-six interception and compared his lack of "competitive" spirit to that of the U.S. women's national soccer team.
The Washington-based NRCC tweeted a clip showing the former San Francisco 49ers quarterback throwing an interception against the Arizona Cardinals in a September 2015 NFL game. The Republican group, which aims to replace Democratic members of Congress, set its sights on Kaepernick over reports he persuaded Nike to pull a shoe showing the Betsy Ross U.S. flag over racism concerns.
The NRCC's tweet compares Kaepernick to the U.S. women's soccer team as they face off against England Tuesday, but many USWNT supporters immediately remarked that team captain Megan Rapinoe is a vocal supporter of Kaepernick.
"Good luck to @USWNT! Win this one for one of America's first strong, independent women, Betsy Ross. We have no doubt you'll be more competitive on the field than @Kaepernick7. #USA #USAvENG," the NRCC tweeted Tuesday during the match being held in France.
"Cheering on America to own the libs," the NRCC added during the second half of the match.
The GIF clip on repeat in the Republican tweet shows Cardinals safety Tyrann Mathieu picking off a Kaepernick pass, which made it the second pick-six interception of the first quarter.
Conservatives and other right-wing figures ridiculed Kaepernick this week over reports Nike agreed to his request to pull the special-edition Air Max 1 shoes over the racist connotations of the Betsy Ross flag. Kaepernick is also a Nike spokesman and was the face of successful 2018 advertising campaign from the company, despite repeated criticisms from President Donald Trump.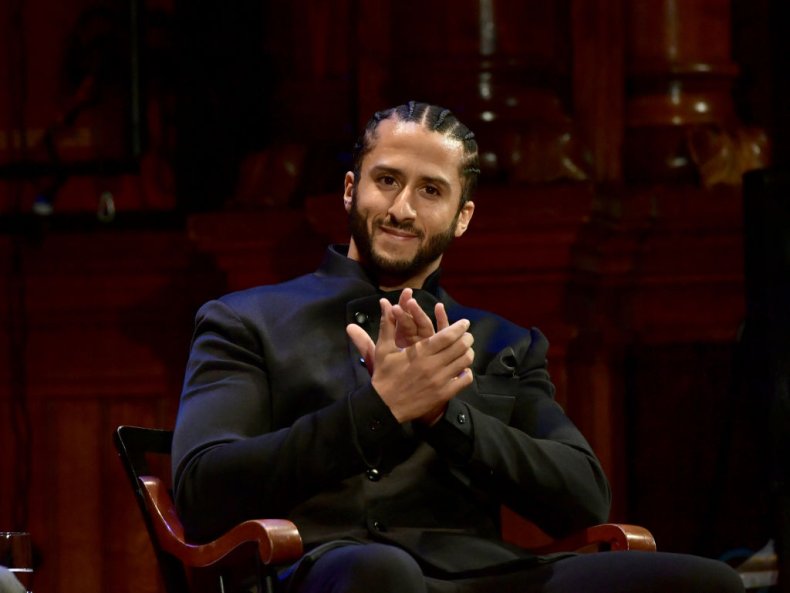 "Nike has chosen not to release the Air Max 1 Quick Strike Fourth of July as it featured the old version of the American flag," a Nike spokeswoman said in a statement Monday.
The NRCC's tweet was met with an overwhelmingly negative reaction Tuesday, with many NFL fans and U.S. women's national soccer team supporters accusing the GOP group of trying to divide American sports fans. Others mocked the NRCC's reference to Betsy Ross as an "independent woman" as replies stacked up far faster than likes of the post.
"The star of the women's national soccer team, Megan Rapinoe, is a strong supporter of Kaepernick and has been since the beginning of his protest. But you knew that. right NRCC? lololol," wrote Alex Cole.
"Nice attempt to put them against each other. They're united against YOU," added another follower.