NSA Director Michael Rogers Tells Senate He Never Felt 'Pressured' by White House to Influence Russia Probe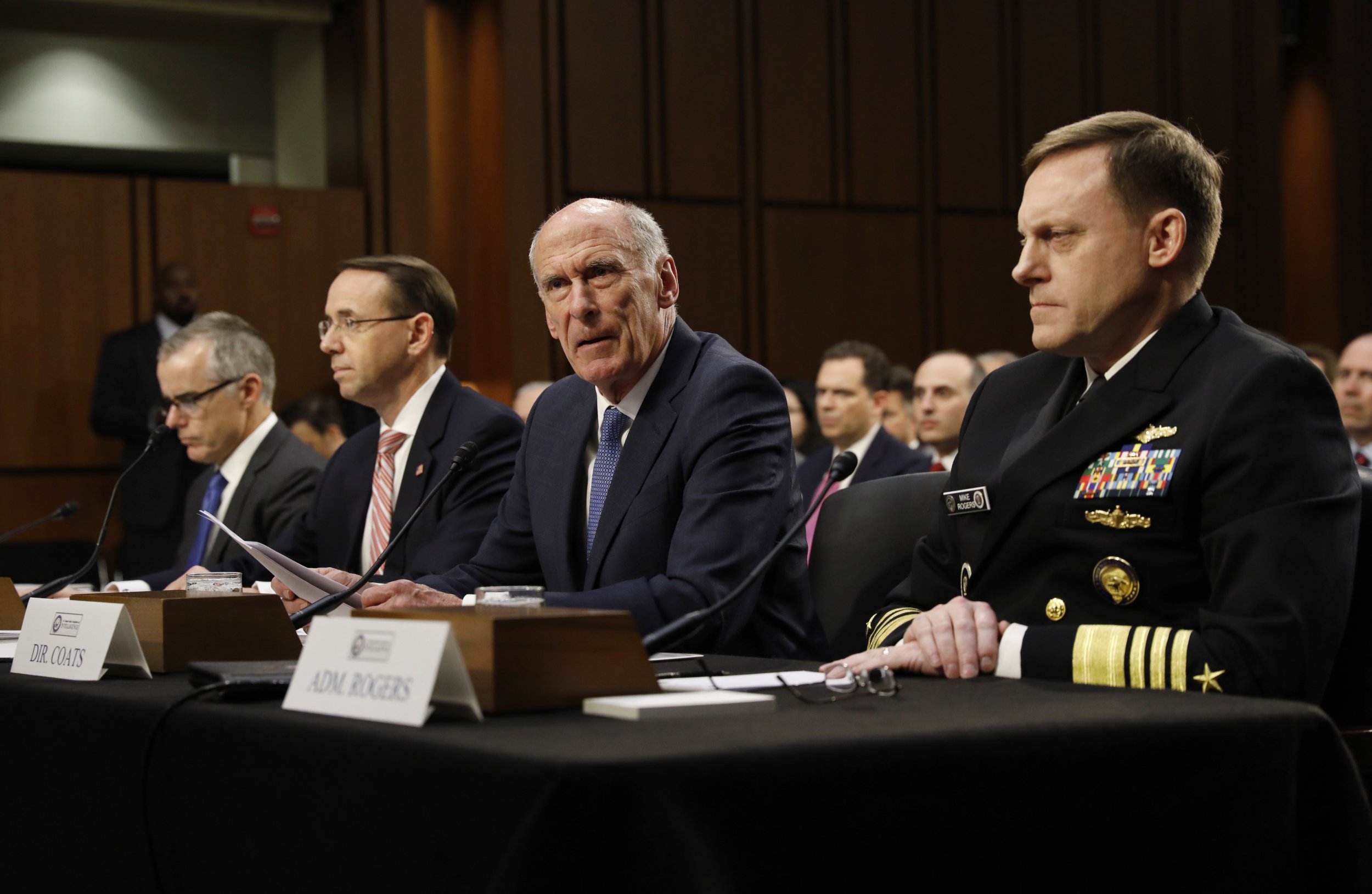 Speaking before a Senate panel on Wednesday, United States intelligence officials declined to respond to claims in media reports that President Donald Trump had asked them to interfere with the FBI's investigation into Russian interference in the presidential election and possible collusion with the Trump campaign. But National Security Agency (NSA) Director Admiral Michael Rogers said no one had ever made him feel pressured to do something wrong.
Rogers, Deputy Attorney General Rod Rosenstein, Director of National Intelligence Director Dan Coats, and Acting FBI Director Andrew McCabe testified Wednesday before the Senate Select Committee on Intelligence.
Related: Trump asked intelligence chiefs to intervene in Russia investigation
Prior to the hearing, The Washington Post reported on Tuesday night that Trump asked Coats and CIA Director Mike Pompeo in March to intervene and persuade the FBI to back off its investigation into Michael Flynn's ties to Russia. The Post had previously reported that Trump had asked Coats and Rogers to publicly deny the existence of evidence of collusion.
The Senate panel questioned Coats and Rogers about those claims on Wednesday. "In the three-plus years that I have been the director of the National Security Agency, to the best of my recollection, I have never been directed to do anything I believed to be illegal, immoral, unethical or inappropriate," Rogers said. "And to the best of my recollection, during that same period of service, I do not recall ever feeling pressured to do so."
When the panel pressed Rogers to answer whether the reports were true, he responded, "I'm not going to discuss the specifics of conversations with the president of the United States."
Asked whether he had been encouraged to influence an ongoing investigation, Coats said: "What I'm not willing to do is share what I think is confidential information that ought to be protected in an open hearing." He added, "I'm just not going to go down that road in a public forum."
The focus of the hearing was the Foreign Intelligence Surveillance Act (FISA), which expires in December. But given the recent revelations by media outlets, the senators on the panel also asked those in attendance about other subjects.
"If any of this is true, it would be an appalling and improper use of our intelligence professionals," Senator Mark Warner, vice chairman of the Senate Intelligence Committee, said in his opening remarks on Wednesday, referring to the Tuesday report. He added that such "an act that could erode the public's confidence in our intelligence institutions."
The Senate panel also questioned Rosenstein about his role in Trump's firing of FBI Director James Comey on May 9. In initial statements and interviews, the White House said the president had acted on the recommendation of Rosenstein. But in subsequent interviews, Trump and members of his administration seemed to downplay the deputy attorney general's involvement. Rosenstein was widely reported to have been frustrated with the White House putting the blame on him. But before the panel, Rosenstein declined to comment on his role, saying he had provided that information in closed briefings to members of Congress.
Comey will speak before the same Senate panel on Thursday. On Wednesday morning, before the FISA hearing began, Trump announced his nomination of Christopher Wray, a former Justice Department official, to succeed Comey at the bureau.
NSA Director Michael Rogers Tells Senate He Never Felt 'Pressured' by White House to Influence Russia Probe | U.S.