'N'Sync Got Away With S***': Trevor Noah Shares His Joy at Meeting BTS
Comedian Trevor Noah recently talked about what it was like meeting K-Pop group BTS at the 64th Annual Grammy Awards back on April 3.
Noah hosted the awards this year that featured nominees including Jon Batiste, Olivia Rodrigo, Lady Gaga and BTS. The group—consisting of J-Hope, V, Jungkook, Park Ji-min, Jin, Suga and RM—were nominated for Best Pop Duo/Group Performance for their hit song "Butter." They also performed the song during the broadcast.
In a recent "Between The Scenes" video posted to the official The Daily Show with Trevor Noah YouTube page, fans asked what it was like to meet BTS.
"You know, they say sometimes when you experience too much joy in a moment you sort of black it out," Noah joked, before seriously answering the question. "One thing I love about BTS: They are, first of all, the nicest group of people you'll ever meet."
He goes on to explain how some celebrities are nice to other celebrities, but BTS is nice to everyone they interact with. He then talked about their talent.
"They hit their marks, they're learning their moves but like, really precise, you know? I'm not even trying to throw shade or anything but I was like 'Man, N'Sync, they got away with s***,'" he joked, reminiscing at the bands he grew up with in comparison to current bands when talking about dance moves.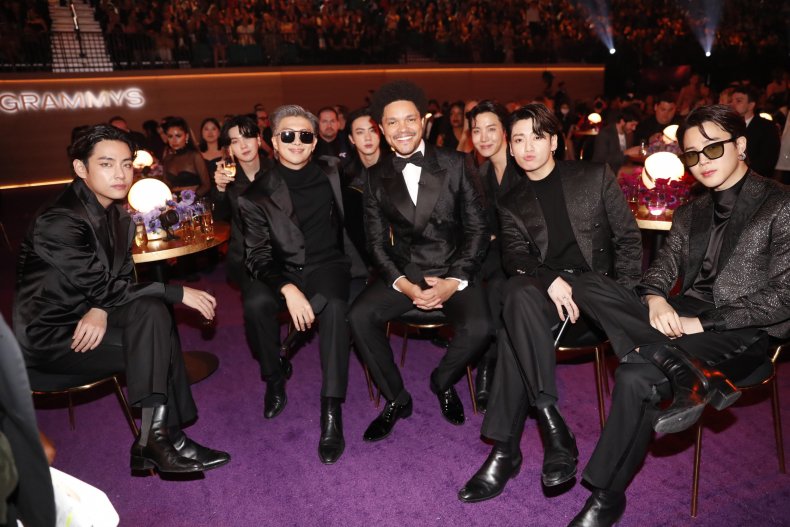 At the Grammys, Noah chatted with BTS, calling them "the biggest band in the world" and discussing how some learned English by watching the sitcom Friends. Noah brought up learning Korean, referencing Squid Game. The joke caused outrage from BTS fans saying the joke was racist.
"no way trevor noah made a squid game joke around bts," a fan tweeted.
"did trevor noah just make a squid game joke....? in front of bts...to their faces?? like are you not embarrassed," one fan wrote on Twitter.
Another fan questioned, "trevor noah making a squid game joke at bts is like... aren't you a comedian and a political commentator? shouldn't you know better?"
One BTS fan said, "anyone else think the squid game thing was super irrelevant to bts and kinda racist, and then they bring up friends yet again..."
A Twitter user wrote, "Would it have been so hard for the host to learn how to say 'hello my name is...' in Korean instead of giving everyone second hand embarrassment by singing that stupid song from Squid Game?"
Newsweek has reached out to Trevor Noah's representatives for comment.