'Nuclear Radiation Harmed Me In The Womb, Now I'm A Top Athlete'
When I was born in Khmelnytskyi, Ukraine in 1989, I was missing shin bones in both legs and my left leg was about six inches shorter than my right. I called it my "little leg" as a child; I loved it and I would go to sleep holding on to it. My toes and my hands were also webbed and I don't have thumbs on either hand. I'm missing one kidney, part of my stomach and I don't have a full bicep on my right arm.
Doctors have said that exposure to radiation while in the womb caused my birth defects but it's hard to specifically pinpoint if it was caused by radiation from the Chernobyl nuclear power plant disaster in 1986. But, radiation levels were high in Ukraine for years afterwards and my parents were travelling in Ukraine when my mom was pregnant.
My birth parents gave me up for adoption when I was born and though I lived in three different Ukranian orphanages, I only have vivid memories of the final one. I can picture the dining area and its high ceilings because it was where prospective parents would come when they were interested in adopting.
Although I knew I was in pain and my hands and legs were different to those of other children, I never really connected all the dots. As a child, I didn't really register that I was different.
I know now that my adoptive mom saw a picture of me when I was five, but she had to overcome many obstacles to adopt me. It took two years in total and she did it all as a single parent. I have a really vivid memory of her collecting me from the orphanage when I was seven years old. I was only afraid of two things about moving to America; flying across the ocean and learning English.
My mom had shown pictures of me to doctors in America before I moved there and she knew that my left leg would have to be amputated as soon as possible. But when I arrived in the U.S. I was really failing to thrive. I was so malnourished and when I had my first bath, I turned the water brown. Doctors said I wouldn't have lived past the age of ten if I had stayed in Ukraine. As you get older you begin to understand what is normal and that what you experienced was not normal. That's when I realized the magnitude of what my mom did; she saved my life.
Rather than have me leave what I knew and then immediately having my leg amputated, my mom waited a year so I could create a bond with her and learn English. Then, after my first amputation we moved from New York to Kentucky and in 1997 I tried rowing for the first time. I actually didn't want to do it because it was an adaptive sport and I didn't want to be clumped into a group just because I had a prosthetic leg. But I tried it one day and I fell in love with it; I had never felt so free or powerful. For the first time, I was discovering my body and my strength. It was good for my mental health, too.
Then, at 13 I was told that my right leg would need to be amputated, too. The second amputation happened when I was 14 and resulted in a hospital stay of around six months, with a lot of physical therapy to relearn how to walk. I experienced anxiety and depression around that time, and I think one reason for that was not having a role model who looked like me.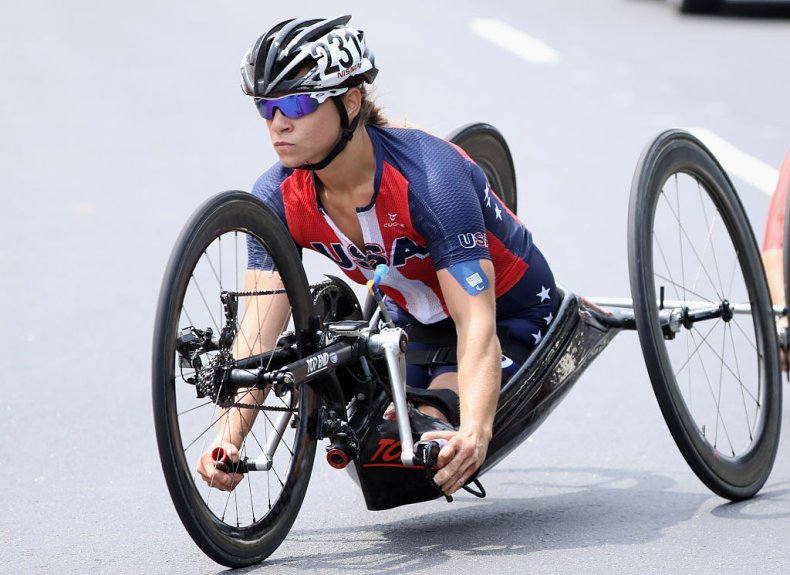 But, I really wanted to get back on the water to row. The director of the program I was part of then suggested that I aim to compete in the Paralympics; I didn't even know what the Paralympics were at the time! I didn't make it into the U.S. team for the 2008 Summer Paralympics in Beijing, China but that fuelled me to be part of the team for the 2012 Summer Paralympics in London, England. There, I won the bronze medal in mixed double sculls rowing. Then, at the 2013 Rowing World Championship in South Korea, I injured my back. That took me out of rowing forever.
Instead of giving up, I tried cross country skiing and I loved it. I found out that the 2014 Winter Paralympics were in Sochi, Russia and began to train for them. One of the reasons I stuck with cross country skiing was because of how close Sochi is to Ukraine; I wanted to go back and try to find my birth parents. I'd like to see what they look like; I've always been so curious. Although I didn't find them in 2014, I've never given up on the dream of finding my birth family.
Sochi was incredible. It's the most amazing experience to win as a team but cross country skiing presented an opportunity for me to achieve as an independent athlete. I won a silver medal in the Women's 12 km Sitting race and bronze in the Women's 5km Sitting race. My silver medal was the first Paralympic or Olympic medal in cross country skiing for the U.S. in 20 years. But I have encountered difficulties. That same year, I misjudged my rent at the place I was staying in Colorado when I was training for Sochi. My mom had helped me so much financially that I was too embarrassed to ask for help again. So for three days before I left for Sochi I was sleeping in my car and eating a lot of spinach.
I started cycling in 2014 after Sochi and I've been competing in the summer Paralympics as a cyclist since 2016. When I first heard the 2020 Summer Paralympics in Tokyo, Japan had been postponed because of the COVID-19 pandemic, I was a little relieved. Of course, the pandemic is awful for many reasons, but as a dual season athlete the delay did allow me to put in some extra hours of training that I wouldn't have otherwise had. On the other hand, the window between Tokyo and the 2022 Winter Paralympics in Beijing, China is now much smaller. It's almost six months to the day between the closing ceremony in Tokyo and the opening ceremony in Beijing. Initially, that intimidated me, but now I'm just focusing on seeing how far I can go.
I missed out on medals at the Summer Paralympics in Rio De Janeiro, Brazil in 2016, but I know what I did wrong and I was less experienced then. The course was flatter and I am small compared to those in my field; a flat course doesn't favor someone who is small. My teammates call me "goat" because I love climbing up mountains; I'd rather fight gravity. The course in Tokyo is hilly, so I'm excited. I'm competing in the time trial and road cycling events and my goal is to also make the relay team. Then, in Beijing I will be competing in all the cross country skiing events and the biathlon.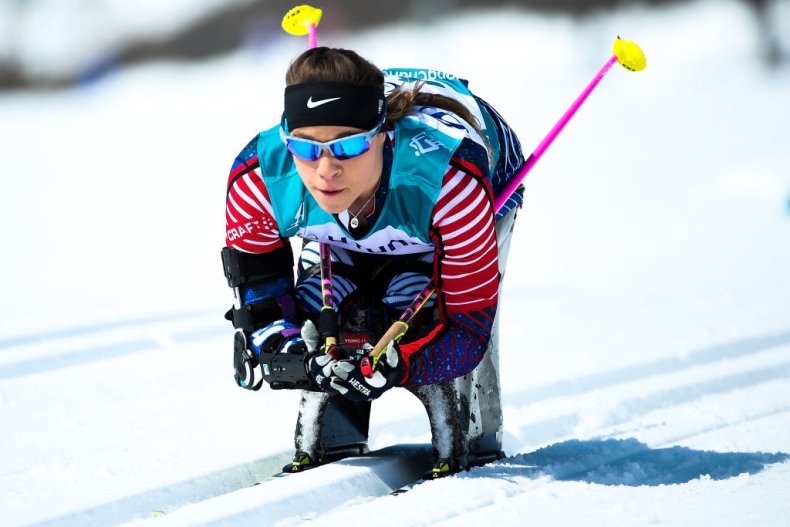 Andrea Eskau from Germany is one of my biggest competitors in both cycling and cross country skiing. She's more of a seasoned athlete and competed able bodied cyclist who was injured and became a paralympic cyclist. I've started beating her in cross country skiing and biathlon but she still kicks my a** in cycling. However, coming second to someone who has been at the highest level able bodied and is now at the highest level as a Paralympic athlete is definitely pushing me to be better.
Often it's when I'm standing on the podium that I will think about how far I have come. At the 2018 Winter Paralympics in Pyeong Cheng I won gold in the Women's 5km Sitting race and the Women's 1.1km Sprint Sitting race. I've always known it, but being able to finally look down at my mom's face after being awarded my gold medals, really made me realize how far I've come. I had gone from being a little girl who had no one and no voice, to standing on the highest podium spot with people watching me, supporting me and cheering me on.
My mom says she always knew I had it in me. Perhaps it's that ingrained experience of having to fight for things in the orphanage, but I often doubt myself before a race, so I'll call her and she puts everything into perspective. She reminds me that I know what to do and that I've put in the work.
I'm 31 now and I have won eight Paralympic medals so far. I have plenty of time ahead of me and I often think that the 2028 Summer Paralympics in Los Angeles would perhaps be the best ways to end my Paralympic career; competing at home in the U.S.
But I don't think I'll be ready to transition out of sport until I can cross the finish line and not regret one aspect of the event; whether it's on snow or on the bike. I'm still chasing that perfect race.
Oksana Masters is a U.S. Paralympic athlete competing in cross country skiing, Nordic biathlon and cycling. You can follow her on Instagram @oksanamasters . To learn more about all the Paralympic hopefuls, visit TeamUSA.org. Watch the Tokyo Paralympics this summer on NBC.
All views expressed in this article are the author's own.
As told to Jenny Haward.
Correction 25/02: This article has been updated to reflect that Masters was injured at the 2013 Rowing World Championship in South Korea.