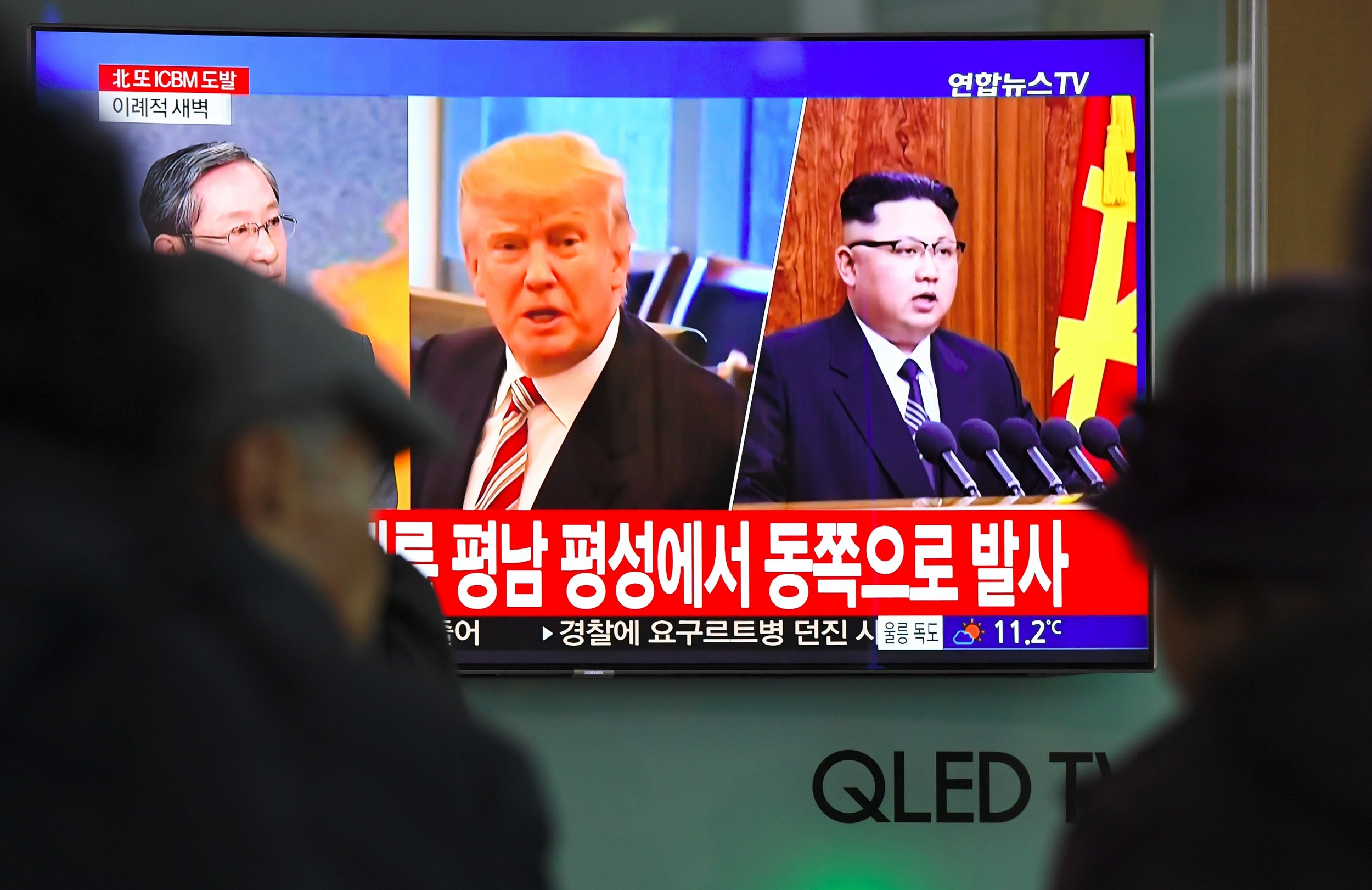 Fears over wars this year on the Korean Peninsula, the Middle East and around the world have increased dramatically due to President Donald Trump's ongoing nuclear feud with North Korea's Kim Jong Un, as well as threats of extreme weather events, natural disasters and cyber attacks, according to the World Economic Forum.
Seventy-nine percent of the experts tasked saw an increased risk in military conflicts in 2018, while 93 percent expected political and economic rows to ratchet up.
The WEF's annual Global Risks Report was released less than a week before Trump heads to the international organization's global meeting in Davos, Switzerland. Trump is expected to deliver a speech on the final day. The meeting runs from January 23 to 26.
Trump's "Make America Great Again" slogan and brand of politics were cited as reasons for the fear of conflicts involving political and economic power. The risk report mentioned his decision to pull the United States out of the Trans-Pacific Partnership trade deal and the Paris climate accord, as well as threats to yank the Iran nuclear deal put in place by his predecessor.
Trump and Kim have continued to trade insults and barbs across various forms of media. The president has repeatedly nicknamed Kim "little rocket man" while threatening "fire and fury" if the North kept testing intercontinental ballistic missiles and nuclear weapons.
In kind, Kim has called Trump a "dotard" who is actually pushing for war on the peninsula, while he tested missiles and detonated Pyongyang's sixth nuclear test in its history last year.
An example of the widening fears of a U.S. military or nuclear conflict with the North was put on full display over the weekend. Hawaii residents were mistakenly sent a warning of an incoming missile to their phones and televisions, setting off a panic throughout the islands.
The report also indicated economic inequality as an ongoing problem that should be addressed now before "systems breakdown."
"A widening economic recovery presents us with an opportunity that we cannot afford to squander, to tackle the fractures that we have allowed to weaken the world's institutions, societies and environment," WEF founder and executive chairman Klaus Schwab said. "We must take seriously the risk of a global systems breakdown."
The report breaks concerns down into five categories: economic, environmental, geopolitical, societal and technological. And powerful weather events and natural disasters were viewed as the most likely to occur this year, while weapons of mass destruction were ranked highest in terms of potential impact to the globe.
The survey taps the opinions of 1,000 experts from the worlds of businesses, government and non-governmental organizations on 30 global risks over a 10-year period.