Nuclear Weapons Treaty's Chief Negotiator Fears Coronavirus Crisis Could Mean End of Russia-U.S. Arms Control Deal
The chief negotiator of the New START treaty fears the nuclear arms control deal with Russia could end up "simply going away" as attention is diverted to handling the novel coronavirus pandemic.
Former Under Secretary of State for Arms Control Rose Gottemoeller told Newsweek that she was "concerned" about the deal lapsing if it is not paid more attention before it expires early next year.
She also argued that it was "not possible" to get China signed up to the treaty before February, despite the reported wishes of the Trump administration.
Speaking to Newsweek on Tuesday, Gottemoeller said: "The attention span of course must be focused on the pandemic. But I am concerned about New START simply going away without the requisite attention to the role it plays in national security for the United States and for our allies in Europe as well."
The ex-NATO deputy secretary-general added that it was important to keep New START's caps on U.S. and Russian nuclear arsenals to prevent an "arms race" between the countries.
"We could quickly see that threat from the Russians growing and of course, eventually the United States could catch up," she said. "But we are right at the beginning of our own modernization process and we are not ready at the moment to build a new intercontinental ballistic missile."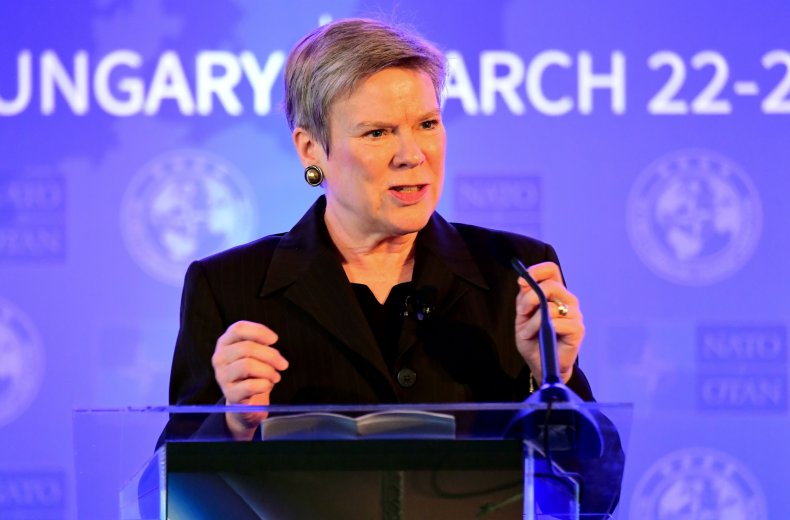 The New START deal came into force in February, 2011 as a follow up to the original Strategic Arms Reduction Treaty (START) accord first signed in the 1990s.
Under the terms of the New START treaty, the number of deployed nuclear warheads and bombs is restricted to 1,550 in both America and Russia. Deployed intercontinental ballistic missiles, submarine-launched missiles and heavy bombers are also capped at 700.
Russia is keen to renew New START before it expires on February 5 next year, but the U.S. has stalled on making a decision on renewal as it is eager to tie China into the treaty, according to documents seen by Foreign Policy.
Asked how likely it would be for China to sign up to the New START deal before its renewal deadline, Gottemoeller said: "It's not possible in my view, and the reason is a practical one. That is, China's nuclear arsenal is much smaller than that of the United States and Russia.
"We have 1,550 warheads deployed on our strategic missiles, and we have thousands of more warheads in storage in reserve. And in the case of China, they have under 500 warheads total."
But the chief U.S. negotiator of the New START deal added that she agreed with the Trump administration's position that China would have to "start thinking about engaging in negotiated arms control processes" and being more open with the world about its nuclear capabilities.
With a war of words between the U.S. and China still raging over the coronavirus pandemic, what are the chances of the U.S. and China reaching any sort of nuclear arms control deal in the near future?
"I think it's important to remember that nuclear weapons and particularly strategic nuclear weapons... have had special presidential attention," Gottemoeller said.
"And sometimes the relationships [between countries] are very bad indeed, you remember President [Ronald] Reagan, and the whole empire position that he took in the 1980s. And yet, he turned out to reach these landmark arms control deals with President Gorbachev."
The Obama-era Under Secretary for Arms Control added that she felt a nuclear deal between the U.S. and China was possible despite present tensions over the COVID-19 outbreak.
"I do think, despite it all, it is possible," she said. "Because I do think that presidents feel a special responsibility to take action in this particular area, no matter what's going on in the larger arena. These weapons can blow us to smithereens, and so presidents take that fact seriously."
Newsweek has contacted the State Department for comment and will update this article with any response.