Nude Man in Chicken Coop Arrested After Doing 'Way Too Much Meth'
Police arrested Jeffery Falls on Saturday morning after receiving a call from a homeowner in Louisiana's Brownsville-Bawcomville area saying there was a nude man in his chicken coop, which he was tearing up, according to the News Star.
When officers arrived at 1204 West Olive Street, they found Falls, still naked, attempting to clean the coop's floor with his hands.
Police spoke to the homeowner, who said he did not know the man and did not want him in the chicken coop. When the man arrived on the scene, he turned over a few plants on the porch before heading to the coop.
Officers examined Falls and noted dilated pupils and erratic, jerky body movements. When they interviewed him, he admitted that he had done "way too much meth" and then attempted to have a conversation with the door of his vehicle.
When the door didn't answer him back, Falls became upset and took his anger out on the chicken coop, letting out a pair of the birds before damaging the floor of the enclosure.
Officers took him into custody, and he was booked in the Ouachita Correctional Center and charged with criminal trespassing, simple criminal damage to property and disturbing the peace. Bail was set at $900.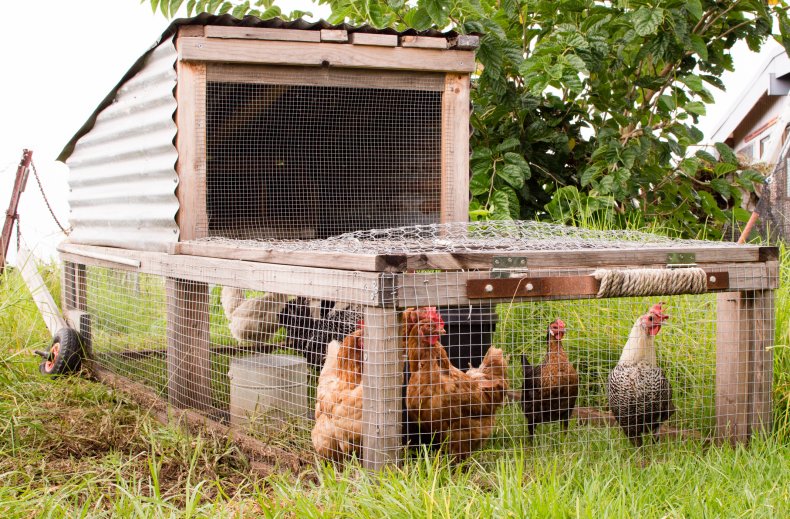 Chicken coops and methamphetamine make strange bedfellows. In September 2018, police in Arkansas arrested Dustin Manues on existing warrants after they saw him walking through a yard. They gave chase and eventually apprehended him inside a chicken coop. A body search revealed that Manues was in possession of a loaded handgun and 51 grams of meth, according to KAIT.
In 2016, Georgia police raided a home in Gordon County with a warrant to bust a meth-trafficking operation, according to 11 Alive.
The suspect, Michael Leon Patton, was at the location and fled the scene, leaving a large amount of meth behind. He hid in a nearby chicken coop and was able to use the birds for cover to elude police and escape. Officers finally caught up with him and took him into custody four months later.
Although hallucinations are not often a direct effect of smoking methamphetamine, extended use of the drug can result in "meth psychosis." That condition can cause distorted perceptions, obsessive thoughts, violent behaviors and visual and auditory apparitions.
Meth psychosis comes in multiple forms. Short-term "transient" psychosis can last up to a week, while longer-term "persistent" psychosis can continue for as long as six months after quitting the drug. In addition, cases of long-term permanent brain damage as a result of methamphetamine consumption have been observed.