Nude Photos of Female Deputy Found on Work Phone of Fellow Officer
A Texas deputy was suspended from the job after nude photos of a female officer were allegedly discovered on his assigned county phone.
Last October, an officer in Bexar County discovered two nude photographs of a female deputy on a county cell phone and reported it.
During the investigation, Deputy Christopher Le Blanc admitted that he used the phone to take photos of nude images he was sent through Snapchat, KSAT-12 reported.
As a detention deputy, Le Blanc was assigned a county phone as part of his duties.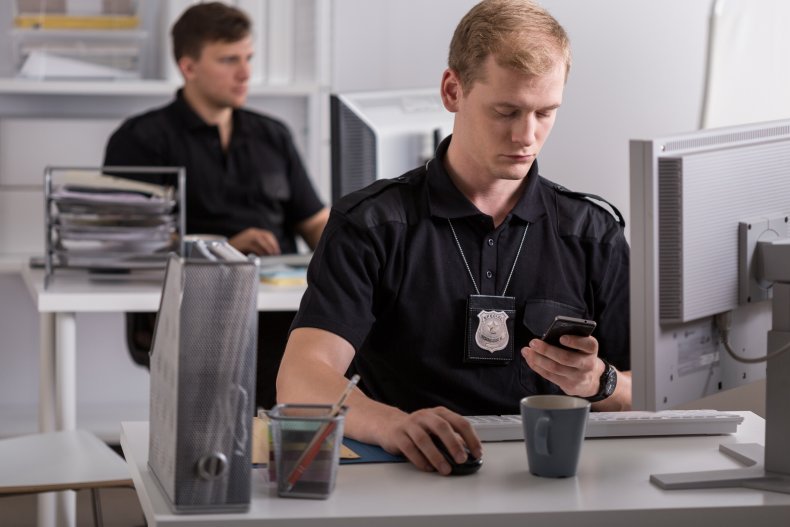 During a police suspension, individuals are temporarily removed from the department and placed on leave. Depending on the type of suspension, some officers may not receive pay while serving their suspension.
Officers are sometimes required to return any departmental electronic devices, including the assigned county cell phone.
He told investigators that he did not want to screenshot the photos on his personal phone because the Snapchat app would alert the woman. Instead, he decided to utilize his designated county cellphone to take a photo of his phone screen.
Le Blanc was originally suspended for 20 days but his sentence was brought down to 10 days after he appealed, according to suspension records obtained by KSAT-12.
"You utilized the county cell phone inappropriately and not for any legitimate law enforcement objective," the suspension document read.
According to an open records request filed by KSAT-12, Le Blanc is just one of six deputies in Bexar County that were suspended from the job in April. Other deputies were suspended due to attendance issues and low job performance.
Newsweek reached out to the Bexar County Sheriff's Office for comment.
Bexar County has made its rounds in the national and local headlines over other controversies.
In August 2020, a Bexar County Deputy fatally shot a man during a mental health check. The officer said the individual was "acting erratically" and allegedly tried to grab his gun from his waistband.
Bexar County was also in the news after a woman filmed herself confronting a county judge at a grocery store and telling him he is a "traitor" for supporting wearing masks back in September.
According to Bexar Police, another woman was arrested on animal cruelty charges after police discovered she had two illegal lemurs.
Police began looking into the woman after discovering various TikTok photos featuring her two lemurs. When authorities arrived, they found one of the lemurs dead behind a fence and the other lethargic and malnourished.