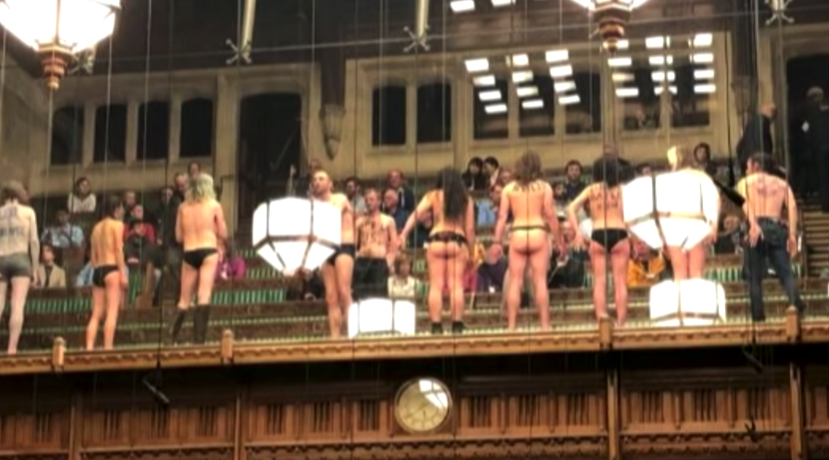 A group of semi-naked climate change protesters flashed British lawmakers earlier today during a Brexit debate.
On Monday, peaceful activists from Extinction Rebellion entered the public gallery of the House of Commons while members of Parliament were debating the withdrawal of the United Kingdom from the European Union. Wearing nothing but underwear, the 11 protesters pressed their buttocks against the glass facing the chamber as politicians discussed Brexit.
Shortly afterward, videos of the peaceful demonstration were uploaded online.
The activists, who had slogans written on their bare chests and backs, stood in position for almost 20 minutes. "For all life," one had written on his chest. "SOS," another protester's body read. Two others donned elephant masks, which they later told reporters was done to symbolize "the elephant in the room," a reference to climate change.
Despite the demonstration, MPs continued to debate in the chamber, some ignoring the activists while others made coded mentions to their presence. BBC political correspondent Andrew Sinclair tweeted that "one MP thanks a colleague for 'a cheeky' intervention' another thanks a colleague for 'fleshing out the arguments.'"
London authorities later entered the gallery and removed the protestors, reported The Guardian. Police confirmed that 12 of them had been arrested "for outraging public decency."
"One by one they've all being dragged out," Sinclair tweeted.
After the incident, Mark Ovland, one of the activists present at the demonstrations, released a statement, highlighting the group's frustrations with climate change inaction. "We are impelled to act in this way because the most important and pressing issue of our time is being flagrantly and recklessly ignored by our government and media," he said. "By undressing in parliament, we are putting ourselves in an incredibly vulnerable position, highlighting the vulnerability that all of us share in the face of environmental and societal breakdown."
Ovland added: "There is an elephant in the room and it is demanding attention."
Iggy Fox, another activist and wildlife biologist, added: "I'm tired of the time and resources our government wastes rearranging the deckchairs on the Brexitanic. I want a future, and right now they are burning it like there's no tomorrow."
MPs in The Commons on Monday again failed to reach an agreement on how to handle the Brexit process. Out of the four motions that were on the table for leaving the EU, none had attracted a majority vote, reported BBC. The plan that Prime Minister Theresa May negotiated with the EU has already been rejected three times. If she fails to guarantee an extension from the EU before April 12, the country will be forced to look at other options or leave the EU with no deal.