Number of Adults Who Identify as LGBTQ Has Doubled Since 2012: Poll
More and more Americans consider themselves part of the LGBTQ community, so much so that the number has doubled in the last decade, according to a new poll.
A poll released Thursday by Gallup found that the percentage of U.S. adults identifying as other than heterosexual has risen to a new high of 7.1 percent—double the percentage the polling company recorded when it first asked the question in 2012. The poll found that Americans are increasingly embracing the LGBTQ label as younger generations come of age in a more accepting society.
Joni Madison, interim president of advocacy group Human Rights Campaign, said in a statement that the poll reflects society growing more inclusive while also underscoring the need "to codify legal protections against discrimination and implement LGBTQ+ inclusive data collection at federal, state, local and private levels."
"With more LGBTQ+ people than ever before living openly and embracing their identity, the fight for LGBTQ+ equality in America must continue to represent this ever-growing and beautiful community," she said.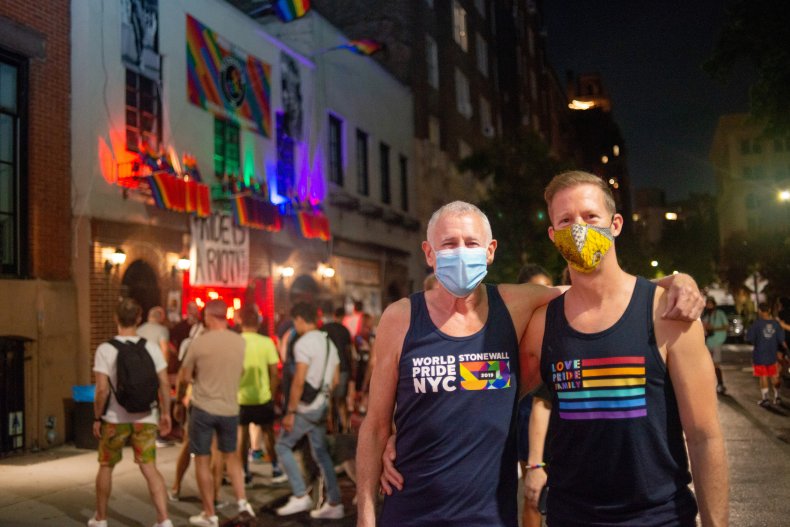 The Gallup poll is based on 2021 data from more than 12,000 interviews with U.S. adults. The poll asked respondents if they self-identified as straight or heterosexual, lesbian, gay, bisexual or transgender. Of those that responded, 86.3 percent identified as heterosexual or straight, while 6.6 percent did not offer an opinion.
"The proportion of U.S. adults who consider themselves to be lesbian, gay, bisexual or transgender has grown at a faster pace over the past year than in prior years," Gallup said in a release presenting the poll's findings.
Of those that identified as LGBT, 21 percent said they are gay, 14 percent lesbian, 10 percent transgender and 4 percent something else. Each of these groups accounts for less than 2 percent of U.S. adults, according to Gallup.
The poll found that younger generations had driven the increased proportion of Americans identifying as LGBT.
About 21 percent of adult Generation Z members identified as LGBT, the poll found. The proportion of Generation Z, those born between 1997 and 2003, who identify as LGBT is nearly double that of millennials, according to Gallup.
The proportion of millennials, born between 1981 and 1996, who identify as LGBT has roughly doubled since Gallup began the poll. In 2012 (when some members of the generation hadn't turned 18), 5.8 percent identified as LGBT. Currently, it's 10.5 percent.
By contrast, "the percentage of traditionalists, baby boomers, and Generation X adults who identify as LGBT has held relatively steady," according to Gallup. Just over 4 percent of Generation X identifies as LGBT. For Baby Boomers, it's 2.6 percent and just under 1 percent for "traditionalists" born before 1946.
Currently, 1 in 10 millennials and 1 in 5 members of Generation Z identify as LGBT, according to Gallup.
"Should that trend within Gen Z continue, the proportion of U.S. adults in that generation who say they are LGBT will grow even higher once all members of the generation reach adulthood," Gallup said in a release.
That puts the proportion of LGBT Americans to exceed 10 percent "in the near future."