Number of Americans Who Say They'd Get a COVID-19 Vaccine Hits Record Low: Poll
The number of Americans who say they would get a coronavirus vaccine has hit a record low, according to a new poll.
The survey, which was conducted by Morning Consult, has been tracking Americans' views on vaccination for the virus since February and found that only 48 percent said they would receive a vaccine when it is available, the lowest percentage since the poll began tracking.
Morning Consult has conducted several polls from February 28 to October 10, with each surveying 2,200 U.S. adults and reporting a margin of error of plus or minus 2 percentage points.
The 48 percent of Americans who say they would get vaccinated is a major decrease from the record high of 72 percent, which was reported on April 5.
The share of Americans saying they would get inoculated has decreased since April, as the poll found 60 percent in mid-May, 55 percent in mid-August and 50 percent toward the end of September.
According to the poll, women were least likely to say they would get a vaccine, as only 42 percent said so, while 30 percent said they would not and 28 percent said they didn't know. On the other hand, 55 percent of men said they would get inoculated, while only 24 percent said the opposite and 21 percent said they didn't know.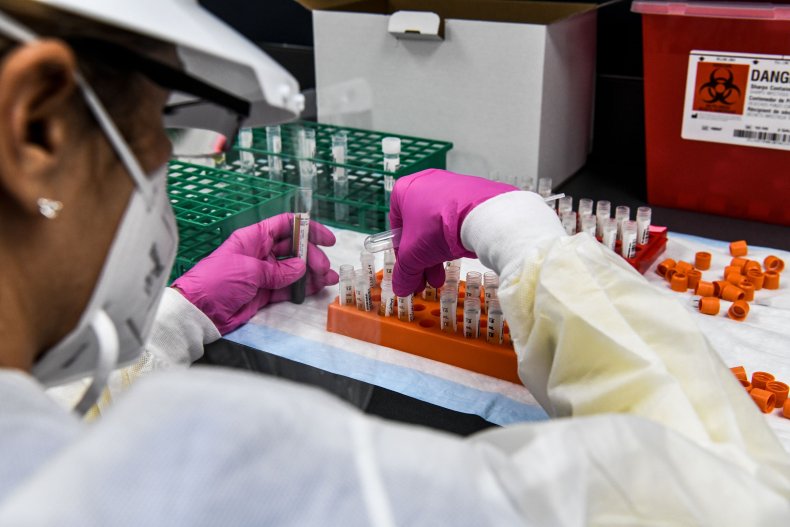 The poll found that Republicans were the most likely to get a vaccine, as 55 percent said so, compared with 48 percent of Democrats. Independents were the least likely to say they'd get a vaccine, as only 41 percent said so while 27 percent said the opposite.
The poll's findings come as the U.S. continues to move closer to having a COVID-19 vaccine available for the public. According to a vaccine tracker published by The New York Times, five vaccines are approved for early or limited use, 11 are in Phase 3, 14 are in Phase 2, and 29 in are Phase 1.
On September 17, Moderna, which is developing a vaccine in partnership with the National Institutes of Health, released its protocol to determine if the vaccine will be safe and effective.
Another vaccine, being developed by Pfizer and BioNTech, began its Phase 2/3 trial on July 27, and in September Pfizer's CEO said the company would know if the vaccine is safe and effective by this month.
Meanwhile, Johnson & Johnson announced it is pausing its trial phase on October 12, after one volunteer became infected with an "unexplained illness."
Newsweek reached out to the U.S. Department of Health and Human Services for comment on the poll findings but did not receive a response in time for publication.