Number of Coronavirus Cases in New York Surpasses Washington State to Become Most in Country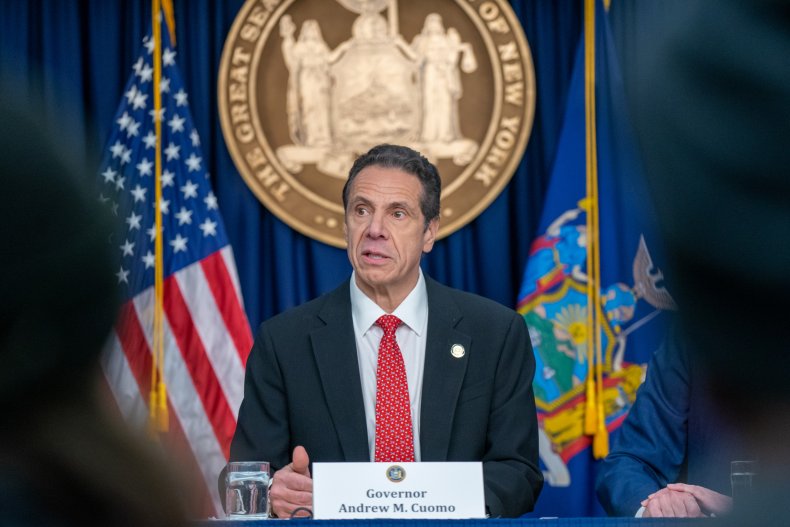 On Monday, New York Governor Andrew Cuomo announced that New York state currently has 142 confirmed cases of the new coronavirus, making it the state with the most confirmed cases in the U.S.
The confirmed cases in New York shows a stark increase in cases from just a day prior, when there were a reported 105 confirmed cases of the virus. Previously, Washington state had been the area with the most cases -- according to the Washington state Department of Health, there are 136 confirmed cases of the novel coronavirus.
During his press conference on Monday, Cuomo identified New Rochelle, a city in Westchester County, New York, as a "significant hot spot." The city was the location of the first confirmed case of COVID-19, the illness caused by the strain of coronavirus, in the state.
"Westchester is our problem," Cuomo said. "That is a relatively small community in New Rochelle with 98 cases, more than the city of New York."
Cuomo also noted that he has been in talks with officials from the Centers for Disease Control and Prevention about the increased outbreak in New York.
Cuomo also gave the numbers for confirmed cases in specific areas of New York. Westchester County saw 16 new cases, bringing the total number to 98, while New York City saw seven new cases, bringing the total number to 19. Nassau County has 17 confirmed cases, Rockland County has four, Saratoga County has two. Suffolk County and Ulster County each have one case.
Monday's press conference also included the announcement that Rick Cotton, the executive director of Port Authority for New York and New Jersey, has tested positive for COVID-19.
"Rick Cotton, does have, has tested positive for the coronavirus," Cuomo said. "So, he is going to be in quarantine, he'll be working at home."
During his press conference, Cuomo also spoke about the state making its own hand sanitizer to combat the spread of the virus.
"We are introducing New York state clean hand sanitizer, made conveniently by the state of New York," Cuomo said. "This is a superior product to products now on the market."
Cuomo declared a state of emergency for New York on March 7 in relation to the spread of the virus.
In Washington state, King County and Snohomish County have been hit particularly hard. King County reported 83 cases and 18 deaths, many linked to the Life Care Center, a nursing home facility in Kirkland, Washington. According to The New York Times, at least 70 workers at the facility are exhibiting symptoms of COVID-19, including a fever, cough and shortness of breath. It is unknown how many of those workers have tested positive for the coronavirus or how many residents are currently infected. Snohomish County has 31 confirmed cases and reported one death.
The new coronavirus, which originated in Wuhan, China, has spread to six continents, infecting over 100,000 people worldwide. According to data provided by Johns Hopkins University, there are at least 566 cases in the U.S. and at least 22 deaths related to the virus.