The Number of Early Votes in Florida Has Already Surpassed the Total Number of Ballots Cast for Trump in 2016
With less than two weeks until the 2020 presidential election, over 4.7 million Floridians have already cast their votes during the early voting period, surpassing the total number of votes for President Donald Trump in Florida in 2016.
The Florida Division of Elections reported Friday that 4,771,956 people have voted either by mail or in-person early voting, more than the 4.61 million total votes cast for Trump in 2016. The votes cast just under two weeks from Election Day is roughly 33 percent of all registered voters in the state.
According to the report, 2.1 million Democrats have voted in-person or by mail in the Florida general election so far, compared to 1.6 million Republicans.
There are currently 14.4 million registered voters in Florida. In 2016, 9.5 million of the then 12.8 million registered voters cast their ballots in the general election, according to the Division of Elections.
Since mail-in voting began earlier this month, more than 3.38 million vote-by-mail ballots were submitted so far for the upcoming election, far greater than the 2.75 million total for mail-in ballots cast in 2016, a likely result of the ongoing coronavirus pandemic. Democrats have largely favored voting by mail in the state, with over 500,000 more ballots cast than Republicans. More than 680,000 independent voters have already voted by mail, and over 900,000 of these registered voters have cast their ballots, data from the Division of Elections shows.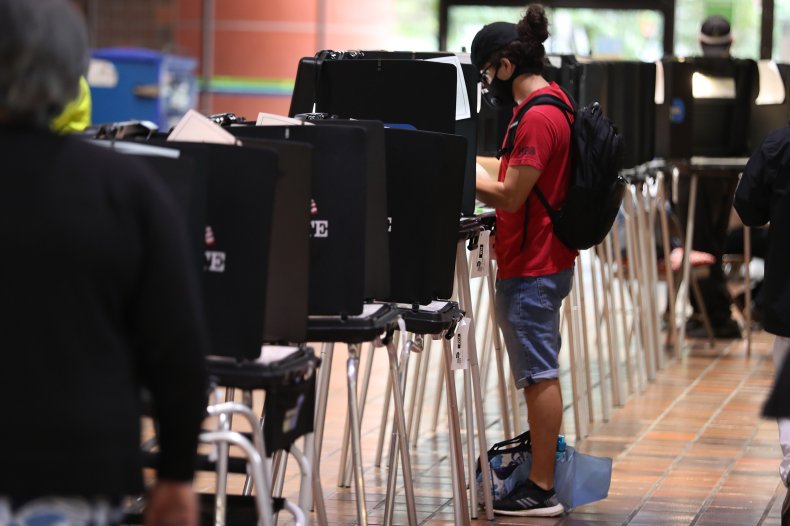 On Monday, Florida saw a record number opening day turnout for in-person early voting in 52 of its 67 counties, raking up more than 355,000 voters. This largely surpasses the 291,000 people who voted on the first day of early voting in 2016. Early voting for all Florida counties begins on Saturday.
Miami-Dade County and Broward County currently lead in the state for pre-election votes, with more than 300,000 ballots cast in each county. Hillsborough and Palm Beach Counties trail just behind, with over 200,000 ballots cast either in-person or by mail.
In the past few months, both Trump and Democratic nominee Joe Biden—as well as their respective running mates—have held numerous rallies in Florida, a key battleground state. Tonight, Trump heads to The Villages in Central Florida for a MAGA rally, while former President Barack Obama is set to campaign in Miami on Saturday.
Biden holds a narrow lead against Trump in Florida. According to FiveThirtyEight, the former vice president leads by an average of just 3 percentage points. A recent University of North Florida poll, which surveyed 863 registered likely voters in the state, shows Trump trailing behind Biden by just one point, 47 percent to 48 percent.