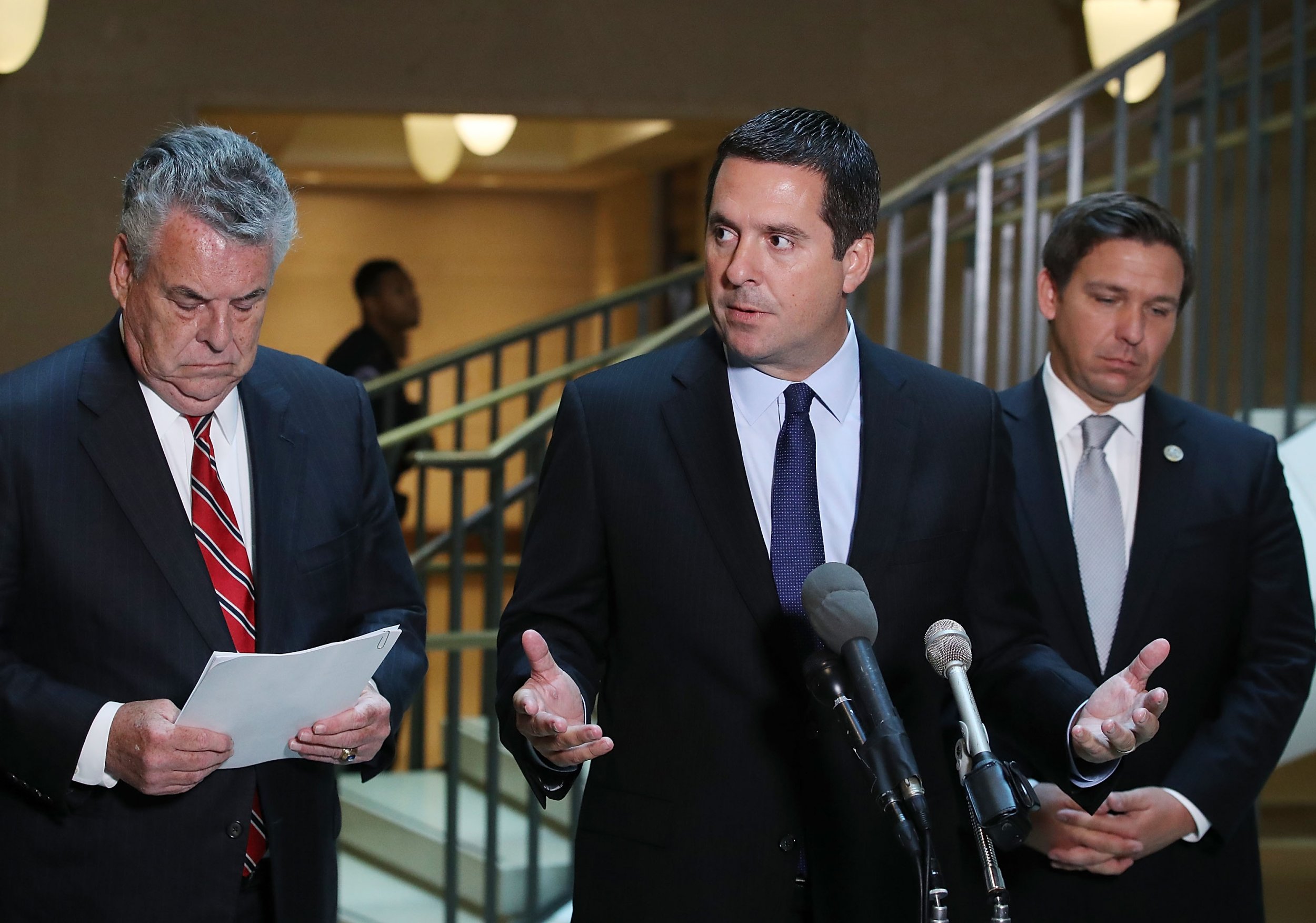 With Rep. Devin Nunes at the helm, a number of Republican members of the House Intelligence Committee reportedly spent weeks investigating whether top leaders at the Justice Department and FBI "mishandled" the Trump-Russia dossier.
Trump Team Discussed Using Signal App For Mike Flynn's Messages
The rogue Republicans on the House committee, which is investigating Russia's alleged meddling in last year's election, have not told Democratic members of the committee about their plan to possibly bring a case against Justice and the FBI, but, Politico reported Wednesday, citing four unnamed people familiar with the probe, the group spoke to the House's general counsel.
The probe, due to release its findings in early 2018, intends to show "corruption and conspiracy in the upper ranks of federal law enforcement," according to the report.
Those participating in the investigation were reportedly perturbed by Justice failing to offer information about how the FBI used the salacious dossier – created by research firm Fusion GPS – in order to probe the Trump campaign team's alleged links to Russia.
The Justice Department pushed back on those frustrations, stating it provided "several hundred pages of classified documents and multiple briefings" to the House committee.
"We will continue to work with congressional committees to provide the information they request consistent with our national security responsibilities," a Justice Department spokesperson told Newsweek in a statement. "The Department has already provided members of HPSCI and House leadership with several hundred pages of classified documents and multiple briefings—including, for example, clear answers as to whether any FBI payments were made to a source in question related to the dossier and what if anything that dossier may have been used for—and has more recently cleared key witnesses they have requested to testify, including [FBI Deputy Director Andrew McCabe] and [FBI Agent Peter Strzok] and others."
A former member of Special Counsel Robert Mueller's Trump-Russia probe, Strzok has come under fire for text messages he sent last year that bashed President Trump. Mueller reportedly fired Strzok over the summer after he learned of the messages.
McCabe has also been a target for Republicans and Trump due to his wife receiving campaign funds from Virginia Gov. Terry McAuliffe, a close ally of Hillary Clinton's. He appeared before House Intelligence Committee Tuesday in a closed-door session for seven hours.
Nunes's involvement could be questionable since he initially recused himself from the House Intelligence Committee's investigation back in April. However, he signed off on subpoenas issued to Fusion GPS in October, according to CBS News.
In March, two White House officials gave Nunes intelligence reports that indicated the U.S. intelligence community had "swept up" surveillance of President Trump and his cohorts, The New York Times reported. That eventually led to Nunes' recusal as he appeared too close to the Trump administration. The House Ethics Committee later cleared Nunes of wrongdoing on December 7.
A spokesperson for Nunes stated the congressman never recused himself from the investigation but instead tapped other members of the committee to "temporarily take charge" of the committee's Russia investigation.
A day after he was cleared, Nunes told Fox News that he was investigating maleficence by the Justice Department and FBI under President Barack Obama.
Democrats and others have accused Republicans and Trump of attempting to discredit the FBI and Justice's integrity, and extend that to Special Counsel Mueller, currently leading the Trump-Russia probe. He has since brought charges against four former members of Trump's campaign.
Trump recently stated the FBI is in "tatters," expressing his wish that he could have more say in Justice Department matters, while members of his legal team and other top Republicans also called for a second special counsel to investigate Clinton's scandals and look at how the FBI and DOJ handled them.
However, Justice has spent the last weeks interviewing FBI agents about what they uncovered in a previous Uranium One investigation in response to requests made by House Judiciary Chairman and Rep. Robert Goodlatte (R-Virginia).
The report follows recent attacks on Justice and the FBI by Republicans, President Trump and those within the billionaire's inner circle. They have challenged whether the law enforcement agencies have unfairly targeted Trump and skirted over investigations in Democrat Hillary Clinton's private email server and debunked involvement in the Uranium One sale while she was secretary of state.