Nuns' Bus Tour to Protest Trump's Tax Law Will End at Mar-a-Lago
A group of nuns is planning to end their bus tour protesting the Republican tax reform that President Donald Trump signed into law in December at Mar-a-Lago just days before the midterm election.
Nuns on a Bus, a Catholic advocacy group, announced its "On the Road to Mar-a-Lago" tour, which will consist of hosting 54 events in 21 states over the course of 27 days. The tour will kick off in Los Angeles and make its final stop at Trump's Mar-a-Lago resort in Florida.
The goal of the bus tour is to "expose the lies and tell the truth about the harmful effects of the 2017 tax vote," and to hold Republicans in Congress accountable for their favorable vote.
Sister Simone Campbell, SSS, Executive Director of NETWORK Lobby for Catholic Social Justice and Leader of Nuns on the Bus, said the law favors the biggest corporations and the wealthiest individuals, which is why they're taking their protest to the road.
"Our nation was founded not in policies that benefit the few, but on the principle of the common good," NETWORK grassroots mobilization specialist Sister Mary Ellen Lacy said in a press release. "This is the vision that we need to recover, to reaffirm that our lawmakers must enact policies that invest in our shared future, not ones that threaten our communities and our families."
The tour will begin on October 8 and run until November 2, four days before the election. It will make stops in:
California
Nevada
Arizona
Colorado
Nebraska
Iowa
Missouri
Illinois
Indiana
Michigan
Ohio
Pennsylvania
New York
New Jersey
Delaware
Washington, D.C.
Virginia
North Carolina
South Carolina
Georgia
Florida
Thirty nuns will be on the bus, which will specifically target the districts of congressional leaders that voted favorably for the law.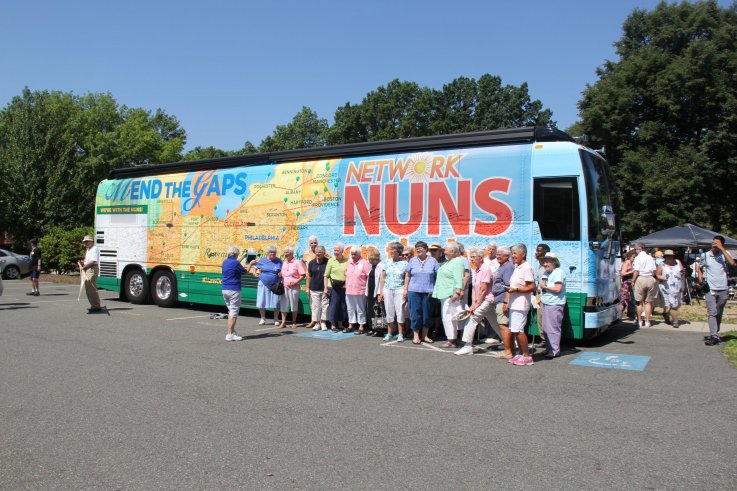 "Last year, Nuns on the Bus stayed in Washington to keep relentless congressional attacks on the common good at bay, but this year we're going on the road to hold members accountable for their votes," Simone said in the release.
This isn't the first time the nuns have conducted a bus tour to express their political opinion and began touring the country in 2012 to protest now-Speaker of the House Paul Ryan's proposed budget.
The last time they conducted a bus tour was two years ago, during the 2016 summer, as a response to the divisive rhetoric of the then-upcoming election. Topics of the tour included living wages, health care for all, affordable housing, workplace policies, and tax reform, according to America Magazine.
"Speaking for those who struggle and are exploited means we can't be loyal to just one party, because no one party embodies all good policies," Sister Simone told the magazine. "We have to be faithful to the people."
The final stop of this year's tour isn't a coincidence, but was selected because it represents "the pinnacle of economic inequality and hoarding of wealth."