Nurse Accused of Mocking, Posting Images of NICU Baby to Social Media
After allegedly posting photos that mocked a baby with a congenital disorder to social media, a neonatal intensive care nurse in Miami, Florida, has been fired.
CBS4 News reported that Sierra Samuels shared images of a baby with gastroschisis while the baby was in the Jackson Memorial Hospital's neonatal care unit in early September.
The caption of the first photo read, "My night was going great then boom!"
The second caption read, "Your intestines posed (sic) to be inside not outside baby #gastroschisis"
According to the Centers for Disease Control and Prevention, gastroschisis is a birth defect of the abdominal wall and the baby's intestines are found outside of the baby's body.
"Gastroschisis occurs early during pregnancy when the muscles that make up the baby's abdominal wall do not form correctly," the CDC wrote.
The intestines and other organs may extend outside of the body due to a hole that forms. The CDC estimated about 1,871 babies are born with gastroschisis in the United States, but studies have shown that it is becoming more common, especially among younger mothers.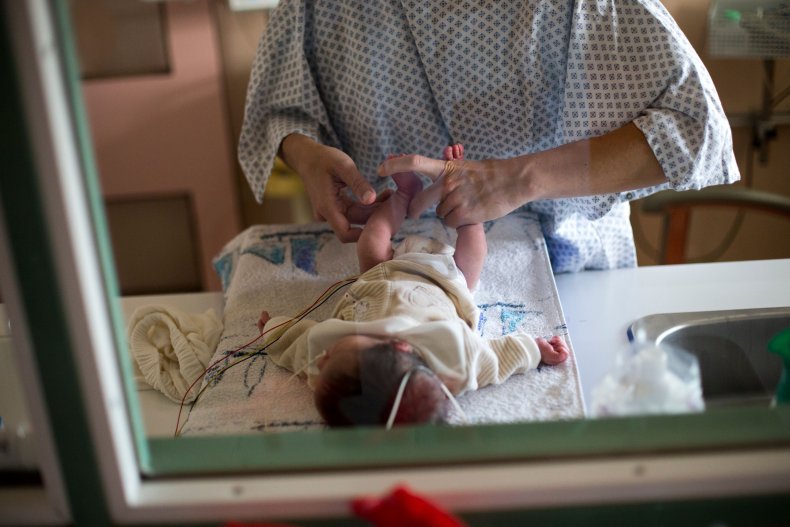 Samuels was initially placed on administrative leave as the hospital conducted an investigation. CBS4 News reported that Jackson Health Services stated that the employees go through privacy policy training and any potential breach is taken seriously.
"Employees who violate these privacy rules, despite being educated, are subject to disciplinary action including suspension or termination," a statement obtained by CBS4 News read. "As soon as we learned of this potential breach, we immediately placed this employee under administrative leave pending the outcome of the investigation."
The news station recently reported that Samuels has since been fired from the hospital.
Lidia Amoretti-Morgado, the hospital's media relations manager confirmed to Newsweek that she was terminated on September 15.
It is unclear what the next steps may be for the nurse and whether she will have her nursing license revoked.
A representative from the Florida Department of Health told Newsweek that according to the Medical Quality Assurance's yearly report, 38 registered nurses had their license revoked in the last fiscal year. That same year, 140 nurses had their licenses suspended.
The disciplinary guidelines for the Florida Board of Nursing have been outlined and nurses who do not meet the minimum requirements for safe practice or pose a danger to the public may be suspended or fined. Additionally, these nurses may have their licenses revoked or suspended.
Additionally, if a nurse's license is revoked in one state, it is recorded in a database. Nursing boards in other states will have access to that information in the event that the nurse seeks a new nursing job in a different state.
"Disciplinary actions by the board are reported to the national database," a representative from the Florida Department of Health's Office of Communications wrote to Newsweek. "All other state licensing boards would have access to the action when someone applies for licensure."