When Cyd Begnaud showed up to work on Thursday morning, she didn't expect to give a COVID vaccine to the man who helped cure her breast cancer. As a line of health care workers filed into the room for the first round of Pfizer vaccines, Begnaud welcomed her former oncologist to her station and gave him the immunization.
Begnaud, a part-time nurse at Our Lady of Lourdes Regional Medical Center in Lafayette, Louisiana, was diagnosed with breast cancer 20 years ago yesterday, and her family claims the doctor "saved her life."
A photo of the moment was shared by Begnaud's son, National CBS Correspondent David Begnaud, on Twitter on Thursday. He explained how the doctor, identified by the hospital as oncologist Gene Brierre, and Cyd's paths first crossed. "My mother, Cyd, a registered nurse, gave the Pfizer vaccine this morning to a cancer oncologist who helped save her life after she was diagnosed with breast cancer," David Begnaud wrote.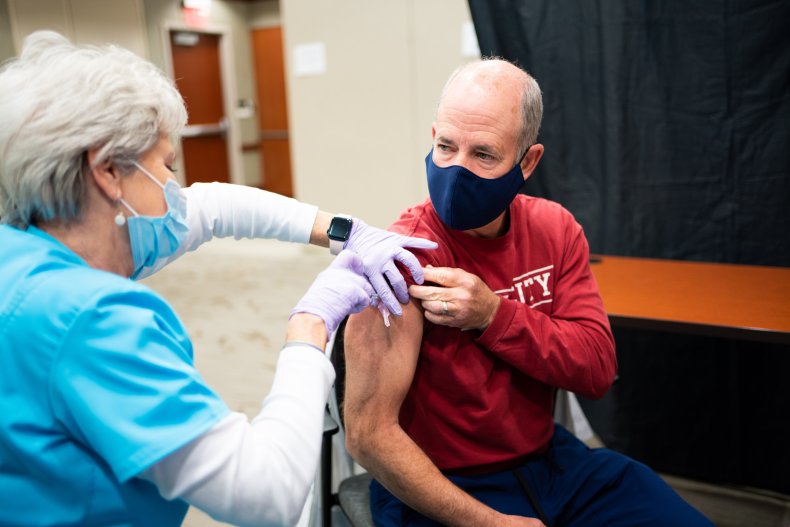 In addition, Cyd shared a touching message to the doctor as she gave him the potentially life-saving vaccine. "She said she told him, 'thank you for saving my life 20 [years] ago, I hope this may help save your life, too.'"
Begnaud told Newsweek the meaningful moment even made him emotional Thursday morning and proved how his mother is able and willing to give back. "For her, this is a full-circle moment, to be able to give him that injection," he said.
In addition to administering the shot, Cyd and Brierre reminisced about her own health journey. "He's just so kind," Cyd told Newsweek. "He said I looked good, and I said 'You know, it was 20 years ago yesterday I was diagnosed with the breast cancer.' He said, 'I knew it was a while, but you've done really well.' And I said, 'Yeah, thanks to you.'"
Cyd was a labor and delivery nurse at the hospital until her retirement. Last year, though, in her free time, Cyd joined a team at Our Lady of Lourdes called Healthy Lives, which provides medical care, nutritional guidance and more precautionary resources for the hospital's medical staff. On Thursday, Healthy Lives administered the first COVID vaccines to the hospital employees who wanted the shot.
Though the past months have been riddled with devastating moments, both inside and outside of hospitals, the vaccine delivery Thursday brought hope to many. "After they received their vaccines, you could just see them take a deep breath," Cyd said of the health care workers she vaccinated. "It's long-awaited and they're super excited to be able to move on and hopefully move past this process."
The photo of Cyd giving the shot to Brierre was also shared by the Our Lady of Lourdes Facebook page, alongside a collection of other photos to celebrate the delivery of the Pfizer vaccine.
"For months, our healthcare heroes have battled #COVID19," the post explained. "Today is a big chance to fight back and CONQUER COVID. Early this morning, we welcomed our first group of team members to get their inital [sic] round of the #COVID19 vaccine."
In addition to photos of the shot being injected into health care worker's bare arms, one celebratory photo pictured some professionals surrounded by confetti. Our Lady of Lourdes spokesperson Elisabeth Arnold explained to Newsweek: "We threw confetti as they were getting the vaccines. That's how excited we were."
Both Begnaud's tweet and the hospital's Facebook post were met with joy and support from thankful commenters. Many found a reason to celebrate the shot's arrival and stated it was a bit of good news in an otherwise tumultuous year. Twitter users, in particular, thanked David Begnaud for sharing his mother's personal moment, which many found both emotional and inspiring.
The Pfizer COVID vaccine is one of two types, and it's just becoming available to the public. Health care workers and specific high-risk Americans, like those in nursing homes, are considered for the first round of vaccinations. The vaccine is expected to become available for the American public sometime in 2021.