Nurse Asks Doctors to Warn About Possible COVID-Like Symptoms From Vaccine
A California nurse urged doctors to clearly explain the possible side effects of Pfizer's COVID-19 vaccine to patients after experiencing intense symptoms in the company's phase three clinical trial.
Kristen Choi, an assistant professor at the School of Nursing at the University of California, enrolled in the vaccine trial in August after seeing an advertisement on Instagram, as she explained in a report published Monday in the journal JAMA Internal Medicine.
"Volunteering for the trial felt like an honorable thing to do—and the 50 percent chance to be randomized to the vaccine early seemed equally compelling to me as a practicing nurse," Choi wrote in her report, entitled "A Nursing Researcher's Experience in a COVID-19 Vaccine Trail."
Even with her medical training and the information given to her by the nurses conducting the trial, Choi said she wasn't prepared for her body's reaction to the two-dose vaccine.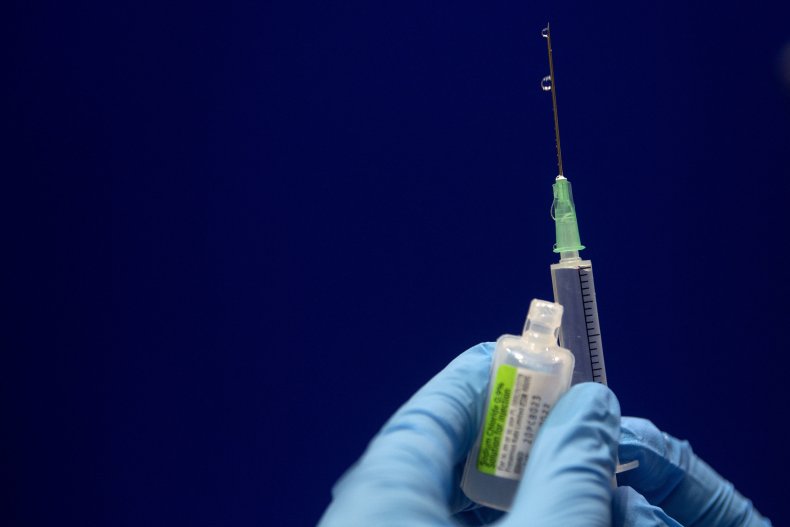 "Despite the extensive information I had on the research process and vaccine, on a personal level I did not get the message that I should anticipate a reactogenic response," Choi wrote. "I was scared when I saw I had a fever."
After receiving the second shot in the trial, Choi said she experienced headaches, chills, nausea, muscle pain and an intense fever of nearly 105 degrees Fahrenheit.
However, according to the report, a nurse conducting the trial assured Choi that her symptoms were normal, stating "a lot of people have reactions after the second injection."
Although Pfizer conducted a randomized double-blind trial where Choi wasn't told whether she was injected with the vaccine or a placebo, Choi said she has a "strong suspicion" she received the vaccine based on her body's immune response.
In Pfizer's phase one trial of its COVID-19 vaccine, 75 percent of adults between 18 and 55 years old experienced fatigue, 67 percent reported headaches, 33 percent experienced chills, 25 percent noted muscle plan and 17 percent had fevers.
"If this vaccine is approved, it is possible that most people receiving the vaccine could have one or more reactions to the vaccine like I did," wrote Choi. "Fortunately, my experience of having all symptoms together seems to be rare."
"However, even for those who do, the vaccine is still far preferable to having COVID-19 and risking serious illness or even death," Choi wrote to Newsweek in an email Tuesday.
The U.S. expects nearly 6.4 million doses of Pfizer's COVID-19 vaccine, estimated to be 95% effective, to be available before year's end, according to officials at the Trump administration's Operation Warp Speed.
The pharmaceutical company awaits emergency approval from the Food and Drug Administration (FDA). The agency confirmed the safety and efficacy of Pfizer's vaccine in two analyses released Tuesday, saying it "met the prescribed success criteria" in a clinical study.
Choi urged doctors to clearly explain the possible side effects of a COVID-19 vaccine and why they should trust the vaccine despite adverse effects.
"I wrote this story for a medical journal to help prepare healthcare providers to have conversations with our patients about the new COVID-19 vaccine," Choi told Newsweek. "We will need to prepare patients for what to expect and explain that side effects like fever, chills, muscle pain, fatigue and headaches are normal."
Choi continued: "If I had to do it over again, I would get the vaccine in a heartbeat and hope other healthcare workers who are offered the vaccine decide to do the same."