Nurse Being Investigated For 'I Love JK Rowling' Sign Over 'Threat to Gender Diverse' People
A Canadian nurse is under investigation by a health regulator after complaints were made about an "I [heart] J.K. Rowling" billboard she was involved in erecting—a signage some argue supports the author's views on transgender people.
Amy Hamm is being investigated by the British Columbia College of Nurses and Midwives (BCCNM) following complaints that her view that identifying as trans does not equate to changing biological sex would threaten "trans and gender-diverse communities," according to Justice Centre for Constitutional Freedoms (JCCF) lawyers representing the nurse.
JCCF said that the matter was referred to the regulator's Inquiry Committee in a 322-page report which is mainly "comprised of tweets and articles" from Hamm but it is unclear what the BCCNM probe will involve.
According to the supervisory body, each investigation depends on the allegations BCCNM receives.
"Taking part in an investigation is often uncomfortable for all those involved," the BCCNM website reads. "However, the process is not intended to be punitive. An investigation is a neutral information-gathering process."
BCCNM says the nurse or midwife in question is provided an opportunity to review and respond to the evidence of the allegations and the complainant is also given the opportunity to respond to the defense.
The Inquiry Committee may request the nurse to agree to remedial measures such as counseling or supervision, but could also request the nurse to agree to suspensions, limits on practicing or cancellation of registration.
But Hamm argues that none of her views would impact her ability to help her patients.
"Fighting for women's sex-based rights has no impact on my ability to provide care as a nurse. There is nothing hateful or transphobic about women's rights," Hamm wrote to Newsweek.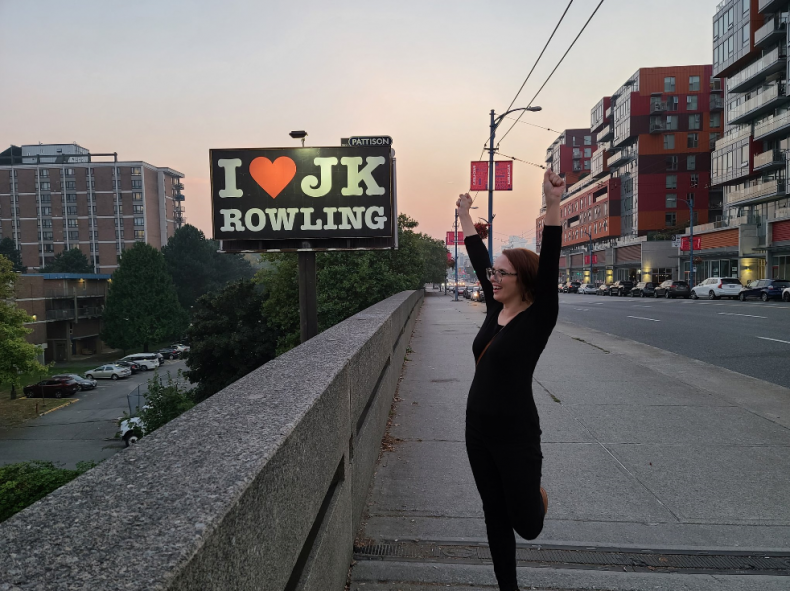 Last fall, Hamm and Chris Elston, an insurance broker in the Vancouver area, paid for a billboard that emulated a sign posted in Edinburgh in support of Rowling's views that transgender people pose a threat to women and girls who are not transgender.
Elston claims the billboard was entirely his doing and that he paid for it in full. He told Newsweek that Hamm's only involvement was her knowledge that it was going up.
Hamm says she offered to reimburse him for half but that the money was refunded after it was taken down the next day.
Rowling drew controversy earlier in the year for publicly defending Maya Forstater, a woman who was fired for her gender-critical tweets. A U.K. appeals court later ruled that employers cannot discriminate against employees for those beliefs and sent the case back to a new tribunal.
"I don't think it's possible for women to defend their legal rights or even the definition of womanhood if anybody can say that they are a woman and it will be so," Hamm told CBC at the time.
She added, "Women's rights are important and we need to stand up for them and it's not transphobic to do so."
Her lawyers argue that disciplining Hamm for her opinions is beyond BCCNM's power as a regulator, saying "the College is tasked with keeping patients safe and regulating the profession in the public interest, and not with giving social justice activists a tool for 'canceling' people with whom they do not agree."
"Canada used to be a place where you would hear, 'You're entitled to your opinion, but I disagree,' or 'It's a free country—say what you want,'" JCCF lawyer Lisa Bildly said in a statement. "Now we are told that 'Words are violence,' and saying something as mainstream as, 'Men and women have biological differences, and women have sex-based rights which reflect those differences', can put your entire career in jeopardy. We cannot, as a society, continue down this path and remain a free society."
Newsweek reached out to BCCNM for comment but did not hear back before publication.
Updated 07/23/2021, 4:10 p.m. ET: This story has been updated with comment from Elston.
Updated 07/26/2021, 10:24 a.m. ET: An earlier version of this story said Hamm paid for the billboard.