Nurse Uses Dance, Meditation To Help Fellow Health Care Workers Cope During Coronavirus Pandemic
Newsweek's "Heroes of the Pandemic" series features everyday heroes showing service, sacrifice or kindness in the time of COVID-19.
Frontline health care workers have become the unsung heroes of the coronavirus pandemic, but these human pillars of strength have their own champion. While medical staff have been busy saving lives across the nation, Tara Rynders has been busy saving the nurses at the Rose Medical Center in Denver, Colorado.
A Nurse Specialist in Wellness and Resiliency, Rynders focuses on providing a support system for nurses and making sure their experiences are heard. A registered nurse for over 15 years with a Master's degree in dance, Rynders has combined her two passions to help a community of nurses.
"I'm using the arts, as well as my background in movement and somatic practices, to really care now, not for the patients, but for the nurses in the way that I would have cared for my patients before," she said.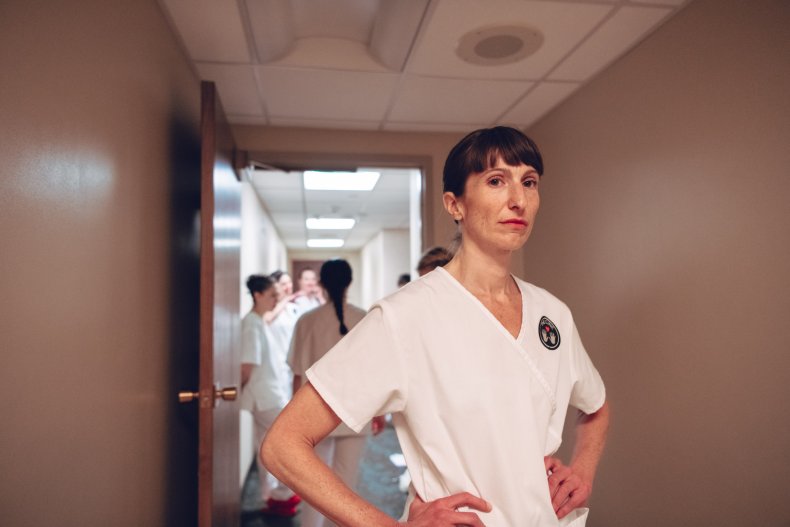 As the artistic director and founder of The Clinic, an immersive performance and art therapy initiative, Rynders created an immersive theatre performance that told the real-life stories of nurses and developed a six-week workshop aimed at decreasing burnout, decreasing secondary traumatic stress and increasing empathy for those in the nursing profession.
"It's a very physical job and it's a very emotional job. You can get really attached to patients or different scenarios that happened with patients," said Maureen Miller, a nurse at the Rose Medical Center who participated in Rynders' workshops.
Nurses who care for a large influx of patients often experience compassion fatigue. Over a period of time, they can become increasingly desensitized to a patient's pain or suffering.
"I think every single nurse I've ever worked with has a story about that patient they still think about. You look at them and it's kind of an emotional residue that builds up on people," Miller said, "I think that build up over time turns into a shell a little bit and can cause some of the compassion fatigue and some of the burnout that nurses as a whole feel."
When COVID-19 began appearing rapidly in hospitals, Rynders proposed a position at her hospital dedicated to implementing her ideas of wellness and resiliency in nursing staff. Rose Medical Center took her off the floor and Rynders began wellness rounds where she would gather staff in huddles that allowed health care workers to express how they were feeling. Sometimes she would lead a meditation, a bit of breath work, some sort of stretching or a mini dance party.
"The nurses were really being healed and transforming, not because of their bubble baths or taking a walk, but because they were being emotionally honest with each other," Rynders said. "They felt for the first time really understood in their grief and in their pain.
Miller said Rynders' work has made a tremendous difference among those going into battle every day.
"Working in the ICU, I've never seen a more resilient team. People are working so well together. It's incredible," Miller said. "I would say that she's contributing to that. The morale in the ICU is better probably now than I've seen it in a while."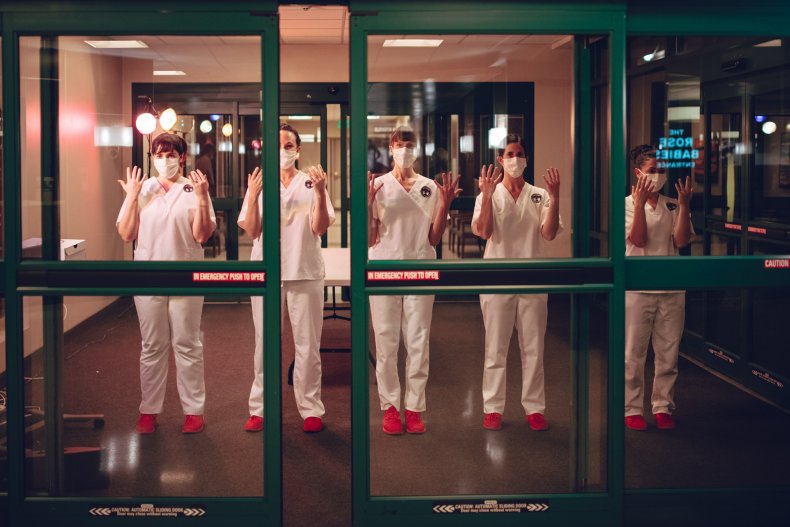 Rynders advocates for the concerns of the nurses by bringing their stories to the hospital's executive team. What's most important to her is for nurses to feel heard, especially now, she said.
COVID stories, her most recent project, involves weekly zoom meetings for nurses to journal their experiences and create movements for those feelings.
"When I can show the COVID stories of us getting angry and frustrated, sharing that through movement, and sharing stories about how we had to hoard our PPE," Rynders said, "They realize other people are also experiencing this. I think nurses, a lot of time, feel alone because not a lot of people can relate to what they're going through."
Sharing their individual stories has allowed the nurses to come to terms with what they've witnessed and see their own experiences in the experiences of others in the field.
"The things I was able to share, no one asks you as a nurse what grief have you experienced?" said Monica Wininger, Rose Medical Center's Director of Critical Care. "We kind of pick up and carry on every day."
The effects of Rynders' mission have trickled down from the nurses to the patients. Patients have expressed to her that knowing their nurses are being cared for in turn makes them feel as though they, as patients, are also more cared for, a secondary outcome Rynders said she hadn't considered.
Wininger said fulfilling the needs of nurses as people needs to be prioritized so that nurses can effectively care for others.
"We heal the general public, our patients. But we also have this untapped power to heal one another," Rynders said.
Know a hero you want to nominate to be featured in our series? Drop us a line at heroes@newsweek.com.