Nurses Allegedly Threatened for Refusal to Take 'Unsafe' Number of Patients
A community of nurses is in uproar after a hospital memo demanded that they take on what they said was an unsafe number of patients and threatened nurses who refused.
The memo sent April 29 from UPMC Altoona, a private hospital system in Pennsylvania, went viral this week. A social media nurse advocate who calls herself "The Nurse Erica" shared the document Monday in a TikTok video that has amassed nearly 250,000 views.
"UPMC Altoona in Pennsylvania put out a memo to nurses in response to recent max surge capacity," said Erica, showing an image of the memo.
She quoted a paragraph that read, "We are asking staff to be understanding that taking 8 patients on med/surg is possible when staffing situations are poor. This is not ideal, nor is it safe, but this is a direct order coming from upper management. HR discussions are willing to be had and refusal to take 8 when asked may result in an HR trip."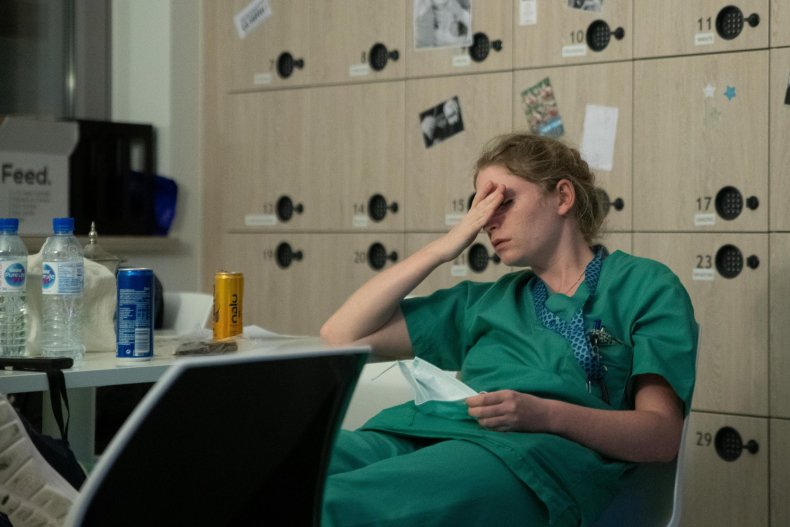 The flabbergasted nurse advocate responded, "Really, UPMC Altoona? Really? That's a threat. That's not even a veiled threat—that's an outright threat. And you are admitting that it's not safe."
The standard rule is to have a nurse-patient ratio of 1 to 4 or 1 to 5 in medical-surgical units, where patients prepare for or recover from surgery, according to the Agency for Healthcare Research and Quality (AHRQ).
The nursing shortage in the U.S. is expected to continue as the population ages and the need for healthcare grows. Nursing school enrollment is not rising fast enough to meet the projected demand for nurses, according to the American Association of Colleges for Nursing (AACN). Insufficient staffing has heightened stress levels among nurses and driven many to leave the profession, the AACN said.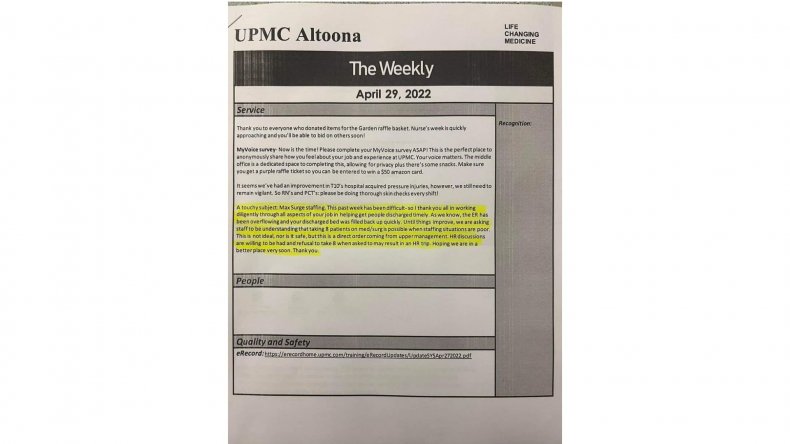 "Well over 50 UPMC nurses sent me that memo," Erica told Newsweek. "I was shocked that UPMC actually put this in writing. Normally this level of threats is passed along verbally to avoid a paper trail."
After the memo circulated widely on social media, UPMC Altoona nurses rallied in front of the Blair County Courthouse on Tuesday, the Altoona Mirror reported. They called on legislators to pass the Patient Safety Act, a bill aimed at ensuring safe patient-to-staff ratios.
UPMC has not denied that the memo was genuine, although a spokesperson said it did not represent the hospital system.
"The sentiments expressed in the social media posting are an excerpt of content written by an employee reflective of their own opinions," Ed DeWitt told Newsweek in a statement. "We always encourage staff to escalate any quality or safety concerns and no nurse would ever face disciplinary action for raising any related concerns. As such, a team member would never be sent to HR for raising patient safety issues—that allegation is simply not true."
But below Erica's video, nurses claiming to work for UPMC said they had seen the unsafe conditions firsthand.
"I worked at a UPMC facility in the ER," said one comment. "UPMC absolutely does not care about their nurses! And they significantly underpay their staff!"
"I left UPMC 9 months ago and back then multiple nights in a row I saw med surg assignments of 11 for some nurses," said another alleged employee.
Update 5/11/22, 5:01 p.m. ET: This story has been updated for clarity.